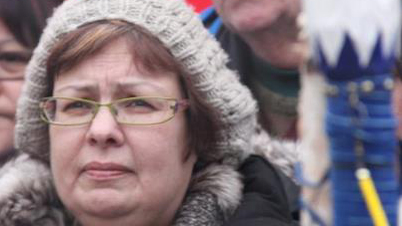 APTN National News
With one of her closest aides on a walk to Ottawa, Attawapiskat Chief Theresa Spence released an open letter Tuesday calling on First nation leaders to form a united front and confront Ottawa.
Spence's letter is addressed to Assembly of First Nations National Chief Shawn Atleo and senior chiefs in Ontario.
"Chiefs, why are you watching your people agonize when they raise their voices and struggle for their rights and protect our signed treaties?" said Spence, in the letter. "It's so anguishing to watch the walkers go through the discomfort…as the chiefs are in comfortable zone. What does it take for the leadership to understand and feel the distress for the people that are fighting for the rights for justice, peace, freedom and to renew the treaty relationship and to honour the spirit and intent of the treaty?"
Danny Metatawabin, Brian Okimaw and Paul Mattinas and Remi Nakogee began walking Saturday from Attawapiskat down a snowmobile trail that passes through Kashechewan and Fort Albany before hitting Moosonee, Ont.
The walk is dubbed, "Reclaiming Our Steps Past, Present and Future."
Metatawabin was one of Spence's closest aides during the Attawapiskat chief's liquids-only fast which lasted from mid-December 2012 to mid-January 2013.
Spence said the walk is meant to remind chiefs about the promises that were made to end her fast.
"Danny's quest is to remind all chiefs and the government of Canada of the undertakings promised during last year's struggle which remain outstanding," said Spence.
In her letter, Spence calls on First Nations chiefs to form a united front to confront Ottawa.
"I call upon you, to listen to the concerns of your membership, to heed their advice, and to call upon your fellow chiefs and set up a special meeting to develop a united stand for the future of our nations," said Spence.
Spence calls on the chiefs to also organize a meeting with the federal government.
"If the chiefs fail to heed the advice contained in this open letter to engage in solidarity with their members to advocate for their members and to protect the needs of our people and treaties, I will call upon my grassroots people, treaty partners, Canadians and our neighbours from other countries to expose all of the wrongful acts and abusive actions…imposed to our people and continue to impact generations of our people to this day."