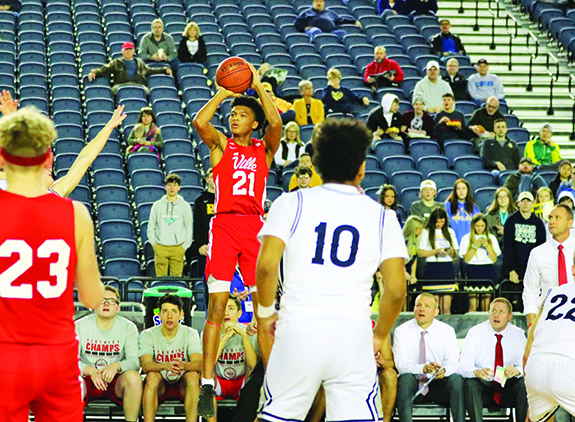 By Micheal Rios, Tulalip News 
Back in early December, the much-hyped boys basketball team of Marysville-Pilchuck high school (M-P) were in the midst of early season struggles after starting their 2018-2019 campaign with a disappointing (1-3) record. Incredibly, the bumpy start has been all but forgotten as the Tomahawks responded by winning their next 19 games in a row.
Led by Tulalip tribal member RaeQuan Battle, a 6'4 shooting guard and fourth best Washington State recruit*, the Tomahawks strong finish to the regular season proved the pre-season hype was legit. Their 19-game win streak included domination over their league foes when they stampeded through the 3A District Tournament (beating Shorecrest 64-42, Stanwood 80-50 and Arlington 65-47) en route to claiming back-to-back District Championships. 
After dispatching Kelso 72-51 at Regionals, Marysville-Pilchuck earned the #4 seed for the WIAA Hardwood Classic, Washington State's Championship Tournament. The annual tournament took place February 27 – March 2 at the Tacoma Dome.
A hard fought battle with O'Dea in their opening round resulted in a 53-63 loss, the team's first since December 10. In that game O'Dea attempted 26 free-throws compared to just 9 attempts for M-P. RaeQuan's stat line of 24 points, 9 rebounds and 3 blocks proved he did everything possible to keep his team in the game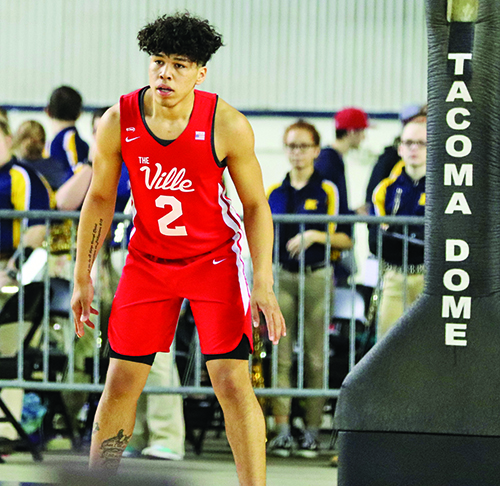 The Tomahawks had no choice but to shake off the loss quickly with a matchup against Ingraham only hours away. M-P went up 36-31 at halftime, continued to build on their lead in the 2nd half, and won 80-68. RaeQuan double-doubled in the game, finishing with 19 points and 10 rebounds. Fellow Tulalip tribal member and high school junior Alec Jones-Smith received quality minutes down the stretch while chipping in 5 points.
Fourth place was on the line when M-P took on Kelso in the waking moments of March 2. In a tightly contested matchup, the Tomahawks jumped out to an early 16-9 lead in the 1st quarter. However, Kelso battled back by running play after play through their talented 6'6 center Shaw Anderson. Having no one on the roster capable of guarding the Kelso big man straight up, M-P trailed 26-31 late in the 2nd quarter.
Aggressive, fast-faced Tomahawk basketball ensued in the 3rd and 4th quarter. RaeQuan showcased his 3-point shooting touch by knocking down five long-range buckets and managed to block Kelso's center for a huge defensive play to fire up his squad. After going up 50-38, the boys wouldn't look back and claimed a decisive 71-60 victory.
The 4th place finish at State marks the best ever showing for a Marysville-Pilchuck team. 
"I'm so proud. This is a special group," said M-P Coach Bary Gould postgame. "They played for the love [of the game] and made history. So much of what we do hinges on RaeQuan and when he lets the game come to him, he is incredible…he's such a difference maker. The surrounding pieces all stepped up in a big way to put us over the edge."
"Our journey to State was a total team effort and showed our mental toughness," added RaeQuan. During the State Tournament, when competition is at its highest, he averaged a whopping 23 points, 9 rebounds and 2 blocks per game while leading his team to the history books.
"I was ready and prepared to play against this level of competition thanks in part to playing on the Nike AAU circuit last spring and summer," explained RaeQuan. The four-star recruit has committed to the University of Washington. "Hard work really does pay off. Looking forward, my goals are to keep getting stronger over the summer to prepare myself for the college level."
A huge congratulations to the M-P team on their history-making efforts, especially their trio of Tulalip hoopers: senior RaeQuan Battle, junior Alec Jones-Smith and junior TJ Severn. 
*Source: 2019 ESPN Recruiting Database