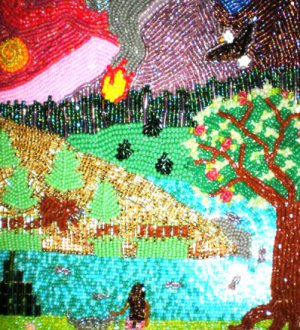 October 9, 2013
 uoregon.edu
Current and former UO students from tribes throughout Oregon are showing their artwork in the 2013 Native American Art Show, on display through the month of October at the Many Nations Longhouse, 1630 Columbia St.
A public reception to meet the artists will be held at 5:30 p.m. on Wednesday, Oct. 9.
Shayleen Macy, a Wasco member of the Confederated Tribes of Warm Springs, is a current UO student working on a bachelor of fine arts degree in printmaking. In addition to her formal art education, she continues to practice traditional/tribal arts and, since coming to the UO, has taken up an interest in business and Indian languages.
Through her art, Macy explores identity as a contemporary Indian woman facing social, environmental and cultural issues. She also incorporates traditional Wasco stories into some of her pieces, such as "The Elk, the Hunter, and His Greedy Father," and "Coyote Frees the Fish." Her art sometimes evokes the stories' traditional meanings and at other times, she uses the story as a metaphor for contemporary issues.
In "Mecca" (shown above), Macy explores the place on the Warm Springs Indian Reservation on the Deschutes River where she grew up and lived with her grandparents and extended family.
"The piece is a contemporary version of a traditional native art form of bead applique on hand-stitched buckskin purses, which women carry at gatherings as a part of our traditional regalia," she says.
Beyond college, Macy plans to pursue a career as an advocate for the arts and languages of the Warm Springs Tribes, as well as continue a relationship with the community that is based on education and service.
"I hope to be able to be involved with opportunities within my community that promote the languages and arts," she says.
Macy and other artists will be at the reception for the 2013 Native American Art Show, at the Many Nations Longhouse.
– from the Office of Equity and Inclusion