Anthony Craig, co-principal of Quil Ceda Tulalip Elementary, received the "Outstanding Young Educator" award on Sept. 2.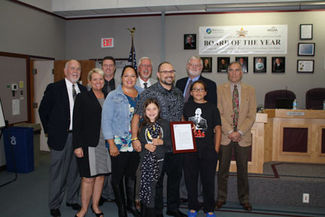 By Christopher Andersson, North County Outlook
The co-principal of Quil Ceda Tulalip Elementary, Anthony Craig, was recognized by a prominent Washington education group as their "Outstanding Young Educator" of the year.
Craig, who is of Native American heritage himself, was recognized for bringing "culturally competent" practices to his school and being an advocate for Native American students.
The Washington State Association of Supervision and Curriculum Development (WSASCD) announced the award during the Sept. 2 school board meeting.
"The Outstanding Young Educator award is our way of recognizing an emerging educational leader and share his or her exemplary practices with the education community at large," said Art Jarvis, executive director of WSASCD.
Craig said he was humbled with the award and thanked his colleagues and everyone who has helped him to serve the students.
"I do this to serve my community, but also because my grandmother worked very hard so that I could go to college and be a teacher," he said. "I once asked her what she wanted to do and she said 'I wanted to be a teacher, but Indians didn't go to college then, so you can do that.' So I stand on the shoulders of a lot of people that came before me."
Craig completed his Doctorate in Leadership and Policy Studies from the University of Washington in 2012.
Since then he has become a published author in the Journal of Staff Development and will write a full chapter in the upcoming book "Narrowing the Achievement Gap for Native American Students: Paying the Education Debt."
Craig is committed to social justice and advocating in various roles for his students, according to a peer statement read by director of teaching and learning at the district, Kyle Kinoshita.
"Over the years he worked at Tulalip he provided exceptional instructional leadership," read Kinoshita. "The evidence was seen in the classroom where instructional improvement was traceable to how Anthony modeled, supported and led the learning of the teachers he worked with and demonstrated some of his early leadership capabilities."
This leadership led him to become co-principal of Quil Ceda Tulalip Elementary and help provide space for all his students.
"Dr. Craig has shown a deep commitment to serving the students in the school and creating an identity-safe place for all students. He has had the courage to confront racism and elitism in a culture of low expectations and done so in a way that unites people, rather than as a way that divides," wrote Marysville superintendent Becky Berg in a statement.
Quil Ceda Tulalip Elementary still sees low scores on state assessments, however Berg points to the improvements that early grades have shown with high levels of achievement in district assessments.
She says the culturally competent practices and data teams implemented by Craig have helped to better engage with Native American students.
Despite the scores, Berg praised the school as "one of the most successful she has ever seen" when it comes to rebuilding education for tribal students
"Yes, the students are not at an acceptable state achievement level yet, but it takes more than three years to reverse decades of malpractice when it comes to the needs of First Nations children," she wrote.