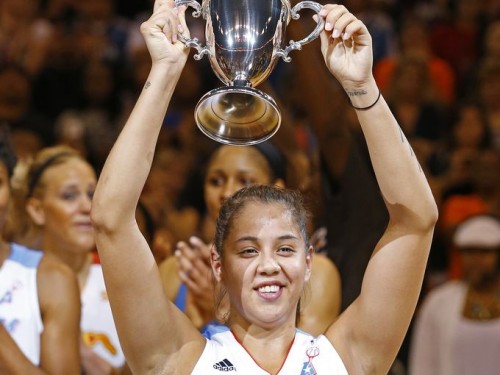 By Bob Young, Arizona Republic
Rick Schimmel's T-shirt said it all.
"Rez Ball Rules."
Reservation-style basketball, as demonstrated by rookie Shoni Schimmel, sure ruled the WNBA All-Star Game on Saturday at US Airways Center.
And if you want an explanation of Rez Ball, well, WNBA President Laurel Richie provided a pretty good one when she told Schimmel's dad, "She plays with such joy, freedom and liberation!"
Schimmel, who probably wouldn't have been in the game at all without the support of Native American basketball fans, added a whole lot more faces to her following with dazzling ballhandling, long-range shooting and an All-Star-record 29 points that led the East to a 125-124 overtime victory.
Schimmel is the first rookie named MVP in the All-Star Game, but she's been a most valuable person for Native Americans for quite a while.
Raised in eastern Oregon on the Confederated Tribes of the Umatilla Indian Reservation, Schimmel's quest to be the first athlete from her reservation to earn a NCAA Division I scholarship was the subject of a 2011 documentary "Off the Rez."
Her following grew when she and her younger sister Jude led Louisville to the 2013 NCAA championship game before the surprising Cardinals finally fell to Connecticut.
Atlanta picked Schimmel eighth overall in the WNBA draft and she has started only two games for the Dream, averaging 7.2 points. Yet she was voted into the East starting lineup with the third-highest number of ballots in All-Star voting.
Her jersey is the biggest seller in the league.
And only the Mercury's three players in the game, Diana Taurasi, Brittney Griner and Candice Dupree, got bigger reactions from the crowd than Schimmel.
"I don't know if it was meant to be, but it happened," Rick Schimmel said. "It was exciting that it was in front of so many Native Americans here. It meant a lot."
Rick said Shoni has taken her role as an example to Native American followers seriously since she began learning those dazzling moves as a kid during her years in high school when she was coached by her mom Ceci and on to Louisville and the WNBA.
"To have the fans look up to me and be a role model not only for my siblings but the Native American fans and Native American people, it's something that I take on my shoulders because I enjoy it," she said. "I love being Native American, and for all these fans to come out and be here, and to vote me into this game, means a lot.
"I'm thankful they got to be here or to watch it on TV. It was awesome just to be able to go out there and play my game and have fun, and to feel free to go out there and play Rez Ball. It was a lot of fun."
Schimmel was relatively quiet in the first half, scoring five points and handing out four assists.
But not long into the third quarter, she cut loose, hitting three shots from beyond the 3-point line in short order.
"I'm not going to lie, I saw it coming in the third quarter," said Jude, one of 17 family members who made the trip to Phoenix. "She just kept asking for the ball and got more and more comfortable as the game went on. Playing with her for so long, and being her sister, I knew what was coming.
"I was just happy to see her so comfortable on such a big stage, playing so well."
Rick said Shoni feels a responsibility to set an example, just as former Window Rock and Arizona State star Ryneldi Becenti did as the first Native American to play in the WNBA.
"It offers hope to the younger generation of Native Americans," he said. "It has been such a struggle, but it gives them hope and the idea that they can go out and do anything they set their mind to.
"Shoni is living her own dream, but at the same time, she represents a lot more to a lot of people, and that's just the blessing of it all. It's enhancing other people's lives and opportunities along the way.
"It's in her core, really. It's something she has always represented. It's not like she comes out and thinks about it that much, but you walk out and see a lot of Native faces, I think in anybody's mind they're thinking, 'Wow, they're here to see me.'
"I would freeze up, and it's easy to do that. But she doesn't. She embraces it. It's in her heart and something she was born with."
She was born with it on a reservation, where basketball is a horizontal game more than a vertical one. Where creativity is king and playing with fear will only get you beat.
"Rez Ball is kind of an open-court game, where you feed off of each other," Jude explained. "It's free-flowing and fun. It's more about a feel for the game than thinking about it. It's not very structured, but it's a thriller!
"It fits perfectly for an All-Star Game. Ever since we were younger, I've seen those kinds of moves, probably a lot more of them, too. But to see her do it on the big stage, I had goosebumps. I normally don't cheer, but I was cheering."
Why not? On the WNBA's biggest stage, Rez Ball ruled.