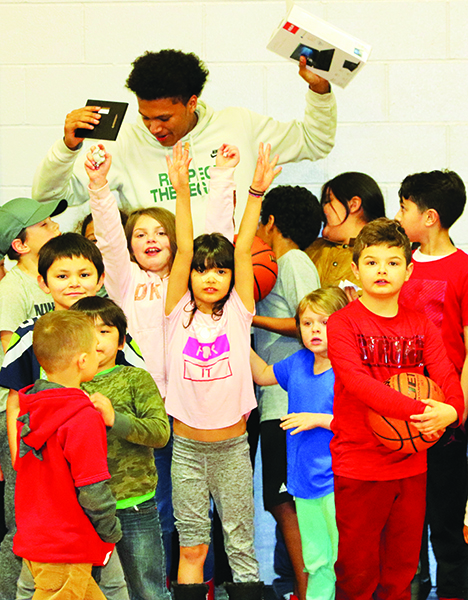 By Micheal Rios, Tulalip News 
RaeQuan Battle's inspirational journey from rez ball rookie to Marysville Pilchuck legend to University of Washington commit continues to demonstrate a seemingly limitless potential on the basketball court. Even with a bright future ahead of him and dreams of making the NBA, the 6-foot-5 human highlight real has never forgotten his roots. Those roots keep him grounded with a rare humility and silent strength that don't go unnoticed by adults and youth alike.
That is just one of the many reasons RaeQuan was named by the Tulalip Boys & Girls Club as Youth of the Year. The 18-year-old high school senior was honored with a custom plaque and given some fancy gadgetry, a 2-in-1 Notebook/Tablet, in front of a crowd of his adoring young fans on March 12. 
For years, the Youth of the Year program has honored and celebrated the Club's most inspiring teens and their incredible journeys. Stories of outstanding leadership, service, academic excellence and dedication to living a healthy lifestyle have made Youth of the Year a premier leadership and recognition program for teens. These amazing young people represent the voice and spirit of hope for children everywhere, inspiring kids to lead, to succeed, and to inspire.
"RaeQuan has been coming to our Boys & Girls Club since he was 5-years-old," said Club Director Mark Hatch. "We see his greatness with basketball, but more importantly we see how he's become a true inspiration for our young ones who look up to him as an example of what's possible through hard work and dedication."
"He was chosen for his volunteering and mentoring with the youth, and for his community service, sportsmanship and demeanor," added Office Manager Diane Prouty.
Each year, one exceptional Club member is selected to be Youth of the Year, serving as an ambassador for Boys & Girls Club youth. Over the years, these individuals have exemplified the Boys & Girls Club mission and are proof to the impact Clubs make in creating life changing opportunities that transform the lives of countless Club kids.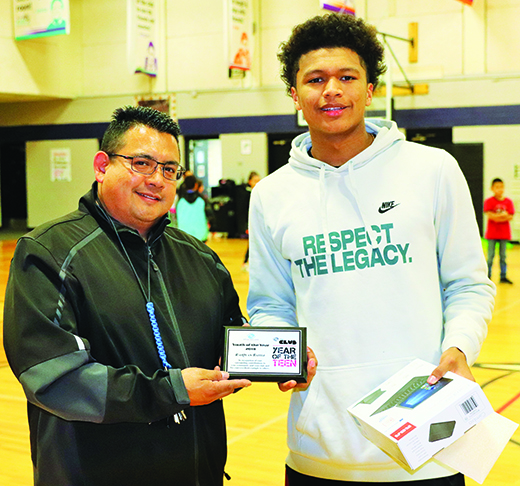 "The first time I ever played basketball was here. I fell in love with basketball right here," reflected RaeQuan as he stood in the Club's gym with a horde of basketball fledglings around him, each eager to witness one of his gravity defying dunks. "I want all the kids to know they can turn out just like me or be even better. All they have to do is take advantage of their opportunities." 
Following the ceremony, RaeQuan's mother Jacquie Williams shared, "Having the Tulalip Boys & Girls Club for my kids to attend and grow up at has been a true blessing. RaeQuan wouldn't be who he is today if not for all the experiences and lessons learned by being a Club kid."