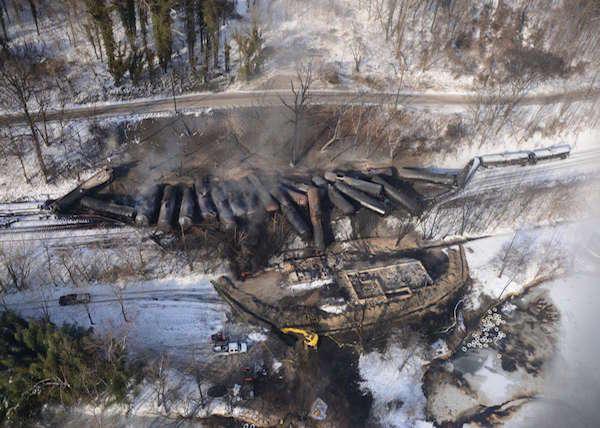 As two dozen charred freight-train tankers continued smoldering in West Virginia on Thursday, the Quinault Indian Nation grabbed the opportunity to once again deride the transport of crude oil by rail because of safety and environmental considerations.
RELATED: Video: Raw Footage of Exploding Oil Train in West Virginia Shows Dangers of Rail Transport
"Even as we face very severe, and growing, challenges from fossil fuel-induced climate change, oil production has doubled in this country over the past five years," Quinault Indian Nation President Fawn Sharp said in a statement on February 17, a day after the 109-car train carrying three million gallons of extra-volatile Bakken crude derailed. "And it is getting spilled, in massive amounts, in many places. From 1975 to 2012, there was an average of 800,000 gallons of oil spilled from trains onto the lands and into the waters of this country each year. Last year alone that number skyrocketed to 1.15 million gallons."
Indeed, at least one of the cars fell and discharged its contents into a tributary of the Kanawha River, and two towns had to be evacuated. Moreover, the train was on the same route that saw the derailment of three tanker cars into the James River in Lynchburg, Virginia, last year, the Associated Pressreported. Speed was not a factor, according to AP.
RELATED: Lynchburg Oil Train Explosion Refuels Rail-Terminal Opposition in Northwest
Oil terminals are proposed in Grays Harbor near Quinault territory, and Sharp has been outspoken against those projects. At least 130,000 barrels of crude oil would move through the Westway and Imperium oil terminals daily from the Bakken region of North Dakota and Montana, the Quinault statement said. Another 45,000 barrels would be accommodated at a terminal proposed in Hoquiam as well, the tribe said.
"People need to realize that these trains are unsafe, at any speed, regardless of the expertise of the crew and despite the efficiency of their communication with towns and cities through which they travel, the general provisions of related bills in the legislature and congress," Sharp said. "The country's infrastructure, such as its rails and bridges, are not strong enough or in good enough repair to handle the massive weight and pounding these trains deliver."
Read more at 
http://indiancountrytodaymedianetwork.com/2015/02/20/quinault-speak-out-against-oil-trains-rail-cars-smolder-west-virginia-159305