By Ryan McDermott, Fierce Government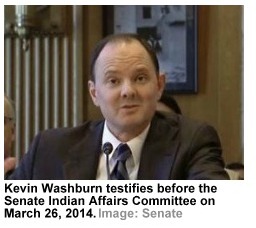 Bureau of Indian Affairs programs would receive a 1.2 percent increase over this year's enacted amount under the White House budget proposal for the next fiscal year.
The budget request totals $2.6 billion for Indian Affairs – $33.6 million more than fiscal 2014 enacted, said Interior Department Assistant Secretary Kevin Washburn during a Senate Indian Affairs Committee Wednesday hearing.
Tribal self-determination and self-governance programs have eclipsed direct service by the Indian Affairs Bureau at DOI, Washburn said.
More than 62 percent of the appropriations are provided directly to tribes and tribal organizations through grants, contracts and compacts for tribes to operate government programs and schools, Washburn said.
But committee Chairman Jon Tester (D-Mont.) said the budget request isn't enough.
"Every line item is deficient," Tester said. "1.2 percent is not right. This needs some work."
He said the percentage increase for Indian Affairs pale in comparison to increases at other part of the DOI. The National Park Service request is for 22.2 percent more than this year and the Land Management Bureau request is 6.1 percent more.
But Washburn argued that Indian Affairs budgets under Obama have been larger in the last five years than another other parts of the DOI. The BIE budget request for fiscal 2015 makes up $2.6 billion of the agency's $11 million total request.
Other parts of the DOI might see a larger percentage increase under the request, Washburn said, but they make up much smaller parts of the agency so the comparison is apple to oranges.
For more:
– go to the hearing page (webcast and prepared tstimony available)