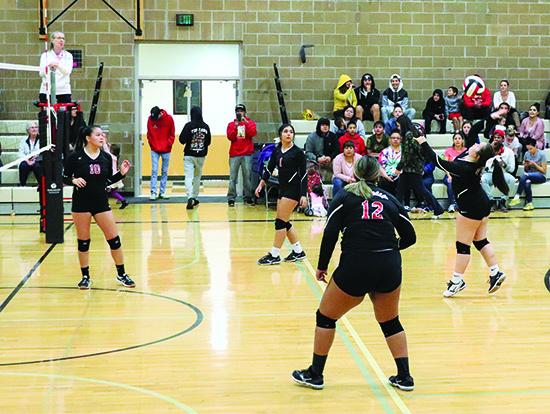 By Micheal Rios, Tulalip News
The Tulalip Heritage Lady Hawks have found their groove at the perfect time. After consecutive victories over Muckleshoot, Orcas Christian and Fellowship Christian, the Lady Hawks volleyball team was riding a wave of winning momentum into their final regular season game played on Monday, October 22, versus the Lummi Blackhawks.
It was "Senior Night" for 12thgraders Yesenia Araiza and Nancy Enick. Prior to the match, family and friends of both players took to the court with balloons and flowers to recognize the occasion.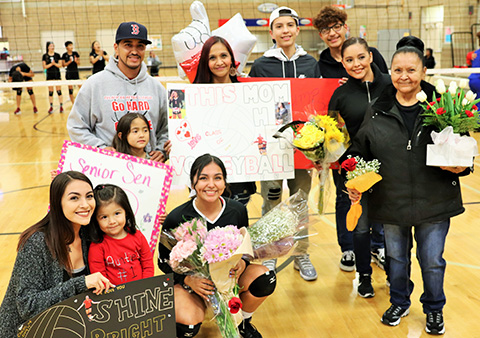 "My family shows a lot of support all the time, but it still felt really great sharing that moment with them," said Nancy.
"I felt sad at first realizing this would be my last home game here," added Yesenia. "Having so many fans come out to support us made the night special and got me excited to play."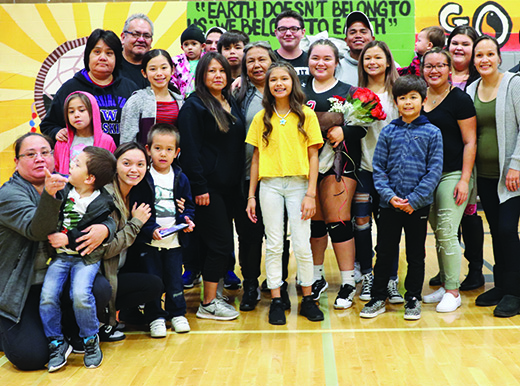 With emotions running high and the bleachers full of cheering Tulalip fans, the Lady Hawks took to the court. In the opening game Nancy served her team to a 5-0 lead. Lummi battled back eventually tying the game at 14-14, but the home team wouldn't be denied. Tulalip went on an 8-0 run to take a 22-14 lead and closed out the game 25-16.
In the 2ndgame, Lummi jumped out to a 6-3 lead. Freshman Jacynta Myles served up several aces to give the Lady Hawks a 12-7 lead. It would be a back forth game for several points, but the home team would close it out strong, winning 25-20.
Team captain Deachae Jones displayed her solid serving abilities in the 3rdgame. Behind her, Tulalip jumped out to an overwhelming 13-4 lead. Lummi was unable to muster a counter attack, yielding the final game 25-14 and giving Tulalip yet another win in straight sets.
Deachae spoke for her squad following the "Senior Night" victory by saying, "We're looking forward to playing in Districts because every game we're having fun and continue to improve."
Now, riding a four match win streak, the Lady Hawks (8-6) are primed for a quality showing in the upcoming District playoffs. They've been seeded #6 in the playoff bracket and will be hitting the road to play games on October 24thand