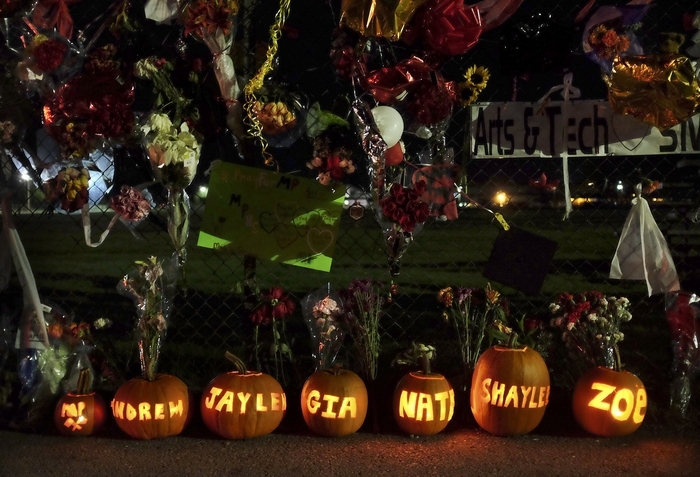 By Rikki King and Diana Hefley, The Herald
MARYSVILLE — Eventually, there will be some answers.
Hundreds of pages of investigative records will become public. They will reveal what detectives believe happened in the days and weeks leading up to the burst of violence Friday in a high school cafeteria.
Finding answers could take a year. It could take two.
As emotions and judgments pick up speed following Friday's deadly shooting at Marysville Pilchuck High School, the clock slows down for investigators.
Each witness. Each bullet fragment. Each text message.
The Snohomish County Multiple Agency Response Team, or SMART, the county-wide cadre of homicide investigators, is in charge of finding the truth.
The team was requested because of the scope and complexity of the investigation. Two Marysville detectives are part of that team.
Detectives owe it to the victims and their families to release only accurate information and to do the investigation the right way, Snohomish County sheriff's spokeswoman Shari Ireton said Wednesday. A large volume of information — unverified and frequently coming from anonymous sources — already is in circulation.
"We only want to release facts that have been verified through the investigative process," Ireton said. "A tweet is not fact."
Detectives have reasons for not revealing details before the investigation is complete.
"We have to protect the integrity of the case," sheriff's detective Brad Walvatne, a member of SMART, said Wednesday. "We don't want to poison a witness' memory. We want to know what they specifically know."
Investigators are responsible for "weeding through the rumors to get to the actual facts," he said.
That takes time.
Previous SMART investigations have shown a meticulous level of detail, pulling together witness interviews, footprint analysis, medication prescriptions, dental records, three-dimensional digital maps, ballistics, crime-scene log-in sheets and more.
Forensic test results alone can take months to come back from labs. Victims and witnesses may need to be interviewed more than once. The interviews will have to be transcribed and proofed. Detectives will have to detail how they were able to find evidence on a cellphone or computer.
"We're not going to rush. We want to be thorough. We want to be fair and impartial," Walvatne said.
That doesn't change if a suspect is dead, he said.
"We could still find out why this happened if we can't speak to the person who did it," Walvatne said.
The homicide detective has been with the sheriff's office for 15 years. He has been part of SMART since 2009. He's been involved in complex investigations, such as the murder of a Monroe corrections officer which required interviewing dozens of inmates and corrections officers. The team also investigated the killing of six people in Skagit County, including a sheriff's deputy.
Walvatne declined to discuss investigative details of the Marysville school shooting. Instead, he explained that in a complex case multiple detectives are put in charge of various aspects, such as crime scene processing and coordinating witness interviews.
The team has detectives who specialize in three-dimensional mapping, trajectory analysis, computer forensics and witness interviews. They share the workload and brief each other on what they uncover.
"There is nothing more important going on. The detectives need to be given the time and space to do it thoroughly and professionally, which is what they are doing now," Snohomish County Prosecuting Attorney Mark Roe said.
Typically, the team is called in to run investigations into officer-involved shootings or in-custody deaths. Roe reviews the team's cases.
Roe was part of a meeting Tuesday that involved dozens of investigators. They all are working on their own piece of the case.
"This is time-consuming, painstaking, detailed work," Roe said. "They need to take the time to get the facts."
Instant access to information and 24-hour news cycles have created an expectation for detectives to finish their case and make everything public right away, and that's not possible, said John Turner, a retired police chief who served in Marysville in the late 1980s and early 2000s.
"There's a reason police don't disseminate all of the information," said Turner, who also led departments in Snohomish and Mountlake Terrace. "There are valid, justifiable reasons for not doing it. Facts that are known to the police (but) are not known to the public help the police investigate, whether it's interviewing, interrogation, polygraphs, all of that."
In addition, this investigation adds a layer of cultural complexity, Turner said. The shooter and some of the victims are Tulalip tribal members.
Turner was a police chief in Snohomish in 2011 when a troubled 15-year-old student stabbed two Snohomish High School classmates. Both victims survived.
That investigation took months, and was complicated in part because police had to gather psychological reports and account for witness stories that changed over time.
In Seattle, police have had to investigate several mass shootings over the years, including one at Seattle Pacific University in June, said Sgt. Sean Whitcomb, department spokesman. The SPU shooting is still an active investigation.
In general, violence in public settings generates more fear and concern, he said. People need answers they can rely upon.
"So there's this added responsibility for us to really make sure that we take our time and ensure every possible lead is followed up, every last scrap of evidence is collected and gathered, and every last witness is tracked down and interviewed," he said.
Roe on Wednesday said he hopes people use the time waiting for answers to supporting victims of Friday's violence.
"This is the time to focus on what we should — the kids, the school, the community," he said.
As of Wednesday, victims Andrew Fryberg, 15, and Shaylee Chuckulnaskit, 14, were in critical condition with gunshot wounds to the head. Nate Hatch, 14, who was shot in the jaw, was in satisfactory condition. Both boys are at Harborview Medical Center in Seattle. Shaylee is at Providence Regional Medical Center Everett.
Zoe Raine Galasso and Gia Soriano, both 14, were killed. A family funeral for Zoe is set for this weekend.
She is survived by her parents, Michael and Michelle, and brother, Rayden. Zoe was a loving girl, who "spread her happiness and delight in new experiences everywhere," her obituary said.
A traditional two-day funeral for shooter Jaylen Fryberg, 15, will conclude with his burial today.