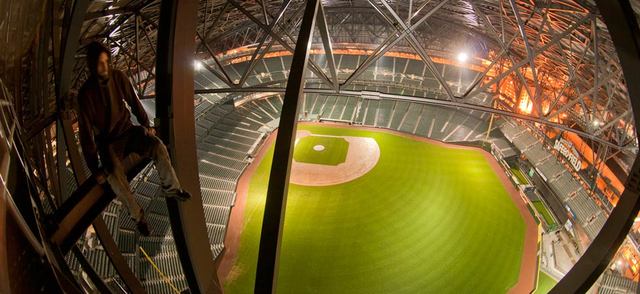 By Josh Kerns  on May 22, 2013
Some daredevils are setting the Internet abuzz with breathtaking and death-defying photos taken from the top of some of Seattle's tallest landmarks.
The most recent one shows a climber perched in the rafters of Safeco Field's retractable roof, 21 stories above the playing surface. While the photo has just started making the rounds, it was actually posted about 10 months ago on the Reddit account of a user who goes by the handle "shuttersubversive."
The guy is absolutely fearless, if not nuts. His other accomplishments include scaling the top of Century Link Field, the Space Needle, and the Columbia Tower. He's also likely the same climber who scaled Seattle's Great Wheel before it opened last summer.
There's no confirmation of his identity, but links lead to a blog called "No Promise of Safety," that identifies him as Joseph Carnavale, a sculptor, photographer and adventurer.
The blog has even more insane pictures of death-defying climbs up various buildings, construction cranes, and other ridiculously tall structures.
It's clear he's not the only one making the risky (and highly illegal) climbs. Somebody has to take the pictures. One conquest shows a pair of climbers sitting atop the Tacoma Narrows Bridge.
On his Reddit page, the guy says he no longer lives in Seattle, but a lot of people around here sure would like to talk to him.