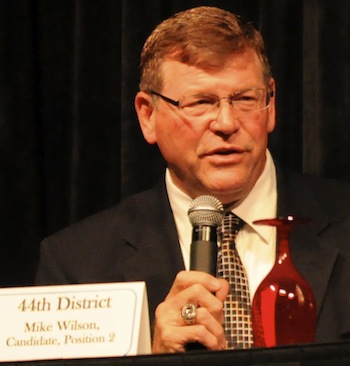 By: Brandon Adam, Marysville Globe
TULALIP — Candidates for the 44th Legislative District Representative and Snohomish County Executive races compared and contrasted their views during the Sept. 26 candidate forum conducted by the Greater Marysville Tulalip Chamber of Commerce at the Tulalip Resort Casino.
Snohomish County Executive and Democrat John Lovick faced off against Republican challenger and Sultan Mayor Carolyn Eslick, after Mill Creek Council member and Republican Mark Harmsworth and Democrat Mike Wilson squared off over the 44th District Representative seat left open by exiting incumbent Mike Hope.
The four subjects addressed by the 44th District candidates covered education, transportation, business and environmental pollution, with each being allowed to offer rebuttals to their opponents' proposed solutions.
Harmsworth held that transportation, jobs and education are integral parts of the community. He would seek funding for public transportation and improvements in highway traffic.
"I have a job in Bellevue, so my commute varies between thirty minutes and an hour and a half, depending on the color of the rain that day," Harmsworth said. "So we're definitely looking to improve things on I-5 and Highway 2."
Wilson, a government and politics teacher at Cascade High School, touted himself as a moderate and proposed bipartisan solutions accordingly.
"I've been able to put resources together and meet people in the middle through tough situations," Wilson said. "When I go to Olympia, I'll be that person in the middle."
The Snohomish County Executive candidates were asked about their positions on Paine Field commercial air service, the Snohomish County Jail and Denney Juvenile Justice Center, the Tulalip Tribes sales tax and the county budget.
Eslick asserted her number-one priority was fiscal responsibility, but also voiced strong opinions about a "complete overhaul" in the criminal justice system, where she said management and leadership were missing, and punishments for crimes were not strict enough.
Lovick, having worked 31 years in law enforcement, defended his role, stating that the executive powers have no say in changes to criminal justice, since the decisions are made on the legislative level.
Election day for the Snohomish County general election is Tuesday, Nov. 4. For more information, log onto http://snohomishcountywa.gov/224/Elections-Voter-Registration.