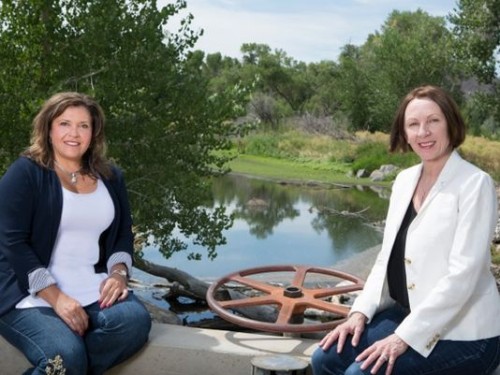 By Robert Perea, Reno- Gazette-Journal
Schurz native Staci Emm and University of Nevada, Reno professor and Interdisciplinary Outreach liaison Loretta Singletary, a former extension coordinator at the Yerington office of the UNR Cooperative Extension, have been named to a new team that has been formed to integrate research and Extension to help Great Basin and Southwestern tribal communities develop plans, policies and practices for sustainable agriculture and water management.
The program is part of a competitive, $4.5 million grant awarded by the U.S. Department of Agriculture's National Institute of Food and Agriculture.
The five-year program, Native Waters on Arid Lands, brings together faculty and students from three of the West's 1862 land-grant institutions — University of Nevada, Reno, University of Arizona and Utah State University; First Americans (1994) Land-Grant Consortium (FALCON); Federally Recognized Tribal Extension Program instructors in Nevada and Arizona; Desert Research Institute; U.S. Geological Survey; and Ohio University. The program team includes tribal members from Nevada, Utah, Arizona and New Mexico.
"This is the stuff I love to do," Emm said. I love working with people and doing programs that actually are on the ground. The program has challenges, and it has so much potential."
American Indian farmers and ranchers provide an important economic base for the arid lands of the Great Basin Desert and American Southwest. Declining water supplies, urbanization, ecosystem change and federal Indian policies challenge American Indian agriculture for ceremonial practices, sustenance and trade.
Singletary said the group will be working with every tribe in Nevada, a couple in Utah, the Navajo and Hopi nations in Arizona and several small tribes in northern New Mexico.
"The foundation of the project is working with tribal communities through focus groups and tribal engagement about what their challenges are and what their ideas are for possible ways and strategies to use their water," Singletary said.
Singletary said American Indian land tenures have presented challenges to tribes and impacted their ability to manage water and other natural resources well.
"Water is a precious natural resource and also has profound cultural and spiritual significance to tribal peoples," John Phillips, executive director of FALCON, a professional association of 1994 land-grant administrators, faculty staff, said. "This program will help Native American communities in the Great Basin and southwest region carry on their historical role as strong environmental stewards for the Earth and its natural resources."
"The Native Waters on Arid Lands program team will work directly with tribal members to identify challenges to agriculture from diverse and competing demands for water," Maureen McCarthy, program director and director (interim) of the University of Nevada, Reno's Academy for the Environment, said. "These issues are complex and transcend ecological and sociopolitical boundaries. Knowledge generated and shared through this program will build capacity among tribal and nontribal organizations to respond to a changing climate."
Program elements include developing climate scenarios and water supply projections for tribal lands; testing the production efficiency of existing and future water systems; assessing the effects of Indian land tenure on water management and agriculture; considering the applicability of alternative water management policies; and integrating paleoecological data with tribal knowledge to understand the impacts of a changing climate.
Other senior members of the Native Waters integrated program team include Singletary, professor and interdisciplinary outreach liaison with University of Nevada Cooperative Extension, leading collaborative research and Extension outreach; Emm, associate professor and Extension educator with University of Nevada Cooperative Extension, leading outreach and coordinating the tribal advisory council and annual tribal summits; Michael Dettinger, senior hydrologist with the U.S. Geological Survey, leading climate research; Beverly Ramsey, executive director of Division of Earth and Ecosystem Sciences with Desert Research Institute, leading the traditional ecological knowledge research; Bonnie Colby, professor with the Department of Agriculture and Resource Economics with University of Arizona, leading water market economics research; Trent Teegerstrom, Arizona Federally Recognized Tribal Director and Extension specialist, coordinating tribal education and outreach in Arizona; Kynda Curtis, associate professor in the Department of Applied Economics at Utah State University, leading agricultural production economics research; Eric Edwards, assistant professor in the Department of Applied Economics at Utah State University, leading property rights economic research; Derek Kauneckis, associate professor with Ohio University's Voinovich School of Leadership and Public Affairs and affiliate faculty member with the Desert Research Institute, leading water rights policy research.
Tribal members of the Native Waters on Arid Lands program team include Emm (Washoe and Paiute American Indian and Yerington Paiute tribal member); Ramsey (Eastern Band of the Cherokee Nation); Curtis, Cherokee descendant; Gerald Moore (Navajo) and Arizona Federally Recognized Tribal Extension Program for Arizona educator, coordinating tribal engagement with Navajo and Hopi tribes; Reggie Premo (Duck Valley Shoshone Paiute) coordinating tribal engagement with Nevada tribes; Vicki Hebb (Cheyenne River Sioux Tribe of South Dakota) organizing and facilitating the tribal summits; administrators, faculty, staff and students from the 1994 tribal land-grant colleges and universities; and American Indian water specialists, cultural advisors, agriculturalists and educators from the region.
"We look forward to working with communities throughout the Great Basin and American southwest to help manage water resources for our future generations," Phillips said of the collaboration.