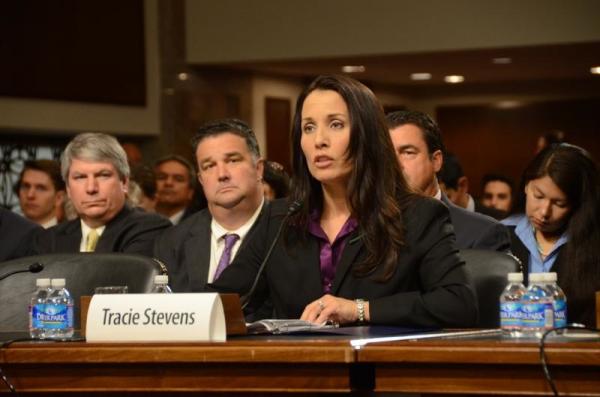 By Gale Courey Toensing, Indian Country Today Media Network
Tracie Stevens (Tulalip Tribes), who is leaving the chair of the National Indian Gaming Commission after completing a three-year term, talked to Indian Country Today Media Network about the commission's work and what she anticipates doing after living and working in Washington, D.C.
You were appointed in June 2010, so you've been chair a little over three years. That doesn't seem like a very long time for a federal government appointment. What made you decide to leave?
My term was expiring back in June, and I had to think about whether or not I wanted to continue to serve as chair for one more [three-year] term. But ultimately my decision to leave was a very difficult and really a deeply personal one. I'm a family person—I'm a wife and a mom—and in the end I had to really consider what was best for my family—and specifically, my daughter. She's going into high school this year, and we decided together as a family that her last four years [in school] should be at home in the Northwest. My [family] has been incredibly supportive over my whole career, with the move to D.C. in particular, and they gave up a lot of things so that I could accept this wonderful opportunity. Now I want to shift my attention back to them.
Six years would be a long time away.
Yeah, especially as an Indian person when you know where your home is; it's in your blood, and you know where you belong.
When you were appointed you had four goals: to review and improve consultation and relationship building, training and technical assistance, regulations and agency operations. How far along are you in accomplishing each of those goals?
Tracie Stevens, a member of the Tulalip Tribes of Washington (Courtesy National Indian Gaming Commission)
We've done exceptionally well, and I say 'we' because it's not something that I did alone. It was certainly a combination of team work, not just with commissioners but with our staff. And a lot of groundwork was already laid by previous commissions.
We revamped our consultation process by adding informal consultations prior to initiating a formal rule-making process, which really speaks to Executive Order 13175. The EO talks about the need to discuss the need for change before you actually make the change. We also needed to look at how we were relating and communicating and cooperating and collaborating with all these other federal, state and tribal entities that are involved with Indian gaming and regulation and its oversight.
Indian law has a very long and complex history, especially under the Indian Gaming Regulatory Act (IGRA), where there are so many divided authorities shared among federal, state and tribal entities, so really working on those relationships across government agencies was important. Technical assistance and training are mandated by IGRA. We've revised our curriculum to better fit the needs of the industry, and we actively communicated with tribes so that we can provide technical assistance on a daily basis—for which I can thank our field staff who don't get the attention and credit they deserve. They really do all the hands-on work to keep tribes in compliance through technical assistance and training.
Our regulatory review was a massive undertaking, and we admitted that up front. A lot of people looked at our initiatives and said, "Holy moly, there's no way you're going to get this done!" But we took it more as a challenge than as a limitation. Overall, we reviewed more than 20 regulations, finalized 17 and held more than 50 consultations to achieve that. That went through our consultation process, where we had collaborative discussions with many tribes at the table as well as receiving comments from the public. In the end, this process helped us as a commission with fully informed decisions and rules that will further protect the industry, so that was a great success.
The last initiative was an agency operations review, and that was our effort to look at ourselves as a commission in the mirror and really examine our internal operations so that we could better fulfill our responsibilities and duties under IGRA. It has been the most active and longest initiative that we've faced. We examined our internal work-flow processes, our communications internally and externally, assignments procedures and priorities, our own compliance, because as a federal agency we do have to comply with federal statutes and regulations, making sure we provided tools to our staff so they could better perform their job, budgeting, standard operating procedures—all of these sort of management and organizational functions that all organizations, whether a federal agency or a corporation, face. So it was and still continues to be a major priority for us.
I'm really pleased with our achievements. It's a success that's shared with tribes and our own staff, and these initiatives won't end with my departure because we've integrated them into our strategic plan that goes through the year 2018.
All of the responses that I've read about the one-touch bingo rule are positive—that's a 180-degree turn from the chaos over Class II bingo when you became chair. Please talk about the process involved in reaching this point. Is it a model for resolving other contentious issues?
Really what prompted us to look at that type of machine and the way it's played were inquiries from tribal regulators, manufacturers, testing labs asking us to provide some clarity. We examined the previous decision, we looked at previous judicial rulings and IGRA itself, and we concluded that we needed to reinterpret that one particular decision because it better upholds IGRA's definition of bingo, as well as those previous judicial rulings. And really, it's our consultation policy that's a great model for resolving contentious issues. Within our policy there's opportunity for tribes to bring to our attention matters that they'd like to have addressed.
What were the most and least gratifying aspects of being NIGC chair?
I think the most gratifying has been the relationships—the people I've come to know within the agency as well as within the federal family that I can now call my friends. But really the most enjoyable of those connections were with the tribes and their representatives through the consultation process. It's always great—whether it's a good exchange or a contentious exchange—to have that discussion. And that may just be a result of my own upbringing as a Tulalip: coming together and resolving issues. My advice to the next chair is: Communicate, communicate, communicate.
I'd say the least gratifying aspect was I'm not really somebody who likes to be out front. I'm more of a behind-the-scenes person, and I knew this job was going to be completely out front, and it's not the most comfortable place for me. But it was an opportunity that ­really was an honor. And a friend and colleague pointed out that if you're not out front, your daughter, your nieces and Native girls aren't going to see women out front. And they need to know that women in leadership is normal, it's expected, and it's achievable.
What are your plans for the future and do they involve Indian gaming?
I made a conscious commitment to Indian country and to serving my own people in one way or another directly or indirectly, so I imagine that's where I'm headed. How that will materialize I don't yet know. I guess time will tell. It'll probably be in the private sector and will probably include Indian gaming along with so many other issues that tribes face.
RELATED: NIGC Chair Tracie Stevens Mended Agency's Relationship With Tribes
Read more at
http://indiancountrytodaymedianetwork.com/2013/09/25/talking-chair-outgoing-nigc-chair-tracie-stevenss-advice-her-successor-151448