Baseball hall-of-famer Brooks Robinson is asking the Hard Rock Casino in Hollywood to waive its rights and compensate him for his injuries.
By Mary Ellen Klas, Miami Herald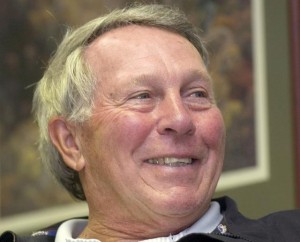 Renowned baseball Hall of Famer Brooks Robinson plunged six feet from an unsecured stage during a charity event at the Seminole Hard Rock Hotel & Casino near Hollywood two years ago and is now suing the Seminole Tribe for almost $10 million for his permanent injuries.
But whether the 76-year-old Baltimore Orioles superstar will collect enough to even cover his medical bills is an open question, said his Miami attorney, Jack Hickey, because under Florida law the tribe's liability is limited.
Robinson still experiences bleeding on the brain, cracks in his spine, and has lost five inches in height as a result of his injuries, Hickey said. He requires constant care, and "has aged 10 years since the fall."
Under the state's legal agreement with the tribe, if someone is injured at a tribal casino and wants to sue, the tribe's payment is capped at $200,000 per person and $300,000 per incident, the same limits that apply when the state is sued for negligence.
A victim suffering from serious injury "can blow through that pretty quickly," Hickey said. But, unlike the state, victims who sue the tribe cannot appeal to the Legislature for more money when a jury awards more than the liability limits.
Hickey is asking the tribe to waive the liability cap and pay $9.9 million to compensate for Robinson's surgeries, medications and physical therapy. He estimates Robinson has lost almost $3 million in income to his family and his charities, and he believes the case exposes a weakness in the compact between the state and the tribe.
"The tribe is going to make billions of dollars and then not take responsibility for it," he said. "If the state allows them to get away with it, shame on the state of Florida, and shame on the governor."
Seminole Tribe spokesman Gary Bitner defended the arrangement. Under the compact with the state, the tribe has already agreed to waive its complete immunity from liability under state law. Without the waiver — which also caps the tribe's liability — injured parties would "get zero," he said.
"The tribe wanted to do this from the get-go for consumers to be sure that people had the sense of being protected on the property," he said. "The tribe is in the business of welcoming people to its casinos and making sure people feel they are in a safe and protected environment while they are there."
He said he was confident that the tribe would negotiate a fair resolution with Robinson, but "can't discuss any negotiations."
The compact between Florida and the Seminoles — which Gov. Rick Scott is now renegotiating — spells out what kind of gambling the tribe can offer at its casinos in exchange for sharing revenue with the state.
Robinson's injury occurred in January 2012, when he was sitting at the top of a three-tiered stage during a player recognition and auction event for Joe DiMaggio's Children's Hospital.
Robinson apparently tried to get up from his chair and leaned back against a curtain that had no railing or wall behind it. He fell to the ground, suffering a concussion and fracturing his shoulder and back, his lawyer said in a letter sent to the tribe's insurance company, Zurich Insurance.
Hickey believes the stage was set up improperly and employees should have taken action to make it safe. He noted that 45 minutes before Robinson's fall, another baseball player, Paul Casanova, fell off the same stage.
"The curtain provided the illusion that there was some support, partition, wall, railing or some other structure to prevent people from falling off the stage," Hickey wrote.
Robinson, who played in consecutive All Star games from 1960 to 1974, was considered one of the best third basemen of all time.
Before the fall, he attended numerous paid appearances at memorabilia shows, was a frequent presence on television and radio, and worked as a part-owner in several business ventures. Since the fall, he has limited his appearances, suffers chronic back pain, has "slowness in his thought process and speech" and is "always exhausted," Hickey wrote.
State Sen. Bill Galvano, a Bradenton Republican who helped negotiate the compact with the tribe, said he recalled that it was considered a victory when the state persuaded the tribe's lawyers to agree to any liability at all.
"We spent a lot of time on that section because they didn't want to waive their immunity at all and come under the jurisdiction under local and state courts," he said. "The idea was [that] through the very thorough pre-suit procedures most of these claims would get resolved."
Hickey, who plans to file a federal lawsuit later this year, has a different opinion.
"Shame on the state for allowing them to have a cap like that," he said. "I'm sure the tribe has their lawyers. Who's representing the hundreds of people on their property? I would venture to say almost nobody."