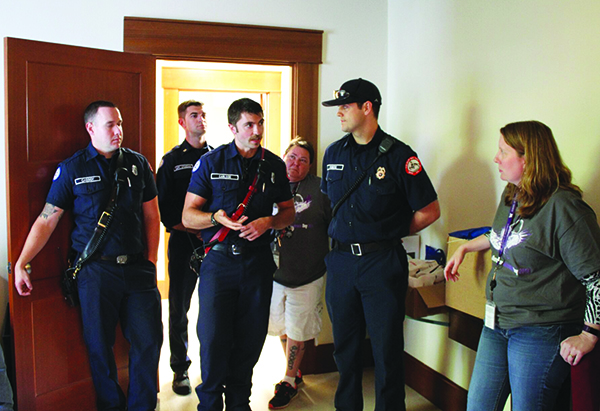 By Kalvin Valdillez, Tulalip News 
A trail of signs was posted along Totem Beach Road leading to the Tulalip Dining Hall on Friday, August 31. Each sign displayed a single person silhouetted in purple, with the main Dining Hall sign saying, "Each nameless, faceless person represents a life lost to overdose." Inside, the community gathered on International Overdose Awareness Day to remember lost loved ones, share personal stories and learn more about the opioid epidemic that has claimed more lives than the Vietnam War, in 2017 alone.  
In their second year hosting the annual International Overdose Awareness event, the Tulalip Community Health department united the people of Tulalip while shining light on a serious topic. The theme for this year's event was Time to Pull Together and participants were invited to write personal messages to any friends or family members who lost their life due to an overdose, on large posters displaying traditional cedar paddles.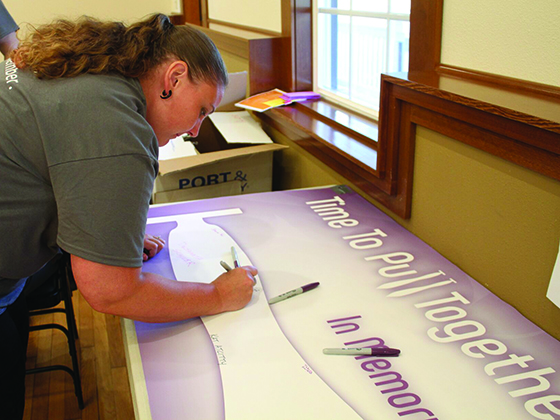 "There was over 72,000 drug overdoses in the United States last year," said Tulalip Interim Police Chief Sherman Pruitt to the group of attendees. "That's almost two hundred people dying every day from overdose. In Snohomish county, the percentage of drug related deaths was approximately thirty-two percent in 2017; in the state of Washington, the number of drug related deaths was approximately thirty-three percent. The Tulalip tribal reservation drug related deaths is at two hundred and twenty-three percent."
Gasps were heard from around the Dining Hall as the Chief shared this statistic. Event participants were shocked and shared a look of disbelief.
"It's a serious problem," he continued. "Our officers carry two Narcan kits on them and we are constantly using them. The Board of Directors wanted us to implement a Drug Task Force, so I started that in March. I've assigned officers to the task force so we can start addressing some of these issues with the individuals who are supplying drugs to our family members and community, and make sure we hold them accountable as well as provide services to get them the help that they need."
Chief Pruitt also explained the Good Samaritan Law to the participants. The Tribe adopted the law back in 2014 after Lois Luella Jones died from an overdose. Authorities believe her life could have been saved, but in fear of arrest, her peers failed to contact emergency responders. 
"It's okay to call," he reassured. "Because of the Good Samaritan Law, you're not going to get in trouble. Our priority as law enforcement officers is the preservation of life, so give us a call so we can provide assistance."
Community members shared stories of addiction, heartbreak and loss from substance abuse. The Health Department also held a Narcan training for the community so they know how to quickly revive someone who has overdosed. The training was led by Gina Skinner and Jane Jacobson who explained in detail how the Narcan nasal spray works.
"In an overdose situation, the opiate has hit receptors in the body that cause respiratory depression and your pupils to get small. The Narcan comes in and kicks the opiate out of the receptors and takes its space," explains Jane. "That makes the patient go into a withdrawal and it allows their respiratory rate to improve, making it easier to breathe and they start to come out of that overdose situation. But they have to get treatment within about thirty to ninety minutes otherwise the opiate could come back and kick the Narcan out of the receptor and cause an overdose situation again."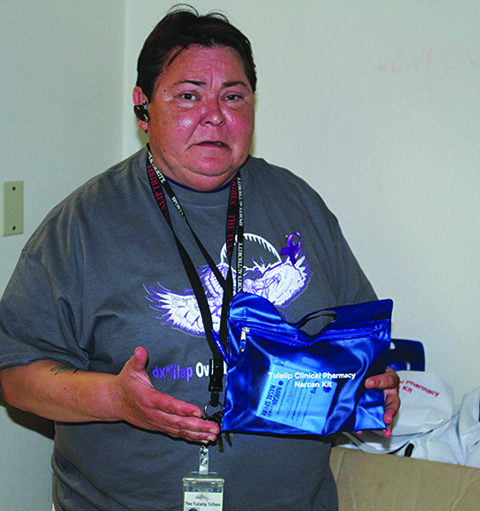 The Tulalip Bay Fire Department joined the trainers to give insight on their procedure during overdose emergencies and how they utilize Narcan. Each participant who attended the training received a free Narcan kit. Tulalip community members are encouraged to pick up a kit of their own, free to Tulalip tribal members at Tulalip Family Services and available to community members through their insurance at the Karen I. Fryberg Health Clinic pharmacy.
"This was our second annual International Overdose Awareness Day event," states Tulalip Community Health Director, Jenna Bowman. "It's important that we let people know we're here and we're creating awareness about things they can do to help prevent overdose and also a space just to be around other family members who may be suffering. As a community, we're all connected, we're all suffering. There's always been a stigma behind talking about overdose and addiction and I think it's important we move passed that and support each other, whether we're going through it and lost someone or maybe we're struggling to find the answers ourselves. It's important that we support each other."
For more information, please contact the Tulalip Community Health Department at (360) 716-5622.