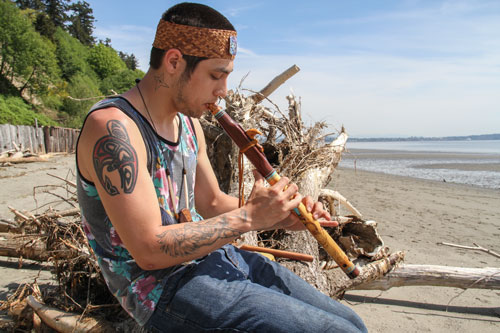 By Brandi N. Montreuil, Tulalip News

TULALIP – Drummer and singer, 24 year-old Tulalip artist Cary Micheal Williams, is among a handful of Native American flute players paving the way in Tulalip for the instrument. As a self-taught flutist he is working on his first music album featuring original melodies. His overall goal is not to become commercialized, but rather to teach the craft and sacredness of the flute to the next generation.
Recently, Tulalip News/See-Yaht-Sub was able to sit down with Williams and discuss his music, teaching, and current music project.
SYS: How long have you been playing the flute?
Williams: I would say a solid seven years. I will be playing for the rest of my life, and teaching it too.
SYS: You are also a drummer so how did you get into playing the flute?
Williams: Yes and I also sing. It first started with me going to my grandpa. He was upstairs in his art room and I said, "I want to play the flute." He said, one second, and went downstairs. My grandma and grandpa had already bought a flute and he brought it upstairs and gave me that flute. He said, "Your grandma said you better take care of it. It's a really expensive flute." Right when he handed me the flute I played a song. Instantly I knew how to play and it was amazing. I went downstairs and played a song for my grandma. The song has changed over time because the flute is different. I was going up a hill after playing on a cliff side and I fell and the flute broke. I recently bought this new flute and it sounds similar to that one.
SYS: How did you choose your flute?
Williams: This flute fits to me naturally. When I was in a prayer ceremony, I kind of felt this change. I was playing my other flute and a different note came out of it as I was playing. Later on down the road I bought this current flute. That connection was just there, so I picked it up. It is made of really high quality; it is yellow cedar, red wood, and turquoise. It has a yellow cedar borough too, so it has a different tone that will come out of it with different melodies.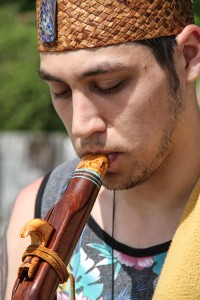 SYS: It sounds like the flute is more than just an instrument to you, and there is a sacredness to be being a flutist.
Williams:  Yes, because it is like its own life. I am honored to give the life into it and the melodies come from the birds. Every now and then I will just get a melody flowing through me and I will start playing it. The flute is very versatile, it can send out a message without much interaction. I noticed if you beat a drum, you shake everything up, but if you were to play the flute you would attract way more people, and unity is what we need. That is what I stand behind with my flute, is bringing people together. I've always been that guy off to the side playing my flute.
SYS: You mentioned a difference between playing the flute and the drum; how do you go from hitting a drum to controlling your breathing in order to play the flute?
Williams: Singing really helps. It really opens up my diaphragm. My singing diaphragm is way lower so I am allowed to get more air out through the flute to my songs. When I stand up my diaphragm is more open, but also when I sit, I have more control over it. From being a singer from a young age my uncle taught me how to do techniques, he would make me lay on the floor and put books on my stomach and tell me to breath.
SYS: How often do you practice?
Williams: There's just times where I will get this feeling and I'll go grab my flute and start playing. I make sure I always have it with me wherever I go, even if I am in the city. If there is someone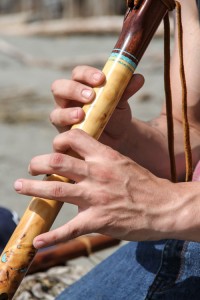 I run into, it's like, "Hey I want to play you a flute song." It's not only healing for them but for me too.
SYS: Do you have a favorite melody so far?
Williams: I think all my songs are my favorite. I remember all my songs from my first flute to the one that I just received. I have this library of songs that run through my head.
SYS: Do you have a name for your album yet?
Williams: I think it would be named Sounds of the Birds, because every time I play I see birds on my flute, just bouncing around and I connect with them. I can hear all the birds singing with me.
SYS: Is there a particular bird that you draw inspiration from?
Williams: There isn't one particular bird, more like a couple of birds. There is the eagle, woodpecker, blue jay, hummingbird, owl and I can't forget the water bird. I get a lot of my songs from the birds and from the trees too. My favorite noise is when I tap on my flute keys. I don't know why, but it is settling. Sometimes I have to play in front of a whole bunch of people and it is my way of grounding myself before I play.
SYS: Do you use sheet music for your songs?
Williams: No, it is all in my head. I have a friend that knows how to transfer the music into the periodic table and is working on putting it onto sheet music.
Some children have it [musical talent] naturally and some children have to learn it a different way. If I can master both the teachings [styles] then I will be able to hand it over. That's what I am aiming for. I have been working on it for a long time. I didn't know it would become my personal mission, but the flute is a gift for all people.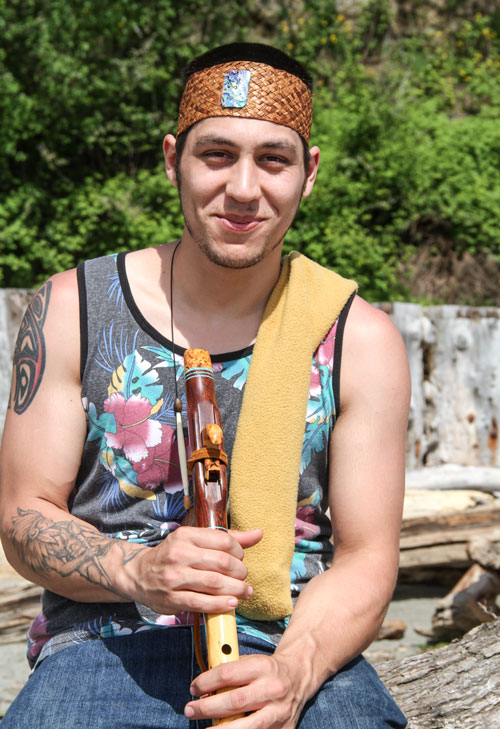 SYS: There aren't a lot of Tulalip flute players; there are mainly drummers and singers. Do you feel like you are helping to create a space for flutists in Tulalip?
Williams: Yes, for future flutists most definitely. My nephews are going to be flutists. I have them blow in the flute and I will push the keys for them. They are literally using their air, so it shows them that their air that is booting through the flute can do it.
SYS: Where do you want to take your music?
Williams: I believe I can take flutist of the year. I just have to keep moving down that road. My main drive is to allow the next generation to pick up the flute, because everyday it is there for me. I think it could be there for our children too, or whoever wants to learn. It is really good medicine for yourself and I found also it is good medicine for others, so I am always willing to share it. I was told that the melodies, harmonic tones and vibrations from the flute have healing power. It can heal wounds and feelings. Don't limit it.
Cary Micheal Williams from Brandi Montreuil on Vimeo.
Brandi N. Montreuil: 360-913-5402; bmontreuil@tulaliptribes-nsn.gov