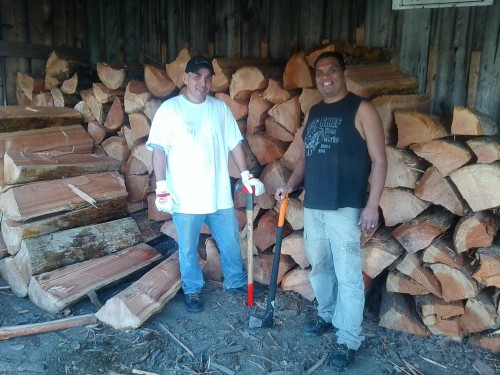 Brandi N. Montreuil, Tulalip News
TULALIP – Since time immemorial the Snohomish people have used wood as an essential element to survive. Wood was used to cook, stay warm and conduct cultural ceremonies. Today cultural values are being preserved through a wood program run by Tulalip Forestry that supplies seasoned wood to Tulalip elders, 70 years and older, free of cost.
"The program exists to help the elders," said Philip Solomon a forestry technician with the program. The Elder Wood Program follows the Tulalip cultural teaching of taking care of your elders.
"It is part of our culture to take care of our elders and check on them. These teachings are fulfilled through this program," explains fellow technician Steven Gobin.
For a little over five years the Tulalip Forestry has supplied this service to elders. Forestry technicians, Solomon and Gobin, both Tulalip citizens, fell the trees selected for the program, cut it to fit into wood stoves and delivered.
"Last year we did 180 cords, but this year they [The Tribal Council] cut back the program so we have done 20 elders and each gets two cords," said Solomon, who has worked in the program for more than a year.
Many of the elders' only source of heat is their wood stoves and fireplaces. The program also ensures that elders are not burdened with an extra cost, guaranteeing that elders don't have to pay the current market price of firewood ranging between $160 to $250 per cord.
Gobin, who has been with the program since it has come under the Tulalip Forestry umbrella, explains that selecting the wood is a science that few consider. "When we deliver to an elder, usually we try to explain to them what type of wood we brought to them. If we bring them Maple, it burns longer for them."
Maple is optimal for burning in wood stoves. Its dense nature makes it burn slow and hot. Alder is good for cooking and smoking. Douglas Fir is used for ceremonial burning and stove-heat because it burns the hottest due to the high volume of pitch; it also burns with less smoke. Cherry wood is used for cooking and for smoking fish, deer meat and clams. All wood must be dry or there could be issues, such as chimney fires from a build up of creosote in acrid smoke from burning unseasoned wood. Cotton Wood is considered the worst for burning in fireplaces and wood stoves and is on the technicians blacklist of wood not to deliver to elders.
Gobin and Solomon also stack the wood they deliver for elders who have no help. Last year the two received some help of their own through the Tribes' summer youth work program. James Jimicum, Cody Johnny, Anthony Cooper, Austin Paul, Moy Flores, Kaley Hamilton and Lenora James helped to provide 120 cords of wood to elders.
"They were a big help. We really appreciated them. This year we didn't have any youth due to the budget cuts. We would work them for four days then on the fifth day we would give them a break. On those days we would talk to them about how important the work they were doing was, and elders would come and talk to them and thank them," said Solomon.
"When we bring a cord to an elder, what uplifts me is the smile on the elder's face and their thank you," said Gobin. "We get a short visit with them. We check on them, ask them how is it going and how are they doing, if they need anything. That is an important part of our culture."
"We provide a lot for the culture, which is what I really like besides being in the woods and knowing that we are providing good quality wood," said Solomon, about the laborious work. "It is thinking about the generations ahead of us."
Brandi N. Montreuil: 360-913-5402; bmontreuil@tulalipnews.com