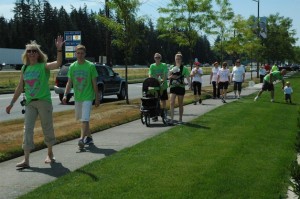 By Kirk Boxleitner, The Marysville Globe
TULALIP — More than 300 walkers turned out to help raise $44,000 and counting for the Cystic Fibrosis Foundation during the Tulalip Great Strides Walk July 12.
Anna Lester, development manager for the Washington and Alaska chapter of CFF, explained that the top three teams in the Tulalip walk's sixth year generated nearly $20,000.
"Those are some amazing numbers," said Lester, who recalled the Tulalip walk's totals growing from $10,000 to $24,000 in its first and second years, before generating $30,000 and $40,000 in its third and fourth years. "We took in close to the same amount this year that we did last year, which is still amazing."
Lester credited the day's warm, sunny weather with inspiring more walkers to step outside, and expressed her appreciation to the Tulalip Tribes for their support over the years.
"The Cystic Fibrosis Foundation is the largest funding source for a cure for CF," Lester said. "Just about every new drug in the fight against cystic fibrosis has been made possible, at in part, by CFF fundraisers like Great Strides."
Lester touted Seattle Children's Hospital as among the top researchers of cystic fibrosis, and identified research and treatment as the primary recipients of Great Strides, whose goal for 2014 is to raise $43 million through 600 walks nationwide.