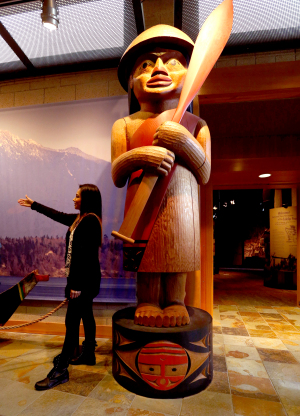 Where else could I get an authentic Indian fry-bread taco, geoduck chowder and a Northwest native dogwood to plant in the yard, all in one stop?
This was a May visit to a garden sale and open house at the Kitsap Peninsula's newly restored Heronswood Garden, now a property of the Port Gamble S'Klallam Tribe.
A week earlier, on the Tulalip Indian Reservation, I had ducked into the Cabela's outdoor-gear superstore to look over their supply of duck boots and combined it with a stop at the tribes' nearby Hibulb Cultural Center.
There I learned about cedar weaving and got a look at a copy of the Point Elliott Treaty of 1855, the watershed document that ceded Puget Sound-area lands to white settlers and changed native lives forever.
On another day trip, friends and I enjoyed a Skagit County hike at Kiket Island State Park — aka Kukutali Preserve (bit.ly/1ILiT2n) — where we lolled on driftwood while overlooking a panorama of rippling waters, rocky islets and the Deception Pass Bridge's soaring arch. It's the nation's first state park jointly owned and managed with a native tribe, the Swinomish Indian Tribal Community, which still harvests shellfish from its tidelands.
Each experience illustrated how Northwest tribes are raising their profile — economically, culturally and recreationally — in ways that anyone can sample on a weekend road trip. It's not just casinos anymore.
Branching out
Tribes that have raked in millions from casinos in the past two decades are looking to diversify investments and broaden their message. Even by owning a garden.
"The tribe's development officer wanted to consider things beyond fireworks, cigarettes and cheap liquor," says Dan Hinkley, Heronswood Garden's co-founder, now the garden's director for the Port Gamble S'Klallam community.
Through its 1990s heyday, Heronswood became world-famous among what you might call the "plantie" set — the botanical counterpoint to foodies. Garden devotees called themselves "Heronistas."
Tucked among woods off the road to Point No Point, near Kingston in Kitsap County, Heronswood featured exotic plants that Hinkley collected on safaris all over the planet.
In 2000, W. Atlee Burpee & Co., of the famed seed catalog, bought Heronswood. Within a year, Burpee filed for Chapter 11. In 2006 they shut the garden, which languished until the tribe purchased the neglected 15-acre site at auction, for seven figures, in 2012.
 After many months of restoration, the garden now opens four times a year for public visits and plant sales (next opening July 25) and twice monthly for volunteer days (
heronswoodgarden.org
).
The acquisition made sense for the tribe, whose reservation borders the garden. To Tribal Chairman Jeromy Sullivan — a geoduck diver in his day job — Heronswood's preservation goes hand in garden glove with his tribe's interest in preserving waterways, shellfish and forests.
The garden's stature in the botanical world has made its rescue a noble undertaking, and that hasn't hurt the tribe's public image.
"The notoriety this has brought around the community has helped the tribe a great deal — everyone has really come together," Sullivan says. "We have relied on gaming and, like other tribes, we really need to branch out."
With planned improvements, the garden can be a venue for weddings and events, he says.
Art in the garden will reflect tribal culture, Hinkley says. In March, they dedicated a totem pole at the garden entrance. Carved by tribal member Brian Perry, whose Indian name is Hopi-Cheelth, one side features the garden's animal symbols, a heron and a frog.
 "My hope — just my own thought — is that ultimately a totem park would be fantastic," Hinkley says.
During the recent garden sale, tribal members sold food and helped direct traffic. Tribal member Lloyd Fulton, wearing his U.S. Navy veteran hat from Korea, offered for sale his traditional carvings, such as a halibut-themed bowl of red cedar. His take on owning the garden?
"I think it's wonderful, it puts people to work, and they have good crowds coming out when they open it like this," he says.
Telling tribal stories
Washington's Makah and Yakama tribes have long been known for outstanding museums. Now, casino revenue is helping more tribes tell their stories:
• The Tulalip Tribes' (Snoho­mish, Snoqualmie and Skyko­mish) 23,000-square-foot Hibulb Cultural Center, near Marysville, opened in 2011 and last year welcomed more than 10,000 visitors — many of them school children on field trips from around the region. They learned about the comforts of communal longhouses and salmon feasts, and the miseries of government-boarding schools that once separated tribal children from their families and culture (hibulb­culturalcenter.org).
• Near Shelton, Mason County, the Squaxin Island Tribe museum's Hall of the Seven Inlets depicts watersheds of South Puget Sound with tribal legends, photographs, art and history (squaxinislandmuseum.org).
• Near Poulsbo, Kitsap County, the Suquamish, Chief Seattle's people, in 2012 replaced an old museum with a modern, $6-million stained-wood building designed by Mithun Architects and showcasing exhibits themed by Seattle's Storyline Studio (suquamishmuseum.org). Among treasures: a carved canoe used in the 1989 Paddle to Seattle, the first of a modern-day series of culture-affirming intertribal canoe journeys around the Salish Sea.
Canoes carry culture
With newfound tribal wealth supporting them, canoe journeys became an annual event involving hundreds of paddlers from tribal nations across the region, catapulting native culture into the spotlight each summer.
So-called "canoe families" — paddlers, their kin and support crew — travel for up to three weeks to a host tribe's community. They visit indigenous nations along the way to share languages, songs, dances and traditional foods. Once all canoes arrive at their destination, a joyous weeklong public celebration ensues.
It's come to mean an investment of at least $1 million by the host nation. When the Swinomish hosted in 2011, they built a plaza with three pavilions shaped like traditional woven-cedar hats, creating a distinctive landmark on La Conner's waterfront.
In 2015, for the first year since 1993, no tribe stepped forward to host a canoe journey; in 2016, the Nisquallys will host. But tribes have a full slate of canoe races through the summer (see swinomish.org/calendar.aspx). And the Swinomish, Samish, Puyallup, Chehalis and Nisqually canoe families earlier this month gave on-water demonstrations — including wave-bucking rides for brave kids and white-knuckled soccer moms — along with storytelling, drumming and more at Deception Pass and Millersylvania state parks. It was part of Washington State Parks' annual Folk & Traditional Arts in the Parks program.
"The goal of the program is connecting Washingtonians to their diverse natural and cultural heritage," says coordinator Debbie Fant.
Partners in message
Tribes are partnering with other entities, as well, on projects that convey culture:
• Washington tribes donated much of the $6 million that supplemented $3 million from the state Legislature to build a longhouse-style center that opened in March at the University of Washington.
The Intellectual House (with a Lushootsheed name that is phonetically pronounced "wah-sheb-altuh") serves as a cultural link for Native American students and will host research symposia and other events (bit.ly/1c7VUQa).
• Construction is under way this summer in southern Pierce County to develop Nisqually State Park, a joint effort of the state and the Nisqually Tribe, at the birthplace of Chief Leschi and the site of an 1856 massacre of an Indian village. The park plan includes a "People's Center" to interpret the conflict and reconciliation between Indians and settlers (parks.wa.gov/336/Nisqually).
• Once the Alaskan Way Viaduct comes down, Coast Salish-style artwork will be a centerpiece of Seattle's new waterfront. The Seattle Office of Arts & Culture in March awarded a $250,000 commission to Puyallup tribal member Shaun Peterson (Indian name: Qwalsius) for a major installation.
Culture on the hoof
Almost anywhere tribes invest, their culture gets a showcase.
Good example: The Muckleshoot Tribe celebrated its March acquisition of Auburn's Emerald Downs racetrackby hosting last weekend's Battle of the Horse Nations, traditional Indian relay races that brought "horse tribes" from across the West to compete for three days in a colorful spectacle of traditional garb and wild gallops.
Track president Phil Ziegler says Auburn will likely be an annual stop for the relay races, described as "America's first extreme sport."
Even shopping can be a cultural experience, of a sort. Go looking for camo gear at Cabela's, in the Tulalips' Quil Ceda Village (quilcedavillage.com), and native sculpture greets you inside the door. Need a designer suit? Toddle up the road to the region's toniest outlet mall, Seattle Premium Outlets, also on tribal land. Hungry? Stop next door at Panera Bread, opened in December, for an Asiago Cheese Focaccia.
Not only are Northwest tribes reaching beyond casinos, some are diversifying beyond fry bread. But few are forgetting their roots.
Tribes' hotels show off their art
A growing number of tribally owned hotels showcase tribal art in lobbies and lounges. Not all are connected to casinos:
• The Suquamish Tribe's Clearwater Casino Resort in May opened a new $30 million, 98-room hotel wing, added to an existing 85-room hotel that draws some guests who come simply for the view of soaring eagles over Kitsap County's glistening Agate Passage — and a notable collection of tribal carvings, glass sculpture, weavings and paintings; clearwater­-casino.com.
• At the Tulalip Resort Hotel, next to the tribes' big Vegas-like casino near Marysville, the lobby's three massive carved-cedar "story poles" — representing storytelling, game-playing and welcome — set the tone; tulalip-­­resortcasino.com/Resort.
• At Ocean Shores, Grays Harbor County, the Quinault Tribe in February converted the oceanfront Ramada Inn to the Quinault Sweet Grass Hotel, which has no gambling. The Ramada's previous owner was the Swinomish Tribe; sweetgrasshotel.com.
• A carved hummingbird design at the reception desk is a cultural symbol of hospitality at the Stillaguamish Tribe's $27 million Angel of the Winds Casino Hotel, which opened near Arlington, Snohomish County, at the end of 2014; angelofthewinds.com/hotel.