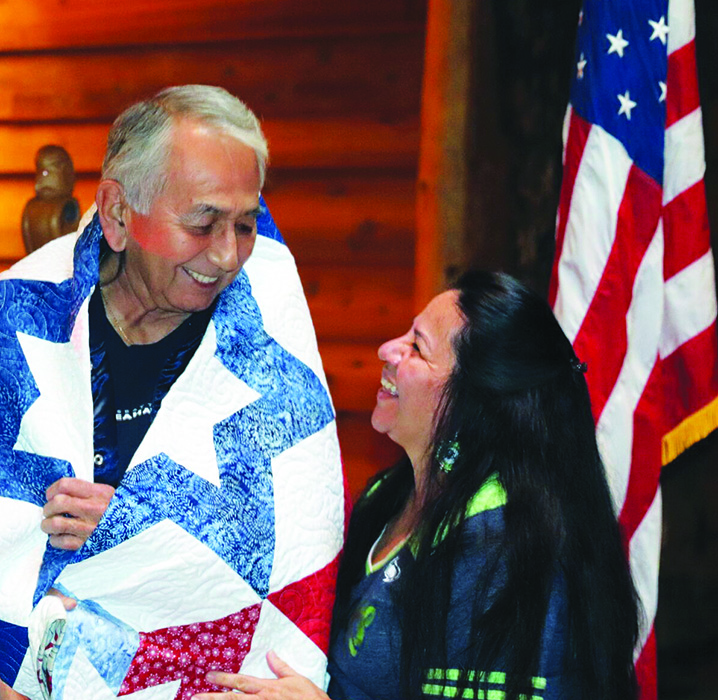 By Kalvin Valdillez, Tulalip News
Each year, the Tulalip-Marysville community takes a little extra time to ensure our local veterans feel exceptionally appreciated on November 11. After spending years away from home, traveling to dangerous locations throughout the world and putting their life on the line to protect this country, it's important to make sure our veterans are taken care of and well-respected when returning to civilian life. Because of combat, many veterans are living with Post Traumatic Stress Disorder and due to the economic climate, many veterans struggle finding employment, contributing to the rise of homelessness among veterans in the United States. As Americans, we tend to get caught up in the everyday cycle and often miss opportunities to show kindness, compassion or gratitude to the vets within our communities who are transitioning back to a life of normalcy. Many veterans throughout the weekend voiced these concerns, stating the impact of a simple thank you outside of Veterans Day can last a lifetime. 
"For me, Veterans Day is a day where we can come together as communities to say thank you to our veterans for their service," expressed Navy Veteran, James Lovely, to the students of Totem Middle School at their annual Veterans Day Assembly. "Although, we shouldn't only thank our vets on just that one day out of the year. I've been in the Navy for seventeen years, done four deployments and seen a lot of cool places around the world while serving my country. After my first deployment ended in September 2004, I went to New York to watch a baseball game, I'm a big Yankees fan. When I was in line to get my ticket, the National Anthem started playing and after it played, a little girl, about eight years old, got my attention and said 'thank you for keeping me safe and defending our freedom'. That was fourteen years ago, it wasn't on Veterans Day, but I still think about her thank you every single day. It stuck with me and reminded me why I joined the military and to keep fighting when I thought I no longer could."
The Totem Middle School assembly is always a grand event that includes live patriotic music from the school band and speeches from the students. Held on the morning of Friday November 9, the young adults were excited to take a break from their first period class to listen to the veterans recall their days in the service. The annual assembly ended with the famous Armed Forces Melody, where the students honored all five branches of the military by saluting each of their flags; Army, Navy, Marines, Air Force and Coast Guard.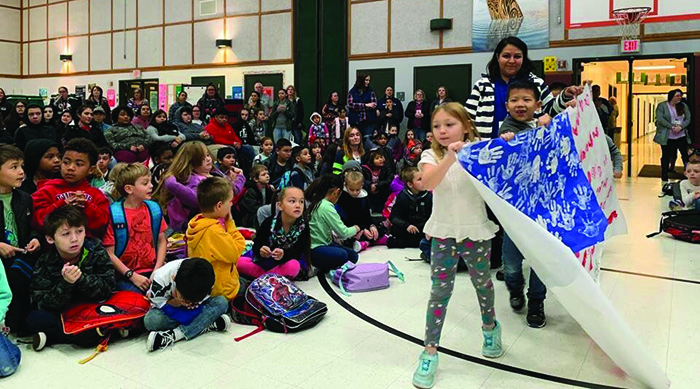 Meanwhile on the other side of the freeway, the students at Quil Ceda Tulalip Elementary sat respectfully on their gym floor as the Tulalip Honor Guards presented the American, Prisoner of War/Missing in Action and Tulalip flags to begin the school's daily morning assembly. The kids were treated to a number of stories from honorable veterans and in return, offered many adorable thank-you's by way of special classroom presentations. 
After a heartwarming morning, the veterans said good-bye to the young students as they returned to their classrooms. The Quil Ceda assembly was just the first event for the Tulalip Honor Guards as they journeyed south to make an appearance in the 53rd Annual Veterans Day Parade on Saturday November 10, a huge celebration that takes place throughout the streets of Auburn. The Honor Guards returned to Tulalip for the Hibulb Cultural Center's annual Honoring Our Veterans event, held on Veteran's Day every year. 
"I work at the Tulalip Veterans Department, proudly following the footsteps of David Fryberg, Gene Zackuse and Mike Dunn," stated Tulalip Honor Guard William McLean III to a packed longhouse the morning of the museum's honoring. "First and foremost, I want to thank everyone for coming out today, it means so much to all of us veterans. Everyone in this room is here for a reason, for somebody. And I appreciate all of you coming out, whether it's for a family member, loved one or for a friend, we thank you and thank them for their service."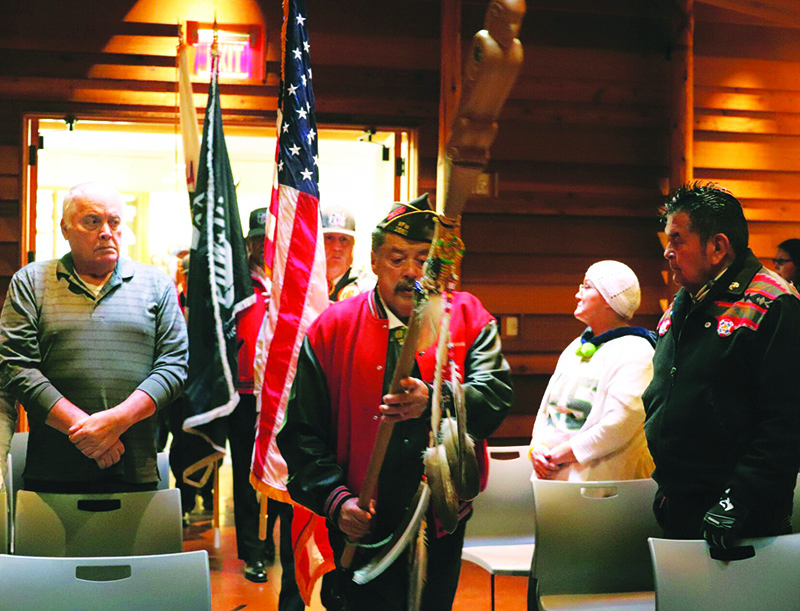 Veterans Day at Hibulb begins with a roll call where all of the veterans in attendance state their name and which branch they served in. Veterans who couldn't make the trip to the museum or are no longer with us are also honored during roll call and recognized by their family members. The gathering unites service men and women from all branches of the armed forces. Tulalip elders who served shared several colorful stories that painted a vivid picture of wartime. Reflecting on the horrors of enemy fire, the brotherhoods formed within infantries and journeying into the unknown at a young age, the vets spoke about their tours, sharing stories that always ended with a strong sense of pride for both this Nation as well as their respective tribes.
"I want to thank all of our veterans both men and women," said Tulalip Board of Director and Vietnam Veteran, Mel Sheldon. "Tulalip has a rich history for volunteerism and participation in the military. There's also another segment of people we can't forget about and that's the spouses. Wherever a veteran goes to their next post, we don't get to hear what it was like for the spouses, to be in a strange place at different parts of the country. We want to raise our hands and thank the spouses who went along with and supported their loved ones."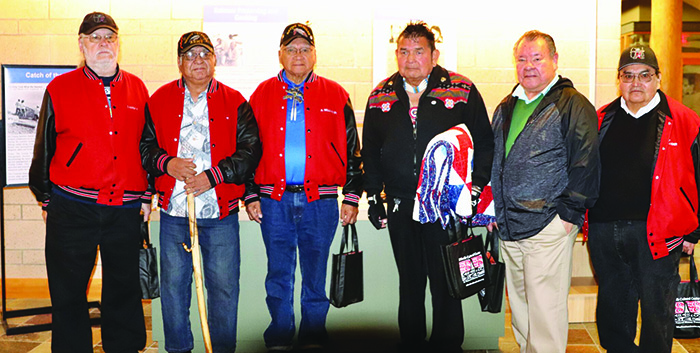 To close the 2018 Honoring Our Veterans event, the ladies of the Tulalip Veteran Quilt Project gifted their beautiful handmade quilts, that they put much time, effort and love into, to seven Tulalip Veterans for going to war and defending our country. Tulalip Chairwoman, Marie Zackuse, whose husband Gene served in the military, shared a few words before the veterans and their families emptied the longhouse. 
"I want to thank each and every one for coming out to support our veterans today," she said. "As we honor all the veterans who are here present with us, our prayers are also with those elders who couldn't be with us today. Thank you for the sacrifice you made to leave our reservation to serve our country and our people. Today we also want to honor our fallen heroes who paid the ultimate sacrifice as well as our gold star mothers who suffered that loss. I want to thank the Creator today for all of those veterans who are still physically with us. I also want to thank our women who are doing this wonderful gifting to our veterans and honoring them in that special way with your beautiful talents and quilting."
Be sure to extend a huge thank you to any veteran you may meet along your journey for bravely defending us and our freedom.