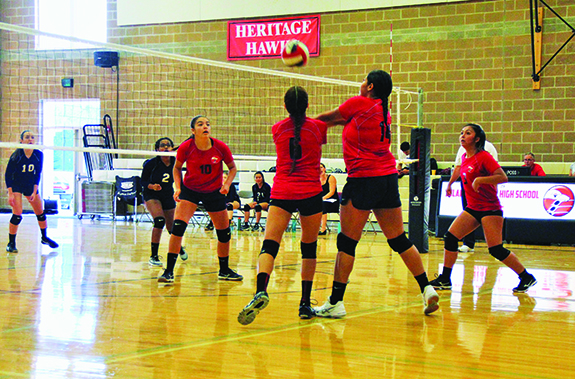 By Micheal Rios, Tulalip News
After finding unprecedented success on the volleyball court last year, a season that saw Heritage make it all the way to Tri-Districts, the Lady Hawks opened up a brand new season with a home game versus the Providence Classical Christian Highlanders. The game was played on Monday, September 11, at Francy J. Sheldon gymnasium.
The foundation of this year's team include senior captains Keryn Parks and Deandra Grant. The Lady Hawks graduated six seniors from last year's team, which included three starters. In their place comes a new batch of young, eager to play student-athletes.
"We have lots of new faces to our Lady Hawk program. For some of the girls this will be their first-ever volleyball match," says Coach Tina Brown. "Fortunately, we have two senior leaders in Keryn and Deandra who can remain positive and help teach their teammates during the games. There's a learning curve for us as a team, but we'll only get better as we gain more experience playing together."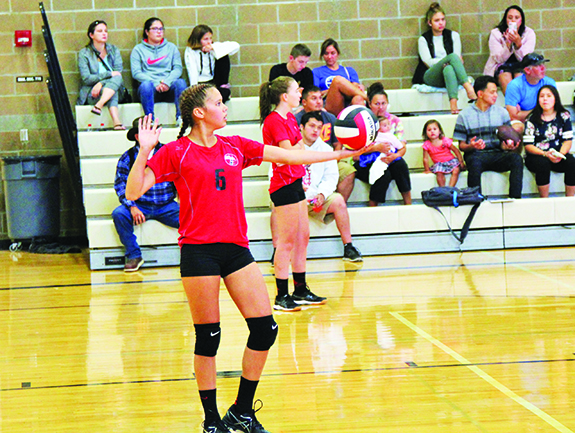 It was a tough opening matchup for the new look Lady Hawks, as the PCC Highlanders only lost one regular season game last season and returned the majority of their players.
In the 1st game, the Lady Hawks struggled to get any momentum going while the Highlanders weren't missing a beat. The Highlanders took the opening game 25-11.
The Lady Hawks played much better in the 2nd game. After trailing 0-5 to start, the girls got their game going on both sides of the net, going on long rallies and hustling to every ball. The service game got going as well with several Lady Hawks coming up with aces. They battled back to get within four points, 19-23, before the Highlanders called a timeout. Both teams traded points leading to the Lady Hawks dropping a competitive 2nd game 21-25.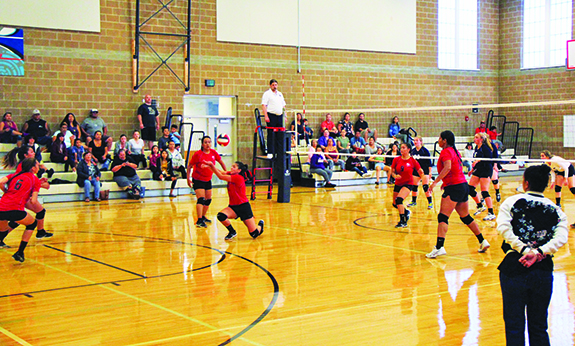 The 3rd and final game saw the Lady Hawks go down 3-9 early before once again battling back behind timely aces and solid defense to get within three points, 10-13. The Highlanders were just too good on this day though and won the game 25-19 and the match 3-0.
Following the game, Coach Tina said she was very proud of her players for playing as competitively as they did versus a top tier opponent. She continued, "There were stretches during the final two games where we played them even, nearly point for point. However, the mistakes we made during the match are the same we've been making in practice. They are little mistakes, but they add up when they keep happening. So we'll look to fix them and continue working on getting better at practice."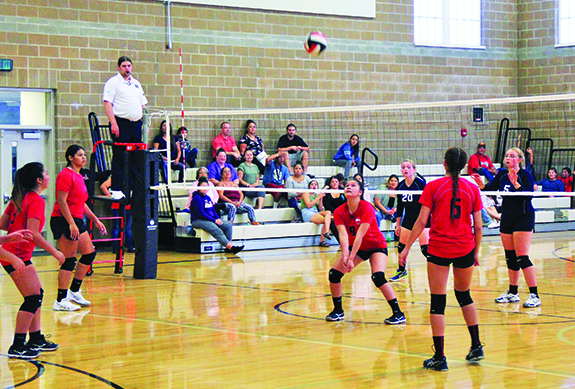 Keryn added, "It's a whole new group of girls compared to last year and we're still getting used to playing with one another and learning each other's strengths. In the 2nd and 3rd games the score showed we got really close. I think we've gotten way better through practice and it showed today on the court."
Up next for the Lady Hawks is another home game versus Arlington Christian before hitting the road to play at Shoreline Christians. Heritage then returns home to play rival Cedar Park on Thursday, September 21.