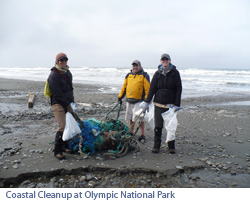 Press Release: National Parks Conservation Association

Join NPCA on April 19, 2014 as we partner with other environmental groups to remove debris from Washington beaches.  Household plastics, garbage and other manmade debris are polluting our ocean, killing our marine wildlife, and spoiling our beaches and collectively we can do something about it!
This is your opportunity to be a part of the largest coastal cleanup event of the year. Last year a combined 1,000 volunteers removed over 15 tons of oceanic garbage!
We will meet at the Kalaloch Campground Saturday morning and carpool to South Beach for coastal debris removal. Olympic National Park is providing free camping at Kalaloch Campground both Friday and Saturday evenings. The event organizers, CoastSavers, will host a barbeque cookout at the campground Saturday afternoon.  We encourage everyone to stay and explore the breathtaking coastlines and rainforests found in this area.
Event Details
WHAT: Washington Coastal Clean-Up 2013 hosted by CoastSavers.
WHEN: The clean-up is Saturday, April 19 from 9 a.m. to 3 p.m. FREE camping will be available on Friday, April 18 and Saturday, April 19!
WHERE: Kalaloch Beach, Olympic National Park. Meet at the Kalaloch Campground in the main parking lot.
WHO: Anyone interested–-families welcome!
RSVP: Please RSVP to Shannon Brundle, sbrundle@npca.org or 206.903.1444 ext. 704, by Monday, April 14.

OTHER INFO: Remember to bring your work gloves and camping gear if you plan to camp overnight. Food is provided on Saturday at the cookout; please bring your own food and water for the rest of your stay. Also, the free camping is limited and available on a first come, first served basis– plan ahead to make sure you have a site.