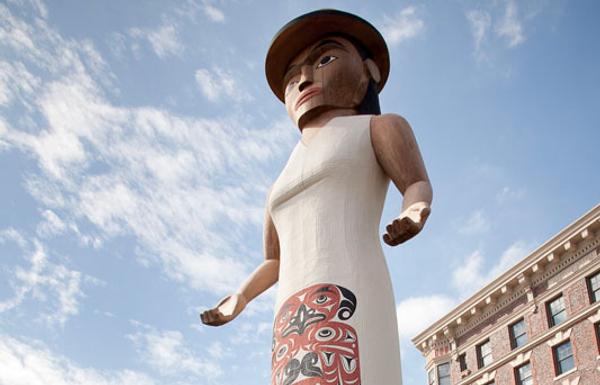 Shaun Peterson, Puyallup, has been selected for a commission on the Seattle Waterfront. Peterson's art is a showcase of Coast Salish traditions for the modern world, and he's experienced in creating public installations. After the announcement, he took to his blog at Qwalsius.com:
I wouldn't have foreseen this coming if you had asked me but it is here and it is now. I hope to make the most of this opportunity and showcase that Coast Salish culture is alive and well. That it is deserving of the land on which it comes from and that it will, as all art does, adapt to the world around it and will continue to thrive as long as the people exist in its region. As Chief Sealth once said long, when people believe our people have vanished we will be among you… something like that, I'm paraphrasing of course but the gist is, my art and others of Coast Salish heritage are making public works that will continue to be standing long after we have gone, and there is something to say for that. Today, I am overjoyed with the task ahead of me.
Below are a video portrait of Peterson, examples of his public art, and the full press release from the Seattle Office of Arts & Culture:
Artist biography Qwalsius – Shaun Peterson from Shaun Peterson on Vimeo.
Salmon Continuum Bus Shelter, Tacoma Washington, by Shaun Peterson
Welcome Figure, spuy'elepebS near Tollefson Plaza, Tacoma, Washington, by Shaun Peterson.
Welcome Figure (night), spuy'elepebS near Tollefson Plaza, Tacoma, Washington, by Shaun Peterson.
Killer Whale (Aluminum), Puyallup Tribal Health Authority, Tacoma, Washington, by Shaun Peterson.
From the Natural World, Puyallup Tribe Elders Building, Tacoma, Washingto, by Shaun Peterson.
SEATTLE (March 25, 2015) — The Seattle Office of Arts & Culture is pleased to announce that artist Shaun Peterson, of Milton, WA, has been selected for a commission on the Seattle Waterfront. Peterson is a pivotal figure in contemporary Coast Salish art traditions, and is a member of the Puyallup tribe. He has major installations throughout the Northwest, ranging from works created in wood, glass and metal.
"This is an historic opportunity to have an artwork by a Native artist on our Waterfront," says Mayor Murray. "Peterson's artwork will be a tribute to the cultural significance of the waterfront to the Coast Salish first peoples and our city. The waterfront will finally reflect the origins of our vibrant City and also the many peoples who made this region what it is today—one of the fastest growing in the nation."
This commission, undertaken in partnership with the Office of the Waterfront and Seattle Department of Transportation, sought an artist to create an artwork that recognizes the tribal peoples of this regionfor Seattle's Central Waterfront project. Peterson will work with the city and its design team to develop a site-specific artwork or artist designed space that reflects the Coast Salish tribes that have a historic connection to this territory. The budget for the project, inclusive of artist fees, is $250,000.
"Seattle is named after our Coast Salish Chief, and in honor of that I hope that my work will demonstrate that Native art is not static," says Peterson. "Our people are part of this land and its history, but most importantly we are part of the present. The art I create will aim to communicate that, and in the process, create space for dialogue."
"Shaun's work embraces new interpretations of traditional designs, and his facility in blending both the traditional tribal art forms along with contemporary elements and materials makes him the ideal artist to envision the Coast Salish presence on the waterfront," says Ruri Yampolsky, Public Art Program Director. "We are incredibly excited to have Peterson create a permanent artwork that will be reflective of the Coast Salish peoples and the region."
Waterfront Seattle is the large-scale project to replace the Alaskan Way Viaduct with 26 acres of new public space, streets, parks, and buildings. The public piers will be rebuilt as part of the Seawall Bond passed by voters in 2012. Peterson's first major public installation was a 37 foot story pole for Chief Leschi School in 1996; it was quickly followed by commissions in Tacoma and Seattle, Washington.  He continues to explore the future possibilities of indigenous art traditions.
Peterson joins artists Cedric Bomford, Ann Hamilton, Norie Sato, Buster Simpson, Oscar Tuazon and Stephen Vitiello in creating a permanent artwork which will transform the waterfront. This roster of diverse artists will help to create a sense of place on the renewed waterfront that will act as an invitation to residents and visitors alike.
About Shaun Peterson
Shaun Peterson is a pivotal figure in the revival of Coast Salish art traditions. An enrolled member of the Puyallup tribe, and also affiliated with the Tulalip tribe, Peterson carries the name Qwalsius, originally carried by his great grandfather, Lawrence Williams. The name has been translated in two possible meanings as the Lushootseed language spoken by many Western Washington tribes has become scarce. The first translation is "Painted Face" and the second is "Traveling to the face of Enlightenment."
Peterson is a Native American artist producing work that is a continuation of the ancient art of the Northwest Coast first peoples. While knowledgeable and invested in diverse tribal styles and applications, his focus and expertise is the art of the Southern regions that encompass the many tribes of Western Washington and Southern British Columbia known as Salish territory. Shaun's artistic career began under the guidance of key mentors in the field of Northwest Coast art including master artists Steve Brown, Greg Colfax (Makah), George David (Nuu-chah-nulth), and Loren White.
Selection panel members and advisors:
Panelists
Tina Jackson, Cultural Activities Coordinator/ Kate Ahvakana, Suquamish Tribe
Barbara Brotherton, curator of Native American Art, Seattle Art Museum
Patti Gobin, Tulalip Tribes
Candice Hopkins, curator, University of New Mexico, Carcross/Tagish
Warren KingGeorge, historian, Muckleshoot Tribe
Cary Moon, urban designer
Eric Robertson, artist, Métis/Gitksan
Advisors
Heather Johnson-Jock, artist and Tribal Council Secretary, S'Klallam Tribe
Guy Michaelson, Berger Partnership
Steve Pearce, Office of the Waterfront
Tracy Rector, Seattle Art Commission
Denise Stiffarm, Urban Indians, Gros Ventre (A'aninin/White Clay)
Ken Workman, Duwamish Tribe
Nicole Willis, Tribal Relations Director, Office of Intergovernmental Relations
#          #          #
Read more at 
http://indiancountrytodaymedianetwork.com/2015/04/03/shaun-peterson-puyallup-tapped-make-public-art-seattle-waterfront-159871