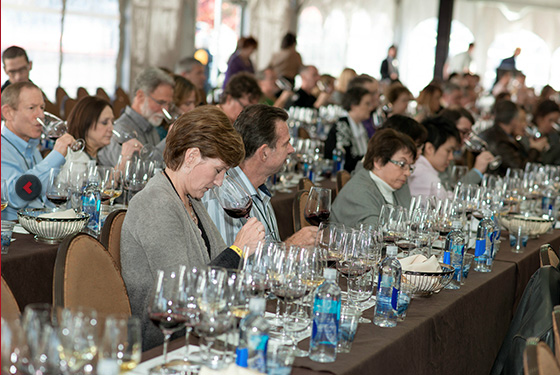 Tickets go on Sale August 14, 2015

Tulalip, Washington — Tickets for the 7th annual Taste of Tulalip, held at the Tulalip Resort Casino, will go on pre-sale at 9:00 a.m. PDT on August 14, 2015. Executive Chef Perry Mascitti and Sommelier Tommy Thompson have spent the past year organizing a star-studded line-up of food, wine and traditional show-stopping entertainment for ticket holders. Run, don't walk, when purchasing your passes because this highly anticipated event sells out every year. Seats for the Friday, November 13 celebration dinner may be purchased by calling (360) 716-6888, and the passes for the Saturday, November 14 events can be purchased via Ticketmaster at www.ticketmaster.com.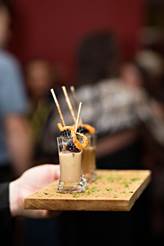 The 2-day festival, with a focus on wine, food and tradition, begins with the Friday night wine and passed hors d'oeuvres reception, followed by the fittingly named Celebration Dinner. The multi-course repast celebrates "La Famiglia," as the Italians say, it's all about "the family!" The evening's inspiration comes from the love of Italian grandmothers everywhere who have a special passion for cooking amazing food every day for their families. In tribute, Tulalip chefs will recreate many of their beloved recipes, paired with a global offering of rare, top wines. Friday night's Celebration Dinner is priced at $225 per person, and tickets are limited.
On Saturday "All Access" pass holders ($350 per person) will enjoy early entrance to the unforgettable Grand Taste and Rock and Roll Challenge; a wine seminar — Washington State AVA Smackdown featuring some of the State's tops wine producers, hosted by superstar wine guy, Anthony Giglio. Also featured, a VIP seminar featuring Chef Chris Cosentino's cooking demo, table talk and Q & A session on the Albert Lee Appliance Cooking Stage; and a private Magnum Party where guests will be treated to a selection of high level wine and food pairings.
The weekend's highlight is always the Grand Taste, spanning four hours and featuring lavish food stations, as well as over 100 wines from Washington state, Oregon, California, Oporto, Maderia, global selections of bubbles, as well as pours of late harvest and ice wines and craft beer. Grand Taste is priced at $110 per person and includes the edgy Rock -n- Roll Cooking Challenge – a fast-paced culinary roller coaster with slammin' rock and roll music! Expect fun and great tunes as local Seattle and Tulalip Chefs and Sommeliers compete "Iron Chef" style with celebrity judges (Chef Chris Cosentino, Chef Thierry Rautureau, Chef T, and Mauny Kaseberg), who are looking for the best dish and wine pairing. This year's emcee will be the famously entertaining Chris Cosentino from San Francisco's Cockscomb and Boccalone, along with wine writer, educator and raconteur, Anthony Gigilo. This show-stopping cook-off is sure to keep things lively and the chefs on their toes!
To top off the weekend, Thompson will also feature an in-depth reserve wine tasting/seminar called "Turning Water Into Wine" with Sparky and Sarah Marquis of the award-winning Australian winery, Mollydooker Wines. The tasting line-up will include 12 of Mollydooker Wine's recently released 2014 wines. Tickets are priced at $125 per person and are available for purchase by calling (360) 716 1239.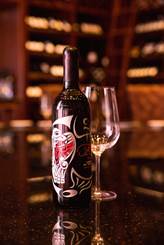 And now for the stars of the Taste of Tulalip Wine + Food Celebration weekend…
Sommelier Tom Thompson – Tulalip Resort Casino
Tulalip Wine Director Tom Thompson is always first in line to uncork the latest and greatest boutique finds. He has carefully selected well over 100 pours from Washington, Oregon, California, Germany, and New Zealand for the "Wine Event of the Year", as recognized by the Washington Wine Commission. Thompson continues to add breadth to Tulalip's extensive cellar, garnering Wine Spectator's Best of Award of Excellence.
Executive Chef Perry Mascitti – Tulalip Resort Casino
Executive Chef Perry is the man behind the pan! He oversees seven dining venues, in-room meals for the Four Diamond hotel and catering for the entire Resort Casino. His creativity shines along with that of his culinary team at the multi-course Celebration Dinner, the nibbles of endless proportions at the Grand Taste, and he is the mastermind behind the Rock and Roll Challenge.
Chris Cosentino – Guest Chef 
Chris Cosentino, aka @OffalChris, is the Chef/Owner of Cockscomb and Boccalone and an Award-Winning Chef and Cookbook Author. Cosentino is a graduate of the culinary program at Johnson & Wales University and went on to build his résumé at Red Sage in Washington, D.C. and Rubicon, Chez Panisse, Belon, and Redwood Park in the San Francisco Bay Area. Cosentino took his first executive chef position at Incanto in 2002 where his inspired and innovative interpretations of rustic Italian fare promptly earned the restaurant both critical and popular acclaim. Cosntino's debut on BRAVO's "Top Chef Masters" series was a huge success earning over $140,000 for the Michael J. Fox foundation for Parkinson's research and being named the season four winner. And in 2012, he saw the debut of his first cookbook "Beginnings: My Way to Start a Meal".
Anthony Giglio – Wine Expert
Anthony Giglio is a writer, educator and raconteur who motivates countless imbibers to trust their own tastes and relax the rules. Giglio's witty, unpretentious style can be discerned in the weekly column he writes for Details Magazine's "Food + Drinks" section. He has written 10 books, including three editions of the annual FOOD & WINE MAGAZINE Wine Guide review of 1,000+ wines; five editions of the enormously popular Mr. Boston Official Bartender's Guide; and his highly-regarded first book, Cocktails in New York.
Mike Gobin – 2015 Taste of Tulalip Featured Artist 
Native American artist Michael Gobin meticulously uses his hands and knives to carve the Pacific Northwest's indigenous red and yellow cedar trees in an effort to bring the sacred wood back to life. A treasure to the community, Gobin skillfully resurrects Tulalip's traditions and ancestral stories through his works of art.
Kerry Shiels – 2015 Honorary Winemaker Côte Bonneville
After earning her Engineering degree, Shiels worked for two years in Torino, Italy, and then moved on to Case New Holland's world headquarters in Chicago for 18 months before entering the world of wine. From there, Kerry worked the 2006 vintage at Joseph Phelps Vineyards, 2007 harvest at Australia's Tahbilk, and then went on to work the 2007 vintage at Folio – Michael Mondavi's Napa winery. During the 2008 harvest, Shiels served as the assistant white winemaker to Rich Arnold at Robert Mondavi Winery, followed by the antipodal 2010 harvest at Tapiz in Argentina, and then finally returning home to work full-time at Côte Bonneville.
Bill Wixey – Emcee
Having grown up in the Pacific Northwest, Bill feels privileged to chronicle the issues that affect his community. A newsroom leader, he has anchored and reported in the Seattle area since 1998, and is co-host of This Morning on Q13 FOX News weekdays from 7 to 10 a.m. Offering commentary on major news events from all over the world, Wixey has reported from Asia following the 2004 tsunami, from Haiti after the 2010 earthquake and covered the Olympic Games in Beijing, Vancouver and London. He has been honored with two Emmys for his broadcast work.

Kaci Aitchison – Emcee
A Seattle native and proud University of Washington grad, Kaci picked up her first microphone as a sophomore, and hasn't put it down since. She got her start in radio at KISS-FM, to meeting the big brothers she never knew she wanted as host on The Bob Rivers Morning Show. In 2009 she joined the Q13 This Morning as a features reporter and is now co-anchor.  Voted "Best Local TV Personality in Western Washington", Aitchison is also one of the lead singers with local rock and roll band Spike and the Impalers.
Thierry Rautureau – Rock and Roll Challenge Guest Judge
For 26 years, Chef In The Hat Thierry Rautureau owned Rover's Restaurant, which offered cuisine that Rautureau described as Northwest Contemporary with a French accent. Currently, Rautureau is the chef/owner of Luc and Loulay Kitchen & Bar in Seattle, Washington. Rautureau was born in the town of Saint Hilaire de Loulay in the Muscadet region of France. At 20, he moved to the United States and worked at various fine restaurants, including La Fontaine in Chicago, the Regency Club for Joachim Splichal in Los Angeles, and the Seventh Street Bistro with Laurent Quenioux, also in Los Angeles. While visiting Seattle in 1987, Rautureau dined at Rover's and discovered that the restaurant was up for sale. Tired of Los Angeles, he decided to buy the restaurant so that he could express his culinary creativity as the chef/owner. The rest, as they say, is
history.
Mauny Kaseburg – Rock and Roll Challenge Guest Judge 
Mauny Kaseburg is a Northwest-born, Paris-trained food and wine consultant who many will remember from her many years on KUOW radio. In 2015, Mauny celebrated her 28th year as Culinary Producer for the Food & Wine Magazine Classic in Aspen. Mauny also spent five years in the Northern California wine country, serving as Marketing Director for the Russian River Valley Winegrowers. She returned to Seattle in 2008 to marry the merman of her dreams – Geoff Golden.
Chef T (Savuthy Dy) Rione XIII – Rock and Roll Challenge Guest Judge
Savuthy Dy is a graduate of the California Culinary Academy and has worked at The Herb Farm, Qube, Piola y Crota in Italy, and Book Bindery, among others. Rock and Roll Challengers beware – Chef T was on the 2014 Taste of Tulalip Rock and Roll Challenge winning team.
Taste of Tulalip tickets go on sale August 14, 2015. Hotel rooms and spa appointments will become near and dear during this 2-day extravaganza. Reserve a room at the AAA Four Diamond resort by going to www.tulalipresort.com or by phoning 1-866-716-7162. For more information, visit www.tasteoftulalip.com.
The 2015 Taste of Tulalip sponsors include: Delta Air Lines, Albert Lee Appliance – Bosch and Thermador, Dillanos Coffee, Mercedes Benz of Lynnwood, Coke, Le Creuset, Seattle Magazine, and Tasting Room Magazine.
About Tulalip Resort Casino
Award winning Tulalip Resort Casino is the most distinctive gaming, dining, meeting, entertainment and shopping destination in Washington state. The AAA Four Diamond resort's world class amenities have ensured its place on the Condé Nast Traveler Gold and Traveler Top 100 Resorts lists, as well as Preferred Hotel & Resorts membership. The property includes 192,000 square feet of gaming excitement; a luxury hotel featuring 370 guest rooms and suites; 30,000 square feet of premier meeting, convention and wedding space; the full-service T Spa; and 6 dining venues, including the AAA Four Diamond Tulalip Bay Restaurant. It also showcases the intimate Canoes Cabaret; a 3,000-seat amphitheater. Nearby, find the Hibulb Cultural Center and Natural History Preserve, Cabela's; and Seattle Premium Outlets, featuring more than 110 name brand retail discount shops. The Resort Casino is conveniently located between Seattle and Vancouver, B.C. just off Interstate-5 at exit 200. It is an enterprise of the Tulalip Tribes. For reservations please call (866) 716-7162.