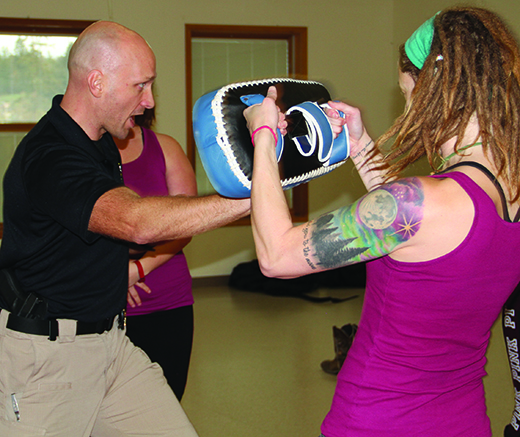 By Niki Cleary, Tulalip News 
'I can't breathe! I can't breathe,' she kept thinking.  It was supposed to have been the perfect day, a trip to the outlet mall with her older sister. She didn't even know what happened. She was waiting in the parking lot for their mom when a car pulled up, the man inside smiling and chatty. She knew better than to talk to strangers, so she started backing away when someone behind her pushed her forward into the car. Now she was in the trunk of the car, tied into a giant fuzzy blanket. She kept trying to remember what the guy looked like. What did the car look like? How was she going to get out of here? Then she started gulping air again because she couldn't breathe.
The above scenario is made up, but it's a scene that Alicia Horne can imagine all too well.
"They're young ladies and they're at the age of human trafficking for sure," she said of her two daughters, ages 10 and 13. Alicia was one of 12 women who attend the first Women's Self-Defense class taught by Tulalip Tribal Police.
Alicia explained that she originally signed up for the class to support her co-workers at Tribal Court.
"I came to support my staff. Where I work, we are dealing with people who are cussing at us and trying to intimidate us. I came because the environment I work in is a hostile environment. "
She brought her girls hoping to give them tools to be safer as well.
"I want to make sure they're self-aware and can protect themselves."
Instructor, Officer Joshua Warren, has taught martial arts for 18 years and volunteered to teach numerous Women's Self-Defense classes. He explained that the class isn't a complete martial arts system, it's an introductory class geared primarily towards rape prevention.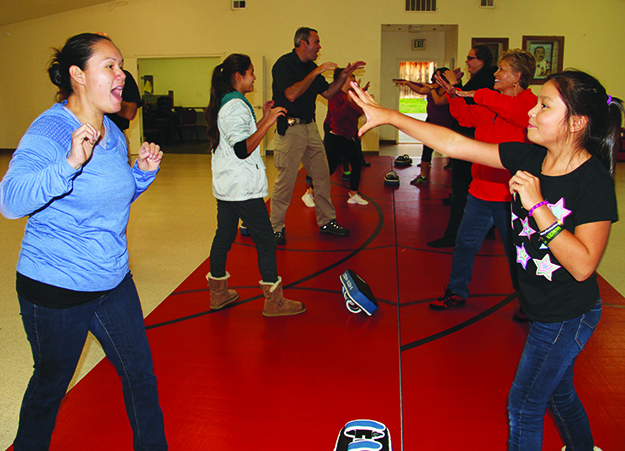 "The typical police response is six to eight minutes away, depending on where you live," he pointed out. "That can be a long time."
Particularly, when, according to the Women's Self-Defense Institute, the average interaction time between a criminal and a victim is 90 seconds.
"Situational awareness and your voice are your most effective tools," Officer Warren stated. He also explained that being a good witness is a valuable skill that allows police and courts to do their jobs when a crime occurs. Noting the height, weight, skin tone, hair color and clothes that a person is wearing all helps police find and arrest the right person.
"Because if he's going to do this to you," said Officer Warren, "He'll do it to her, and to her," he pointed to the other women in the room.
Throughout the evening, the ladies learned how to recognize an imminent attack, and use a handful of techniques to defend against strikes, grabs, and chokes, as well as how to protect yourself if you are on the ground and how to use improvised weapons to defend yourself.
Tulalip Elder Pauline Williams was delighted.
"I wanted to be more empowered," she explained. "I'm older. I want skills to help me be more alert and aware. I think older people in general are a target and vulnerable. Now, I feel like I'm stronger than I thought I was. I consider myself really feminine, but by putting more of my body into action, it gives me more force.
"It's essential," Pauline said of the class. "I'm glad to see the young girls here."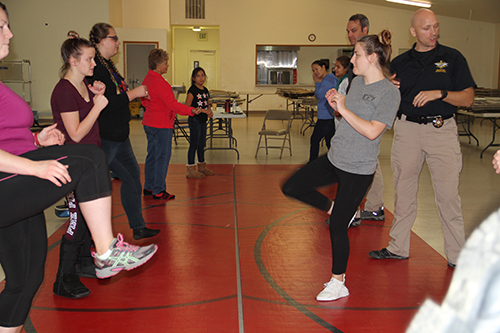 By the end of the evening, many of the attendees were asking for more classes.
"I would recommend it," Alicia said of the class. "I think it should be for all ages. I see some good techniques that these kids can use whether they're left home, left in the car or going to the store by themselves. The crime epidemic has no boundaries for any age or house. When someone is in the mindset of getting what they need, things happen and it's good to prepare yourself.
"What stuck out to me is certain techniques. When they're on top of you, that seems like a helpless situation and having a move to get them off you, to me, that move was more powerful than you think it would be. The talking part was pretty informational, it's a lot to absorb and think about," Alicia explained, recalling the beginning of the class, when Officer Warren referred to Tribal code 305200 and Washington laws RCW9.16.020, both of which outline a citizen's right to self-defense.
"I think there should be more classes," continued Alicia. "When you take your first class, you're stepping outside of your comfort zone. Then, by the second or third class you have it cemented in your mind what you're going to do. After your two or three classes, then you should take a refresher maybe once a year. Kind of like CPR classes."
As the class came to an end, Officer Warren warned that everything he taught was useless, unless the women continued to practice the techniques and strategies that they learned.
For more information or to show interest in additional classes, contact Office Mike Johnsen at the Tulalip Police Department Mjohnsen@tulaliptribalpolice.org.