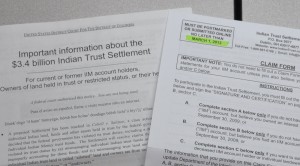 Rob Capriccioso of ICTMN
February 27, 2013
 The second Cobell settlement deadline is approaching on March 1. Indian class members must have submitted their applications for the second payments of the settlement, the trust administration class payments, by that date.
"Any claim forms must be postmarked by March 1, 2013," according to a notice posted on indiantrust.com, the website established by the Cobell lawyers. Claim forms can be found on the site.
In December, historical accounting class payments of $1,000 started going out to beneficiaries who had registered their correct addresses with the federal government, the Cobell lawyers and/or the Garden City Group, the settlement administration company managing the two-part settlement payments process at the direction of the overseeing court.
Some of these payments were sent to wrong addresses, so it is important to contact the Garden City Group to be sure that correct information is in place for the second payment, officials with the National Congress of Americans (NCAI) said during a January conference call with tribal representatives regarding the process.
The number for the Garden City Group is 1-800-961-6109, and their e-mail is info@IndianTrust.com.
NCAI officials estimated that most beneficiaries would receive about $800 under this second payment process, but some could receive more. The calculation is based on the level of activity in beneficiaries' Indian Money (IIM) accounts, held with the Bureau of Indian Affairs (BIA).
The Garden City Group is expected to calculate the amount of the second payments, and the Cobell lawyers expect the payments to be sent by fall. Some $265 million of the $3.4 billion overall settlement has been released to date, according to the lawyers. Of that, $1.9 billion was released to the U.S. Department of the Interior to run a land-consolidation program over the next 10 years. Approximately $100 million was scheduled in to be divvied among the lawyers in the case. Some lawyers continue to battle over their share, according to court documents and press accounts. Lead lawyer Dennis Gingold left the case in December.
On December 17, the U.S. District Court for the District of Columbia appointed Judge Richard A. Levie to become a special master during the payments process. Levie will oversee appeals of payments and other issues surrounding them. Appeals questions should be directed to the Garden City Group.