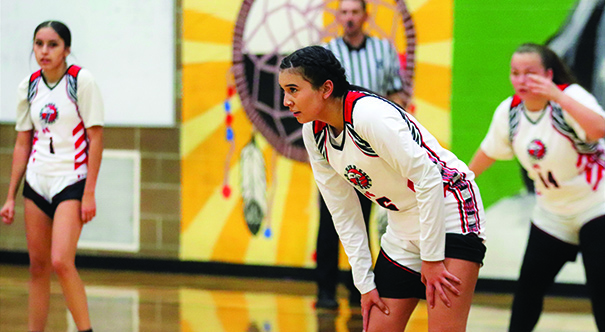 By Micheal Rios, Tulalip News
On Monday, December 4, Francy J. Sheldon gymnasium was the place to be to witness the latest iteration of rez ball. It was an all-tribal affair as your local Heritage Hawks basketball teams hosted the Muckleshoot Kings in an early season battle on the hardwood.
First up, was the Lady Hawks, coached by Sabrina Moses.
"A lot of my girls are brand new, so we've been working a lot on fundamentals in practice," said coach Sabrina. "Until our return players from last year are able to play, it'll be a lot of fundamentals and working on the basics of the game.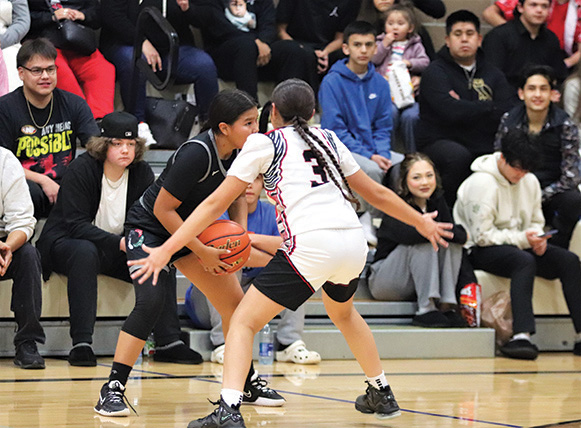 "Entering tonight's game, we only have six players, which is a challenge of its own; making sure we prioritize staying out of foul trouble and knowing when to run and when to be patient in order to have energy throughout the entire game with only one sub is huge," she added.
It would be an uphill battle for the shorthanded Lady Hawks against a more experienced team from Muckleshoot. Tulalip trailed 0-13 midway through the opening quarter when junior guard Audrielle McLean put her home team on the board with a transition layup. With Muckleshoot effectively playing a full-court press, the Lady Hawks would gain much experience dribbling and passing while being constantly pressured by defenders.
At halftime, Tulalip trailed 8-31. Audrielle accounted for all 8 points, doing her best to capitalize on her stellar on-ball defense to come up with steals that she could then turn into transition buckets before Muckleshoot could set their defense.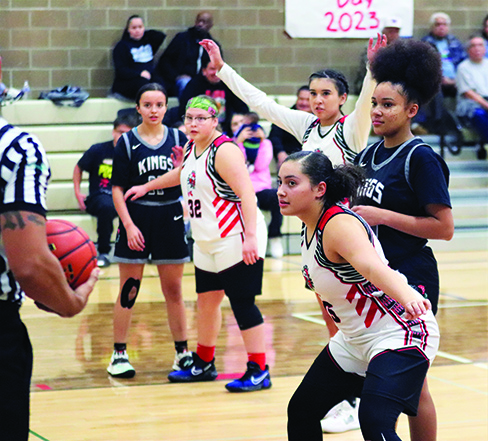 In the 2nd half, Lilly Jefferson swished in a few free throws, while Isabelle Jefferson added a 15-foot bank shot that drew applause from the home crowd. However, Muckleshoot continued their bucket getting barrage from all areas of the court and ran away with the W. Tulalip lost 19-57, but not to be forgotten is the defensive effort by the shorthanded squad led by Audrielle jumping one passing lane after another for a double-digit number of steals.
"It's hard to explain, but when I was out there, I could just see their passes coming and I'd try to tip them to myself to create offense," said Audrielle post-game. She finished the game with a double-double, amassing 15 points and 10+ steals.
"Playing iron five style is hard, and I was dealing with leg cramps a little bit, but I was still able to score on them. I can be better because I missed like half my layups, and I know I'm going to hear about that later from my dad," she added with a smile.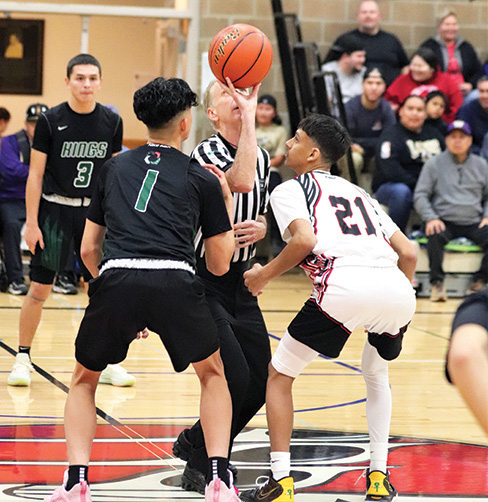 Following the Lady Hawks game, community members continued to pile into the gym's bleachers for a basketball nightcap. Heritage's boys team entered the game (1-1), having smacked Darrington 73-26 before losing a 50-52 nail-biter to Concrete. Like their female counterparts, the boys were missing several key players from last year due to injury or not yet being eligible. With freshman phenom J.J. Gray at the helm, there was hope Tulalip could pull off an upset victory over Muckleshoot.
In the 1st quarter, Tulalip was playing their patented run and gun style. The boys were attacking the rim for point-blank shots or kicking out to a wide-open teammate to attempt a 3-pointer. Meanwhile, Muckleshoot, as the larger team, played to their strength and were determined to get post-ups whenever possible and crash the boards for putbacks. The back and forth quarter ended with Tulalip trailing 14-18.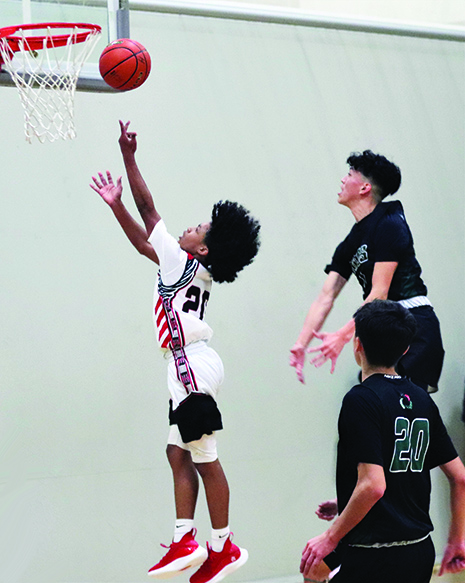 In the 2nd quarter, the game tightened up for the Hawks. Layups were missed and jump shots bricked, while Muckleshoot continued to punish the home team inside. The Hawks would only muster 5 points, all scored by J.J., enroute to a 22-35 halftime deficit.
The Hawks came out flat to begin the 2nd half. They struggled to box out and grab defensive rebounds, which Muckleshoot continued to capitalize on timely offensive boards. Tulalip trailed by their largest margin of the young season, 30-50, before their offense finally got into gear. Over the quarter's last three minutes, Hazen, James and Damon each knocked down a long-range jumper that got the crowd pumped up for a comeback. Tulalip finished the 3rd quarter on an 8-0 run, but still trailed 38-50.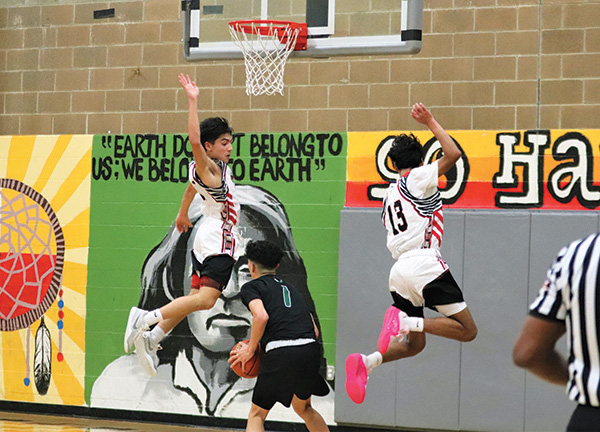 Entering the 4th quarter, coach Shawn Sanchey reiterated to his boys the need to box out and secure defensive rebounds; they couldn't afford to give Muckleshoot extra possessions if they were going to come back.
On this evening, Muckleshoot was simply the better team and secured their victory with a consistent offense approach of taking advantage of their size advantage. Tulalip lost the inter-tribal battle, 52-71. Freshman guard J.J. led the Hawks in scoring with 19 points. James added 11 points and Tokala Black Tomahawk chipped in 10 points.