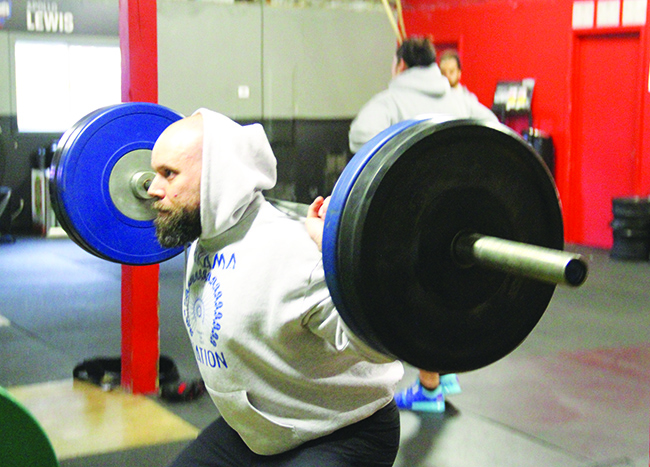 By Kalvin Valdillez, Tulalip News
Constantly varied functional movement, performed at high intensity, is the definition of a CrossFit workout – though many argue that CrossFit is more of a lifestyle than a fitness program. Founded during the early aughts, CrossFit has been growing in popularity across the nation over recent years. The regimen combines several aspects from a variety of sports, namely gymnastics and weight training, into one extreme workout of the day, or WOD. Each day participants push themselves to their personal limits during a fast-paced interval workout session that is often timed to track progress. Over the past decade more and more CrossFit gyms have been opening their doors nationwide, benefiting many communities by promoting health and fitness.
Five years ago Apollo Lewis dedicated his life to helping members of the Tulalip community define and achieve their fitness goals by opening Tulalip Bay CrossFit. Beginning his fitness journey at a young age, Apollo has essentially been working to become a CrossFit trainer his entire life.
Apollo states, "I've been exercising since I was fourteen. I had to wait until I was old enough to be allowed to weight train. As soon as I was fourteen and a freshman I went straight to the weight room and started moving barbells."
He continues, "I've played a whole lot of sports and have a lot of background working with the coaches that trained me. I played a sport every season in high school. After high school I attended Spokane Falls Community College where I became a decathlete where I participated in ten [track and field] events over two days. Following Spokane Falls, I went into semi-pro football and it was shortly after football when I stumbled upon CrossFit.com"
While researching new workout routines, Apollo discovered a website that posted daily workouts. He taught himself during the beginning of his CrossFit journey. He explains, "it was a great blend of gymnastics, conditioning and weightlifting. I picked that up and ran with it at the YMCA by myself, until I found CrossFit in Marysville, and that's what initially started my career."
Many people may perceive fitness as intimidating because of the intense activity; however, anyone and everyone can practice CrossFit.
"It's not difficult, the workouts can be modified to your skill level. For example, if you're doing the chest to bar pull-ups and you're new [to CrossFit] and can't do it yet, then you can use the [resistance] bands to help you until you're able to do it by yourself," states CrossFit coach, Oceana Alday.
During class Coach Lewis motivates by encouragement as well as by example, often performing the WODs right alongside his students.
Another aspect of the CrossFit culture is the Paleo diet. The diet excludes items such as sugar, dairy, all processed foods and grain from daily intake and emphasizes consuming foods such as lean meats, fruits, vegetables and fish.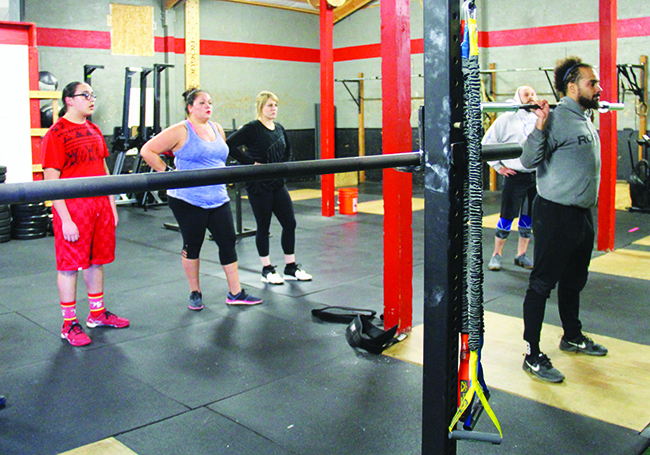 "I love helping the community. I have children and family here and I wanted to have a permanent spot where I can use the things that I've learned to help other people and to spread the word of fitness. I also wanted to give the community a place to hang out. Especially for kids and teens because back in the day there was no teen center. I wanted to be that hang out place where people can turn a bad addiction to a good addiction and so the kids can have somewhere to go that's a positive environment. My goal is to keep adding years to people's lives.
At CrossFit I'm teaching GPP – general physical preparedness. This is everyone from kids to grandparents. I want people to able to pick up their children or grandchildren and be able to play with them. I want the elders, if they fall down, I want them to be able to pick themselves back up and look at that experience as nothing but another burpee," states Apollo.
Tulalip Bay CrossFit is open daily with the exception of Sunday. Currently there are five classes offered Monday through Friday at 6:00 a.m., 12:00 p.m., 4:00 p.m., 5:00 p.m. as well as 6 p.m. On Saturdays Apollo opens the gym at 9:30 a.m. to the kids of the community with a regular session following at 10:00 a.m.
For more information about Tulalip Bay CrossFit please visit their website tbaycrossfit.com