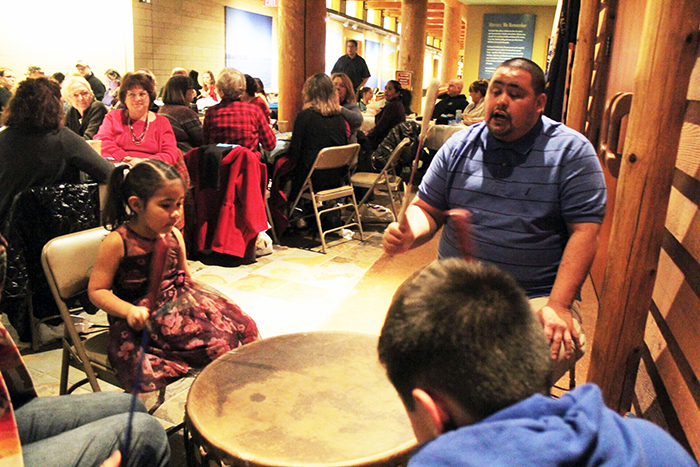 By Kalvin Valdillez, Tulalip News 
Last year, the American Gaming Association estimated that about 9.2 billion dollars was gambled during the 2017 March Madness NCAA Basketball Tournament. Because of such widespread promotion of gambling throughout the tournament, the National Council on Problem Gambling has dedicated the month of March to promote awareness and education about gambling addiction to local communities, known as National Problem Gambling Awareness Month.  The Tulalip Problem Gambling Program has a fun, eventful month planned for the community which began with the National Problem Gambling Awareness Month 3rd Annual Community Dinner Event.
On Saturday March 3, dozens of community members gathered in the common area of the Hibulb Cultural Center. The evening featured Robert 'Waakadup' Monger on Master of Ceremony duties and traditional drumming and singing was provided by Terrance Sabbas and family.
As dinner guests arrived, they were gifted t-shirts which featured an award winning logo by Tulalip tribal member Jacynta Myles-Gilford. The logo displays the ribbon of awareness made from a traditional cedar canoe and paddle, showcasing the words Indigenous Resilience. Jacynta was awarded a Walmart gift card during the event and was also blanketed in recognition of her work.
"I was inspired to help make a logo and brainstormed a bunch of different pieces," states Jacynta. "To me, Indigenous Resilience means being able to come back from anything. I wanted to share that you can come back from your gambling addiction and us as Natives are strong and have gone through a lot and have always come back – we're resilient. I wanted to incorporate that into the theme."
Gambler's Anonymous Speaker, Leah C., shared her story with the community of how gambling took control of her life, causing family members to cut ties from her as well as a number of health issues that nearly resulted in her death. One day she reached out to the Tulalip Problem Gambling Program and has since went through treatment and no longer gambles. Leah shared that she also amended severed ties and has a healthy relationship with her family, especially her grandkids.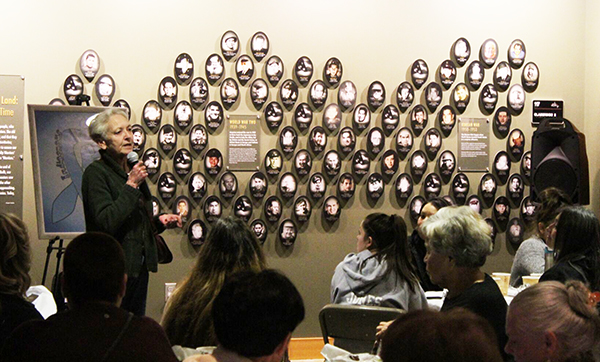 "Alcoholism, drug addiction and compulsive gambling are killers that are devouring our nation, not just Native American communities," says Leah. "We as a community need to be embracing these people, taking care of them and helping them with recovery, not turning away when they need us most. We need to show them love and compassion and help them beat their addiction."
While enjoying dinner provided by Ryan's Rez-ipes, guests shared plenty of laughter as Native Comedian Mitch Factor shared jokes about growing up Indigenous. After his set, Mitch encouraged the community by stating, "Gambling is a disease. A real disease and we need to embrace those who are struggling. We need to help them through that dark period. We wouldn't turn our backs on somebody with cancer or diabetes, gambling is a disease and we need to show that love to our people."
"Tonight was really special," expressed Tulalip Problem Gambling Coordinator, Sarah Sense-Wilson. "Everyone came together – the Gamblers Anonymous community, our tribal community and others who heard about the dinner and wanted to be a part of the celebration. We wanted to recognize and honor those who are in recovery and also offer support by bringing awareness to the issue of problem gambling because March is National Problem Gambling Awareness Month. It was a nice blend of tribal culture, traditional artistic expression and education."
National Problem Gambling Awareness Month continues with a Family Movie night, featuring the movie Inside Out, on March 17 at the Tulalip Boys and Girls Club beginning at 5:00 p.m. as well as the Annual Elder's Luncheon which starts at 11:00 a.m. at the Senior Center on March 21. For more information, please contact the Tulalip Problem Gambling Program at (360) 716-4304.