Submitted by Amy Sheldon and Josh Fyrberg
So thankful for the first game of the season for Tulalip Challenger baseball! Thanks to all the wonderful volunteers and families who came together today to play. Thanks to my dad Ray Sheldon and Josh for your support and to the wonderful kids who helped. A big shout out to Tarynn and Josh's girls and Sam Gooch, you all are a big help
My family and I were so excited when Josh and my dad were able to bring Challenger little league to Tulalip. Challenger is a great family fun sport where the kids can be just like everyone else and run and have fun. Raising a daughter with special needs, there was never really any activities for her to participate in. I did get her to do Special Olympics bowling for a season, but our Special Olympics teams in Marysville gets very crowded. I love the idea of Tulalip Little League being the first league around Marysville/Tulalip to offer this to families. I'm very honored to be able to work with amazing people who have helped make this possible. I truly believe all our kids deserve the best and deserve all the same opportunities as their peers.
– Amy Sheldon, TLL Board of Director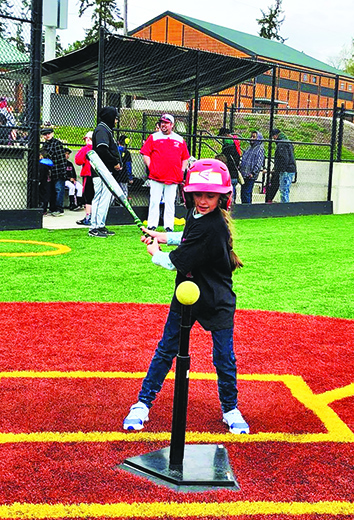 Being able to witness and help establish the Tulalip Little League Challenger team has been an honor. It was great seeing all of the youth, parents and volunteers supporting this division along with all of the TLL divisions. 
One of our goals is to make sure that all youth have the opportunity to participate and create great memories along with creating new friendships for all involved. This season for TLL has been a lot of work and it's all worth it to see these athletes on the fields smiling and bringing baseball and softball back into our Tulalip Tribes community. 
Current divisions: 
4 Tball teams
1 Majors boys team
1 AAA boys team
1 AAA girls team
1 Rookies boys team
1 Rookies girls team
1 Challenger team

 
We would like to thank all of the Tulalip Little League board members: Malory Simpson, Teri Nelson, Ray Sheldon, Shawn Sanchey, Yogi Sanchey, Danielle Fryberg, Amy and Ryan Sheldon, Deanna Sheldon and myself. We would also like to thank Marlin Fryberg Jr. for starting TLL last year and District 1 BOD Little League for giving us the opportunity to participate. 

This year we have over 120 athletes and a lot of great volunteers for coaching our amazing athletes here in Tulalip Tribes. All of us are looking forward to seeing your support at the games, especially the youth. It is going to be a great season and especially one to remember. See you at the fields. 
If anyone would like to donate please make a check out to Tulalip Little League looking forward to the support from TPD also grateful for the sponsorships that we have received let's continue to help our athletes grow and achieve their goals on and off the fields. Let's continue to grow as Tulalip Tribes to become stronger create more unity and teamwork. Together we are stronger. Let's make our future generations proud and successful.
– Josh Fryberg, President Tulalip Little League
For more information about Tulalip Little League and the newly created Challenger Division, please visit TulalipLL.org