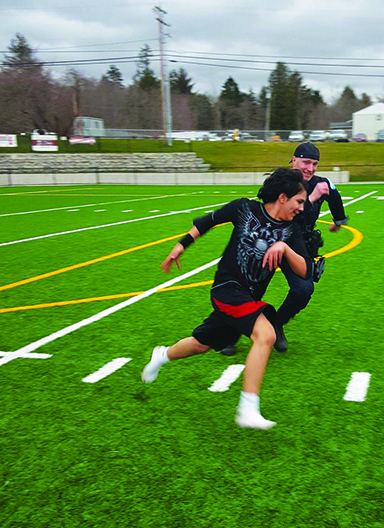 By Micheal Rios, Tulalip News 
There's no doubt about tensions between minority youth and law enforcement being highly publicized. In the digital age, where there's an emphasis on social media as surrogate news sources, seems we hear about or see a video depicting that tension on a weekly basis.
Factor in the growth of unrestrained, anti-police rhetoric that is common place in public discourse and it's a wonder why anyone would want to be a police officer today. They are normal citizens doing a hero's job; willingly putting their life at risk on a daily basis to protect and serve their communities.
Police officers should be positive role models for all of us, especially the youth. In a different day and age, children were taught to recognize police as a socially accepted authority. Along with that came a respect for the law. Unfortunately, there appears to be a widening gap between younger members of the community and the police officers sworn to protect them.
Recognizing that gap and determined to bridge it, Tulalip Youth Services Director, Teri Nelson, and Tulalip Police Chief, Carlos Echevarria, designed a new program aimed at the younger crowd that allows them to become familiar with officer training, equipment, and services provided. The program, entitled 'Pop with a Cop', debuted Thursday, March 2.
"Chief Echevarria and I discussed the idea on how to connect youth members in a meaningful way. The goal is to meet in a casual setting and build positive relationships with our Tribal Law enforcement officers," explains Teri Nelson.
Also, by having tribal citizens interact with officers in a non-adversarial environment, each side has the opportunity to get to know the other as an individual. This alone breaks down stereotypes and barriers.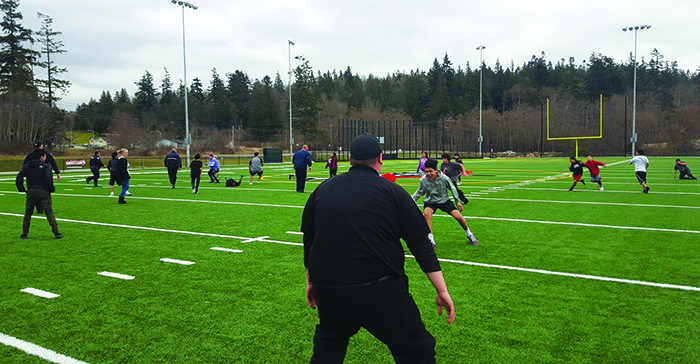 "Our goal is to create positive interactions with the youth and build upon the experiences to show police officers are people as well," states Chief Echevarria. "Our youth are respectful, happy, talented, and I am proud of them all. We made good use of an environment that was created for 'all' of us to run, laugh, and play games. There was some healthy ball field 'trash talk' as well and all in good fun.
"Quote of the day from one of the youth, 'I had a lot of fun playing with you…breaking your ankles!' He laughed, then I laughed and gave him a high-five. We all had a great time, if even for a brief moment. This is just the beginning."
Youth using this designated time to build relationships with authority figures is an important part of maturing and becoming good citizens. Some children do not have the fortune of being surrounded by positive role models. Even those who have loving guardians can benefit from respectful, responsible adults in the community. Police officers are in a unique position to model healthy traits, such as self-esteem, physical wellness, safety and respect.
"The program will run every Thursday from 3:30pm to 4:30pm at the Donald "Penoke" Hatch Youth Center," says Teri. "Youth will have the opportunity to ask questions about experiences as a police officer and play some games. This will bring great interactions, connections, and possibly generate interest for young people to look at careers in Law Enforcement."
For more information about Tulalip Youth Services activities and events, please visit tulalipyouthservices.com or call the Youth Center main line at (360) 716-4909.