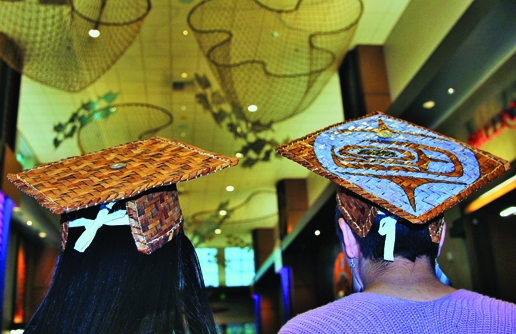 By Micheal Rios, Tulalip News 
On the evening of June 12, Tulalip Resort's Orca Ballroom was home to hopes and dreams aplenty as the graduating class of 2018 was recognized with a graduation banquet. In all there were seventy-four high school graduates and forty-eight higher education graduates who, accompanied by their proud families and friends, convened to commemorate the rite of passage. 
There was entertainment, a catered buffet-style dinner, and plenty of motivational words offered from their peers and elders reminding the graduates this is just the first step on the path to success.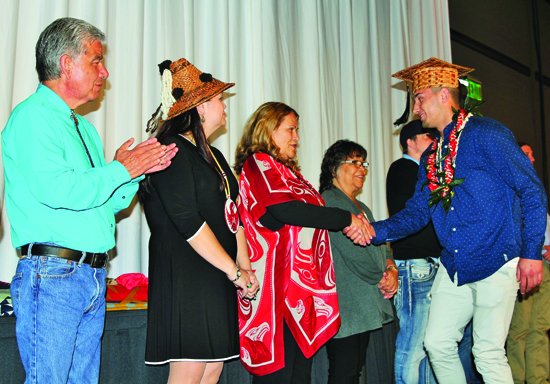 "It is a privilege and an honor to be here with you all on this special night where we come together and celebrate the academic achievement of our young ones," stated Board of Director Mel Sheldon, banquet emcee. "We are so proud of each and every one of our graduates for their commitment to education. We thank the parents, grandparents, extended family, and all the school faculty who were always there for the students and made it possible for them to be here today."
Graduating high school senior Keryn Parks, along with higher education graduates Kaeli Grenier-Moses and Marci Fryberg Johnson each took to the stage and offered encouraging words to fellow graduates. They reminisced over their favorite school experiences, spoke of hardships overcome, thanked their families and Tulalip community for always supporting them, and shared their excitement for great things yet to come.
"It's an honor to speak on behalf of Tulalip Heritage and the entire graduating class of 2018," said Keryn. "The road to graduation may have been easy for some, but has been difficult for others. Our class was dealt with the heaviest card any freshmen class could go through. There were setbacks, breakdowns, a lot of pain, and a community separated. Yet, through all that we found strength and healing that brought us closer. Class of 2018, never doubt how far you can go, but most importantly don't ever forget what you have accomplished."
Marci, representing the higher education graduates, shared details from her fifteen year journey to earn a Bachelor's Degree. "Being educated has been instilled in me since I was a little girl. Having an education allows for us to move beyond the ignorance we will encounter in the world, and to stand tall and represent our Native people in a good way."
Nikkita Oliver, activist, educator, lawyer and spoken word artist, provided a truly memorable keynote speech that left many in the crowd feeling inspired. She is a University of Washington graduate who has committed herself to empowering others to reach for goals larger than themselves.
"Being here, at a gradation, is something very powerful. For our peoples, rites of passage are something that we've been going through for a long time. Maybe it didn't always look like a graduation from a school, but we've long celebrated what it means to complete a season in our life and to celebrate the lessons and knowledge we have gained," explained Nikkita, former city of Seattle mayoral candidate. "Look around this room. I was told there are a thousand people in here. There are seventy high school graduation and forty college graduates, and somehow that adds up to a thousand people. 
"Dream what you want to have with these thousand people. Dream about who you want to be with these thousand people. That's far more important than what your next step is tomorrow because what that vision will do is become your guiding principle. It'll become the way you think about the world and become the way that you think about yourself.
"No matter what statistics say about you, no matter what stories society tries to tell about you, you should always dig deep into your own history. Look to the perseverance of your own people, to the resilience that's already been set before you and understand that you can push through any obstacle."
Following the inspiration keynote speech a special recognition ceremony was held to honor the Tulalip Tribes senior boy and girl student of the year.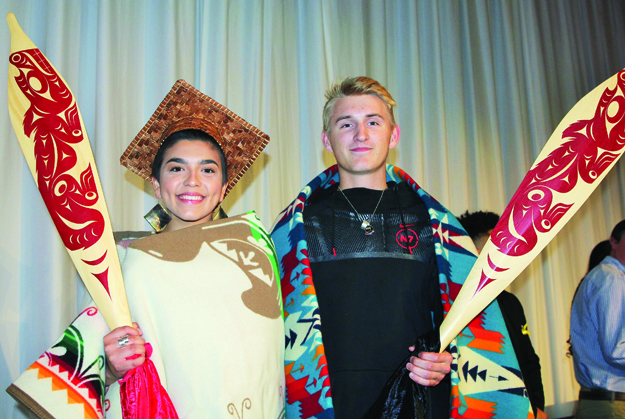 Keryn Parks, a graduate of Tulalip Heritage High School, received the female student of the year honor. Having overcome adversity and hardship early on as a freshman, Keryn went on to be a tribal youth representative, active ASB participant, and two sport athlete in basketball and volleyball, all while maintaining a high G.P.A. and taking college classes through Running Start. 
Coby Nelson, a graduate of Marysville Pilchuck High School, received the male student of the year honor. Coby balanced his academic course load with playing varsity golf, tennis, and baseball. One teacher said, "As with all families the children are called upon to take responsibilities and help out with the task of family life. I've observed this young man helping his family, taking on adult responsibilities, and volunteering to help many of his peers at school. He's a polite and humble young man." Another teacher said, "He's one of the most caring young adults that I know. He has a kind heart and shows so much compassion for those younger and less fortunate than himself." Coby plans to attend Washington State University in the fall.
Concluding the evening's celebration, former youth council chairwoman Jlynn Joseph shared, "This was a very emotional event for my family. We've worked so hard to keep me on my path to academic success. I will be the first in my immediate family to have graduated on time from high school. My great grandma, the late Loretta James, has inspired me so much and has been my driving force to give back to my community and to use my future degree to take care of the people." Jlynn excelled at Bishop Blanchet High School, a private school in Seattle, and will be continuing her education at Arizona State University in the fall.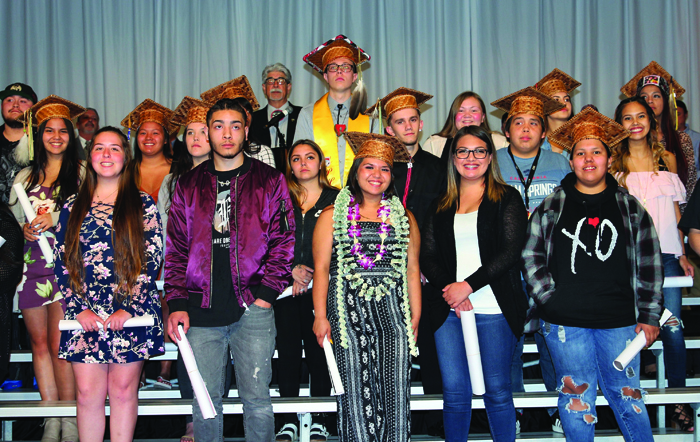 Congratulations to all those Tulalip students who put in the hard work and dedication to earn their graduate status. Chasing a dream requires your efforts and passion. The hard work isn't over now that you have graduated, it's only the beginning as you now prepare for the new challenges waiting in the next chapter of life. Good luck and congratulations!