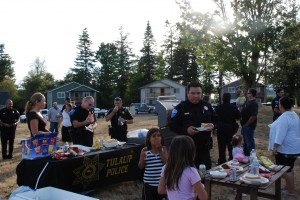 Police host second community barbeque
Article and photo by Jeannie
            "The main purpose of this barbeque is to get out in the community and introduce ourselves to the community members and try to connect with them. We need to establish friendly communication on a positive note, not just in their time of need," said Tulalip Tribes Chief of Police, Rance Sutton.
            The Tulalip Police Department gathered on September 5th at the housing community known around the reservation as the church site, for the second in a series of barbecues that welcome the community to meet with police officers and voice their concerns.
"The only way we are going be effective in resolving crime is if we connect with the community and work together, that way we have more eyes and ears listening and observing for criminal activity," said Rance.
The Tulalip community is dealing with ongoing issues such as underage drinking, illegal drug use, and speeding vehicles.
One of the concerns that the police department is looking into is child safety. Residents would like to see more playgrounds installed to keep children off the streets and stay active. They even suggested hosting a bake sale to raise funds.
            Residents also agree that they as a community should look out for each other.
"We need to get the community more involved and be more responsible. We need to watch what is going on; it is our responsibility too," said resident Terra Perrin.
            "We are continuing investigations and we are trying to attack the drug problem from several different angles. One is direct drug investigations, second is when our patrol officer stop cars, they are alert for drug paraphernalia that can lead to a drug arrest, and third, through property crimes. We have had success," said Rance.
            For more information, contact the Tulalip Police Department at 360-716-4800