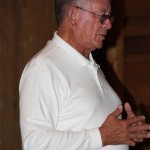 Article and photo by Sarah Miller
Tulalip, WA– As the day was winding down, people filed into the Tulalip Hibulb Cultural Center's longhouse room, awaiting the arrival of State Representative John McCoy on September 13th. John McCoy wears many hats in the Tulalip Community. He is not only a State Representative for the 38th District, he's also an elder. He spoke to the group of people on his achievements in the Tulalip community and how it's very important to listen to your elders.
"I was born on the reservation," John started. "I wasn't raised out here, I came out here later. My father was in the navy so I was a navy brat. I grew up along the west coast. My dad was at sea a lot and it was my mother who raised me."
John learned a lot of his work ethics from fishing with his wife's uncle.
"I learned a lot from him," John went on. "He kept me busy, it was very busy work."
In 1965, John joined the air force and was put to work with computers. In 1970, he got into programming. In 1981, John would get out of the air force. He eventually got to work in the White House during Ronald Reagan's first term. He worked as a Senior Implementation Manager. Eventually in the 90's, John made his way back to the reservation with the intent of implementing the vision of the elders there.
"At that time, I sat down and talked with Wayne Williams, he sat me down and gave me the history of Tulalip," John said.
"He told me about the mission the elders had. The mission was from the thirties and forties, but it was a good idea and I was brought in to implement it. The elders had this vision of having a big trading post here on the reservation. That's what they wanted. What do we have now? We have a strip mall, Cabela's, Wal-Mart; that, to me, is a pretty big trading post."
John stresses the importance of always listening to the elders and the visions they have. He states that there is always something to learn from doing that. Looking back on all that he helped the tribe accomplish, John is proud of where Tulalip is today.
"To do any of this, to get our casinos, to get our mall, to get our tribal government running, we had to put in an infrastructure," John explains. "It's more than just bricks and mortar. We modeled our government after our traditions. Tribes that do that tend to be more successful. And we have been successful. As long as we don't make the same mistakes over and over, we are learning. We are growing."
John went on to talk about a variety of topics. He sang the praises of the Big Water project that will ensure that Tulalip's tribal members have clean water. He talked about the wonderful job that the tribal police are doing in conjunction with the Marysville police department.
John accredited the elders that he talked with for helping him to realize the vision of the tribe and where the tribe could go. He states that this is important.
"If you listen to the elders, you will hear their visions," John said. "It's good to listen to their mistakes and learn from them. I listen to them because they have no problem stopping me to tell me their stories and give me advice. In order to move forward, we need to listen to them."
John finished his lecture to a round of applause from the group. If you are interested in checking out some of the events at the Hibulb Cultural Center, you can visit www.hibulbculturalcenter.org to check out their calendar of events.