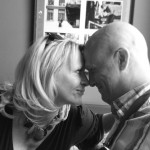 "He Said, She Said" Wine Seminar at Taste of Tulalip 2012
 Press Release, Lisa Severn, Food & Beverage Director, Tulalip Casino Resort
Tulalip, Washington – Tulalip Resort Casino Sommelier Tommy Thompson has devised an exuberant way to learn about wine at the 4th annual Taste of Tulalip on November 9th and 10th.  Attendees will have a chance to rub foreheads with two of the greatest wine minds around:  racy wine raconteur Leslie Sbrocco (a.k.a Head Thirsty Girl) and wine wizard Tommy Thompson (Tulalip's Head Drinks Dude).  The duo will emcee a fast-paced, fun-filled discussion, "He Said, She Said" – an interactive wine journey, along with a panel of five top winemakers from around the globe.
Lucio Gomiero, Vignalta Pinot Bianco 'Agno Casto', Veneto, Italy, 2010. Vignalta was founded by Lucio Gomiero in 1980 and is located in the northern Italian region of  Veneto, in an area called Colli Euganei. Before Lucio came on the scene, these wines could best be described as underachievers. Lucio saw the potential in the unique soil and topography of the land, treating his vineyards as if they were on French Bordeaux Grand Cru estates (which he emulates).  He is now the recognized champion of the area, just as Angelo Gaja is in Piedmont and Robert Mondavi was in Napa.
Marc Perrin, Famille Perrin Chateau de Beaucastel  Chateauneuf du Pape 'Vielles Vigne' Roussanne, France 2009. It is no coincidence Famille Perrin is the leading organic wine grower of the Southern Rhône Valley, where they occupy the region's best terroir. Their values have given them a worldwide reputation for excellence: absolute respect for the soil, a commitment to manual methods and a deep belief in organic viticulture. Nature and tradition are key to the Famille Perrin way and this approach has continued seamlessly over five generations.  Each wine is unique; organic and biodynamic approaches are used, as Perrin has mastered the art of blending and bringing out the freshness of the Southern aromas.  
Ron Penner-Ash, Penner Ash Pinot Noir 'Pas de Nom', Willamette Valley, Oregon 2009. The winery's self-avowed "mature cellar rat," Ron loves the physicality of winemaking. Along with his cellar work and vineyard management, he has always been fascinated with technology and innovation. During his 20 years as a public school teacher in California and Oregon, Ron's interest in technology and its potential classroom impact led to a collaborative grant with Oregon Public Broadcasting. "The wine industry's annual cycle parallels that of teaching," Ron says. "I've learned that Mother Nature can be more demanding than a pre-adolescent drama queen."
Sean Boyd, Woodinville Wine Cellars Cabernet Franc, Washington State 2008. Boyd joined Woodinville Wine Cellars in 2002. Growing up in a Californian family surrounded by gourmet food, fine wines and journalism (his father is a professional wine critic), Sean began cultivating his craft at an early age. After working for five years at a California wine shop, Sean left home at age 20 to learn the art of fine winemaking. He traveled the world, visiting leading viticulture areas such as Australia, Portugal, Spain and New Zealand where he worked for several prominent wineries.
Heidi Barrett, La Serena Cabernet Sauvignon, Napa, California 2008. Barrett grew up in a Napa Valley winemaking family, and great genes have helped her to become one of California's leading winemakers. It is said that winemaking is a combination of science and art. With a scientist-winemaker father (Richard Peterson) and an artist mother, it is no surprise that Heidi was drawn to the industry. With great enthusiasm, a love for what she does and an incredible wealth of experience, she blends the art and science of winemaking like few can.  Heidi has been responsible for some of California's most notable cult wines, including but not limited to: Screaming Eagle, Della Valle Vineyards, Grace Family Vineyards, Amuse Bouche, Showed Vineyards and Fantasia. She is a consultant for Diamond Creek Vineyards and Niobium-Coppola, and has her own wine label, La Serena.
Leslie and Tommy's "He Said, She Said" seminar will take place on Saturday the 10th at 11:30 am in the Canoes Cabaret.  It is offered as part of the Taste of Tulalip 2012 "All Access Pass" priced at $225 per person (which also includes a cooking demonstration with celebrity chef Marcus Samuelsson, the Private Magnum Party in the Impulse Lounge and the Grand Taste). More information and ticket purchase for the November event is available at www.tasteoftulalip.com.
About Tulalip Resort Casino: Tulalip Resort Casino has become the largest and most distinctive meeting, gaming, dining, entertainment and shopping destination in Washington State. The AAA Four Diamond resort destination's world-class amenities have earned the property Condé Nast Traveler Gold List status and the Seattle Weekly 2012 Best of Award "Reader's Choice – Best Casino". With six dining venues, headlined by the exceptional Tulalip Bay (TB) restaurant and Blackfish Wild Salmon Grill and Bar (BF), the restaurants have been individually honored with awards from Wine Spectator "Best of Award of Excellence" (TB) and "Award of Excellence" (BF), the Washington Wine Commission "Award of Distinction" (BF) and "Grand Award" (TB) , the Seattle Magazine award for restaurant leadership in the business community (TB), to Wine Press Northwest's "Herbies" for an "Outstanding Washington Wine List" (TB).  The Taste of Tulalip, the resort's annual signature food, wine and tradition event has also been recognized as the "Best Wine Event Featuring Washington Wine".  Tulalip is conveniently located between Seattle and Vancouver, B.C. just off Interstate-5 at exit 200 and is an enterprise of the Tulalip Tribes.  For reservations please call (866) 716-7162 or visit www.tulalipresort.com