By Diana Hefley, Herald Writer reports
Published: Friday, March 1, 2013, 12:01 a.m.
MARYSVILLE — An employee at a Marysville bar offered to call Terrence Olesen a taxi, but the Everett man allegedly refused and got behind the wheel of his car.
Prosecutors allege that a few minutes later, Olesen, 27, plowed into two pedestrians and a bicyclist on Shoultes Road, then sped away. They allege that Olesen's blood alcohol level was three times the legal limit.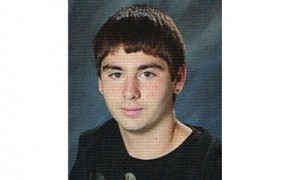 Shane Santos, 18, died on the road before help arrived. He had multiple broken bones and a fatal head injury. His friends, 20 and 21, also had multiple broken bones. One of the men remains in a wheelchair some eight months later. He must wear a helmet to protect his injured head.
Prosecutors on Thursday filed multiple charges against Olesen for the June 9 incident.
His friend told investigators that he and Olesen had been drinking vodka and orange juice earlier in the day. He estimated that Olesen had consumed about 10 shots of vodka. Later that evening, the friends went to the Home Plate Tavern in Marysville. The witness told investigators that Olesen drank about two 24-ounce beers while at the bar. He reportedly got involved in an argument and patrons escorted him outside to his car. That's when one of the employees offered to call a cab for Olesen, Snohomish County deputy prosecutor Tobin Darrow wrote.
Olesen reportedly refused the offer and drove his friend to a nearby fast food restaurant. An employee there later told detectives that Olesen was "obviously drunk" and had trouble maneuvering his car through the drive-thru. More witnesses reported seeing Olesen nearly hit at least two other cars. One woman had to pull her vehicle onto the shoulder to avoid a head-on crash with Olesen's Volkswagen Golf.
Investigators believe Olesen plowed into Santos and his friends as they were on the shoulder of the road. He reportedly pulled over and the passenger exited the vehicle and surveyed the damage. A witness heard the passenger curse before he jumped back into Olesen's car. They sped off.
Santos was dead when paramedics reached him. His friends were unconscious with obvious broken bones. They were rushed to Harborview Medical Center in Seattle.
Police followed a trail from the scene. It crossed a roundabout toward 51st Street. An officer found a license plate and a bumper on top of the median. Eventually officers found Olesen's car, which had crashed into a tree. Olesen reportedly emerged from behind some nearby shrubs.
He allegedly told police he had been driving the car. The officers noted that he smelled of alcohol. Olesen asked the officer if the situation would be "like a vehicle homicide, allegedly?"
Olesen was arrested and taken to the hospital for a mandatory blood draw. Lab results later concluded that his blood alcohol level was .24, Darrow wrote.
Olesen is scheduled to be arraigned later this month.
He has a drunken-driving conviction from 2007. He also has three convictions for driving with a suspended license.
If he is convicted in this case, state law allows for enhanced penalties because of the prior drunken-driving prosecutions.
The state Liquor Control Board has opened an investigation into the Home Plate Tavern in connection with the June 9 incident, a spokesman said Thursday. It isn't clear when that investigation will be completed.
Diana Hefley: 425-339-3463; hefley@heraldnet.com.