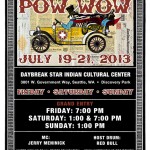 Source: United Indians of All Tribes Foundation, http://www.unitedindians.org/powwow/
Dear Community,
United Indians of All Tribes Foundation is excited to announce that our 27th Annual Seafair Indian Days Pow Wow will be held on July 19-21, 2013! As many of you all know, we had to make a really hard decision and cancel this pow wow last year due to lack of funding. This year we plan on making this pow wow bigger and better than ever! Mark your calendars and save the date! We are in need of donations, please click on link to the left to donate!
EMCEE:  Jerry Meninick
ARENA DIRECTOR: Ken Gopher and Tony Bluehorse
HOST DRUM:  RED BULL
CATEGORIES:
GOLDEN AGE: 1000-800-600-400-200
ADULT: 1000-800-600-400-200
TEENS: 400-300-200-100
JUNIORS: 300-200-100-75DRUMS: SESSION PAY FIRST TEN EACH SESSIONSPECIALS:
Bernie Whitebear, Team Dance: Owl Dance: Others TBA
GRAND ENTRY:
FRI 7:00 PM
SAT 1:00 AND 7:00 PM
SUN 1:00 PMTRADITIONAL SALMON DINNER!!ADMISSION:
FRI: FREE FAMILY NIGHT
SAT AND SUN: $5.00
(Admission funds go towards cost and production of pow wow)
VENDORS:
Vendor Space 10×10: $400
Limited Spaces available, provide own tables and tents
POWER $25 AND (1) RAFFEL ITEM
Professional and SPD Security Available
FOOD VENDORS BY INVITATION ONLY
Contact United Indians for Camping

JOHN ROMERO 206-498-7640
VOLUNTEERS:
We are in need of many volunteers for this event. Please contact our volunteer coordinator if you are interested!