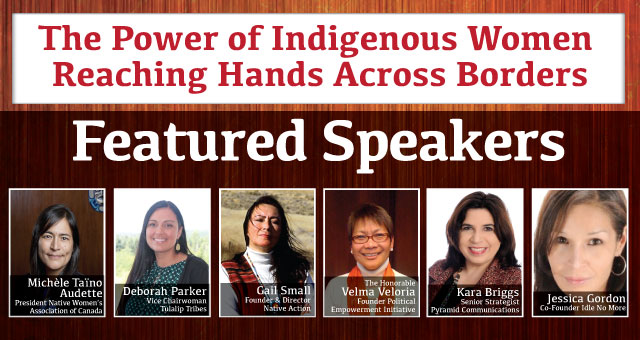 April 4th and 5th, Swinomish Lodge, Anacortes, WA
Native Action Network is pleased to host our 9th Annual Native Women's Leadership Forum & Enduring Spirit Honoring Luncheon.  This year's theme is "The Power of Indigenous Women – Reaching Hands Across Borders" to honor and recognize the importance of our sisterhood both here in the US and across borders with our sisters in Canada and beyond.
We'll kick off our Forum with a Welcome Reception on April 4th at 6:00 p.m. for an evening of networking, relaxation and an introduction of our 2013 Young Women's Leadership Academy.
On April 5th we will begin bright and early at 7:30 a.m. with our Youth Breakfast and open up the Leadership Forum at 8:30 a.m. with an opening prayer and welcome.
The Forum will begin with an Indigenous Women's Call to Action as our panelists discuss current political, social, and justice issues being addressed by women's leadership.
Next, participants will have the option to attend workshops intended to take our call to action to a level where our voices have greater impact through social media, elections, and public relation campaigns.
In keeping with past sessions, we will honor 4 Native women for their lifetime contributions of building strong, healthy communities during our Enduring Spirit Honoring Luncheon.
And, finally, we will close out the day with a panel of national and international leaders sharing ideas on how we can create a unified, powerful voice through partnerships and networks designed to increase media attention on our issues.
We're excited to bring together a dynamic agenda filled with powerful women leaders intended to strengthen our sisterhood across borders!