Source: Indian Country Today Media Network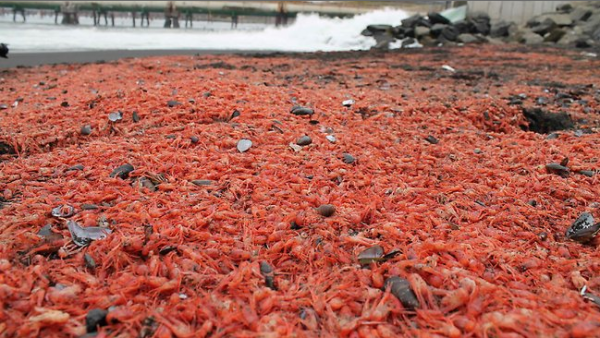 Thousands of dead prawns washed ashore along with hundreds of dead crabs, blanketing the beaches of southern Chile in crimson.
These massive mounds of dead sea creatures on the shores of Coronel Bay are extremely disturbing to all, but the cause of death is still unknown and under investigation.
Chilean fishermen are accusing local thermoelectric plants for heating the waters while using it as a cooling agent for their generators. In an article by the Associated Press, Chilean prosecutor Ana Maria Aldana, told state television, "We're going to be collecting as much evidence as possible to determine if this is an environmental crime."
However, others believe this may have been caused by El Niño, a weather phenomenon that occasionally warms the Pacific Ocean, according to BBC News.
Endesa Chile, the country's largest electric utility company, is rejecting any blame. The company said studies indicate these deaths are "due to the flow of deep waters coming from the continental platform, induced by currents of wind on the ocean," the Associated Press reported. Experts are testing the water's temperature and oxygen levels in search of an explanation.
Whether it's due to a natural phenomenon or man-made pollution, local fishermen are worried about the future of their livelihood.
"The way everything is being destroyed here, come the high season in November, we're already thinking we won't have anything to take from the sea," Marisol Ortega, a spokeswoman for the fishermen, told BBC News.
This is reminiscent of some of the bizarre, massive sea creature die-offs in Indian Country, such as the millions of lifeless sardines that floated into the Redondo Beach Harbor of southern California in 2011 and last year's colossal fish kill on the Canadian shores of Lake Erie.
Read more at
http://indiancountrytodaymedianetwork.com/2013/03/23/chiles-crimson-shore-under-investigation-148314