Source: Indian Country Today Media Network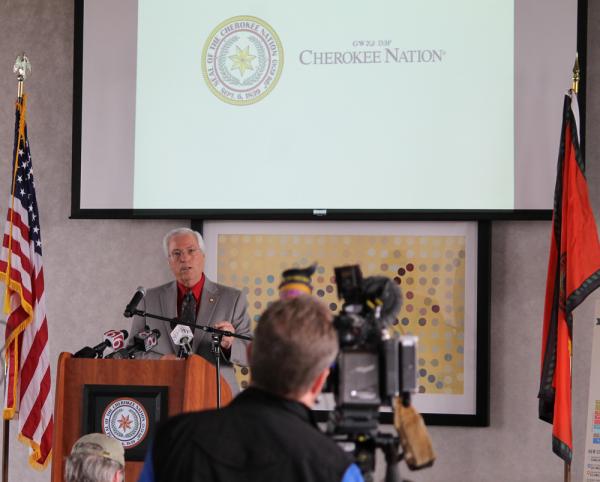 The Cherokee Nation runs the country's largest tribally operated health care system. And now it is investing copy00 million from its business holdings to improve it.
"This is exactly what our businesses were designed to do," said Cherokee Nation Principal Chief Bill John Baker in a press release. "Our financial success belongs to the Cherokee people. For the first time ever, we are taking a substantial amount of money directly from our businesses and putting it where it counts the most—health care for our citizens. Using our businesses to invest in and improve our health care system is the right thing to do, and it will literally save Cherokee lives."
The tribe plans to replace or renovate four health centers and build a new hospital over the next two to three years. Cherokee Nation Businesses' construction division will manage the entire project, hiring dozens of Cherokee subcontractors certified by the Tribal Employment Rights Office (TERO), which will help boost the local economy.
A major component of the health system expansion is a new 100-bed hospital, which replaces the current W.W. Hastings Hospital in Tahlequah, Oklahoma. Built as an Indian Health Services facility in 1984, the hospital was constructed to serve 65,000 outpatient visits each year. Today, the facility is serving more than 400,000 patient visits per year. The new $53.1 million hospital allows the current hospital to become an outpatient center.
The expansion projects also include a new 28,000-square-foot health center near Ochelata and a 42,000-square-foot health center in Jay. The Redbird Smith Health Center in Sallisaw will see a 30,000-square-foot expansion and 11,000 square feet of renovations. In Stillwell, 28,000 square feet will be added to the Wilma P. Mankiller Health Center.
The CNB board of directors unanimously approved the investment. Under current Cherokee law, an annual dividend totaling 35 percent of CNB's profits is deposited in the Cherokee Nation's general fund. The Cherokee Nation general fund supports a variety of services, including housing, education, social services, health care and more. Last year, that dividend payment totaled $57 million.
"The needs of the Cherokee people are so diverse that the dividend payment helps us get closer to where we need to be on health care, but very slowly," Baker said. "This infusion of copy00 million, solely to health care infrastructure, helps us impact the health outcomes of Cherokees so much quicker. Our businesses have become so successful in recent years that it just makes sense and, quite frankly, is the right thing to do."
"This is a great opportunity to show the Cherokee people why our casinos are here," said Shawn Slaton, CEO of CNB. "Our goal is to create jobs, grow businesses and provide funding to the Cherokee Nation for services to the Cherokee people. We are proud to be in a position where we can make such a huge contribution to the health and well-being of Cherokee citizens."
Aside from annual dividends, this is the first major investment the tribe's businesses have made directly to tribal infrastructure. CNB will pay for the construction of the facilities and lease them back to the tribe for operation. One of CNB's subsidiaries, Cherokee Nation Construction Resources, will serve as the prime contractor and construction manager of the project.
"By managing this project in-house, our construction division grows in its capabilities and gains an important past performance résumé, which they can use to win contracts from the federal government and private developers," Slaton said. "This is a real win-win for CNB and the Cherokee Nation."
Cherokee Nation Construction Resources, a division of CNB's environmental and construction portfolio, is managing the construction of the health system expansion. The company is using this as an opportunity to perform work for the tribe and earn past performance credit, which is a valuable credential in both government and commercial contracting.
"When we do a project, we always know that the revenue it is generating helps the Cherokee people, but normally that's through providing jobs and via the dividend payment," said Cheryl Cohenour, executive general manager of Cherokee Nation Construction Resources. "But this project is so much more meaningful to us. For the first time, our work will directly affect citizens in ways the 35 percent dividend or job creation cannot.  There is so much pride in knowing that as a Cherokee Nation, tribally owned business, we have something tangible to show our businesses' commitment to making change for the Cherokee people. These new, updated health facilities are going to be a source of pride for our company, as well as the entire Cherokee Nation."
The Cherokee Nation's health system supports 1.2 million patient visits annually. It consists of eight health centers throughout the Cherokee Nation and W.W. Hastings Hospital in Tahlequah. Most Cherokee Nation health centers offer medical, dental, lab, radiology, public health, WIC, nutrition, contract health, pharmacy, behavioral health, optometry, community health service and mammography, or a combination of those services.
The Cherokee Nation also has future plans to make renovations at the Three Rivers Health Center in Muskogee and build a new Jack Brown Center in Tahlequah. The Jack Brown Center serves Cherokee citizens who may be struggling with an alcohol or drug dependency.
"I promised to make the health of our people a main priority," said Baker. "This is a major step in the right direction."
Read more at
http://indiancountrytodaymedianetwork.com/2013/03/29/cherokee-nation-fund-100-million-overhaul-tribal-health-care-system-148430