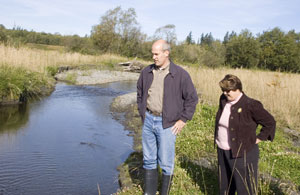 WASHINGTON—Rep. Rick Larsen, WA-02, led an effort this week to request $65 million for the Pacific Coastal Salmon Recovery Fund which is vital to supporting salmon recovery in the Pacific Northwest. In a letter to House appropriators, Larsen and nine other members of the Pacific Northwest delegation made the request to continue supporting the recovery of Pacific salmon which are vital to the region's economy and ecology.
The text of the letter follows:
The Honorable Frank R. Wolf, Chairman
The Honorable Chaka Fattah, Ranking Member
Subcommittee on Commerce, Justice, Science, and Related Agencies
Committee on Appropriations
Dear Representatives Wolf and Fattah:
We are writing to thank you for your strong past support of the Pacific Coastal Salmon Recovery Fund (PCSRF) and ask you to continue your support by providing $65 million for this critical and successful program in FY 2014.
PCSRF was established by Congress in Fiscal Year 2000 to reverse the decline of salmon in the region. The goal of PCSRF is to restore, conserve, and protect Pacific salmon and steelhead and their habitats.  PCSRF also seeks to maintain the healthy populations necessary for exercising tribal treaty fishing rights and native subsistence fishing. Under PCSRF, the National Marine Fisheries Service provides competitive funding to the states of California, Oregon, Washington, Alaska, Idaho, and Nevada, and tribes of the Pacific Coast region to implement habitat restoration and recovery projects that contribute to the sustainability of the species.
PCSRF provides a critical source of stable funding that supports the ability of managers to conduct all phases of restoration and recovery activities, including assessment, planning, implementation, and monitoring.  States and tribes have undertaken 10,214 projects, resulting in significant changes in habitat conditions and availability, as well as establishing concrete planning and monitoring programs that support prioritization and tracking for salmon and steelhead population conservation. Significant accomplishments from the program include:
·
879,194 acres of habitat improved or added for salmonid use
·
5,336 miles of stream made accessible to spawning populations
·
Marking programs tagging 238,643,775 fish, improving stock identification and supporting more effective fishery management practices
These accomplishments contribute to the protection and restoration of these important species of fish that are integral to the economic and ecological well-being of the states where the Pacific salmon thrive.  These efforts aid salmon and steelhead populations through PCSRF and are supporting jobs and providing economic benefits to the communities throughout the region. Continued commitment, collaboration and resources are required to achieve the overarching goal of full recovery and sustainability.
Thank you again for your consideration of this request. We look forward to working with you to ensure the long-term future of salmon in our region.