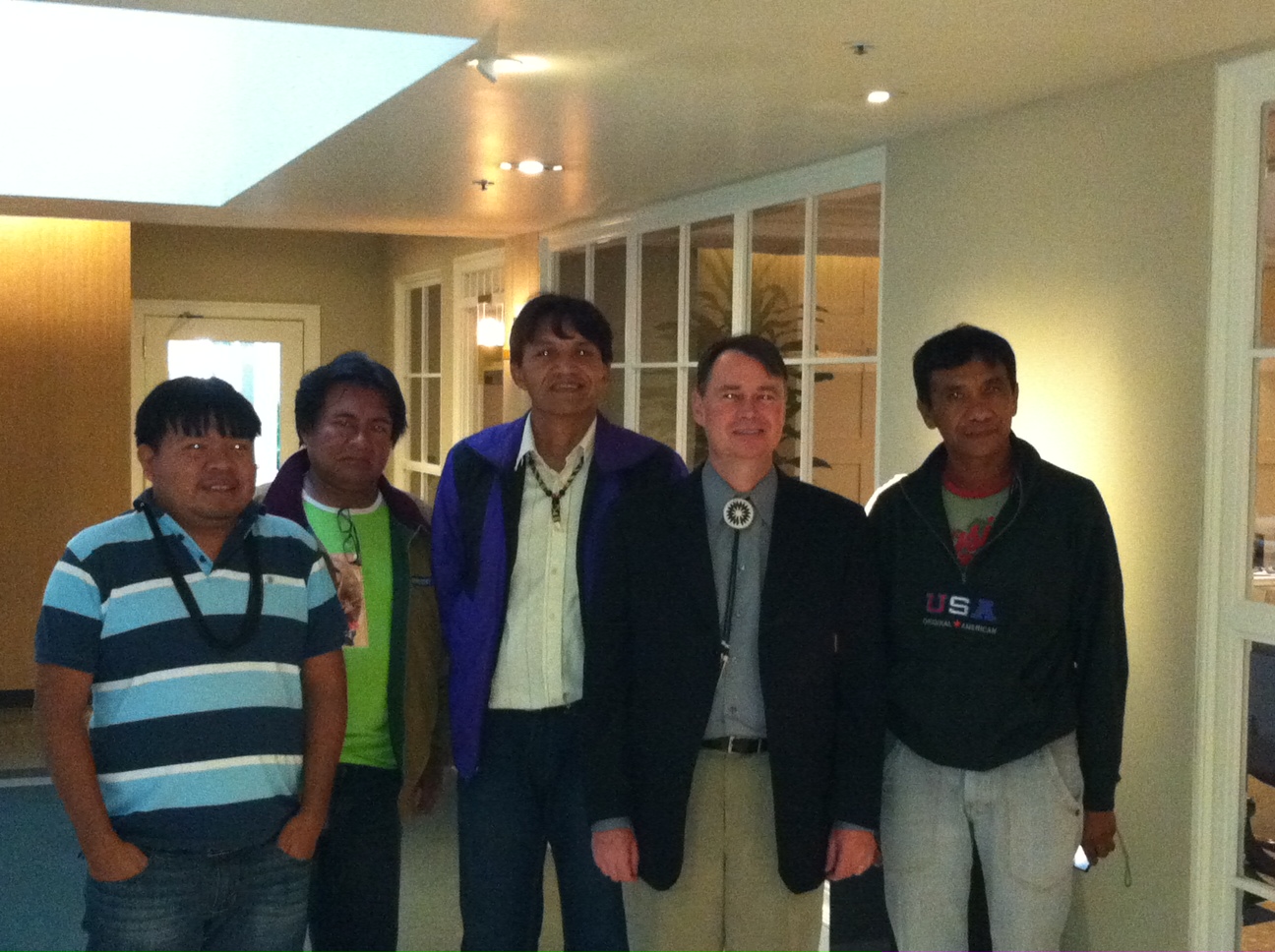 15 May 2013
TULSA, Okla. – On May 6, 2013, a delegation of Brazilian indigenous leaders visited Crowe & Dunlevy law firm's Tulsa office to discuss Native American law, policy and legal history, as well as indigenous issues in Brazil.
"The parallels of indigenous peoples and Amazon forests with our native peoples in Oklahoma is remarkable," said Mike McBride, chair of the Indian Law and Gaming Practice Group at Crowe & Dunlevy. "The significant difference, however, is that the Brazilian indigenous peoples lack the common law protections, a treaty histories and federal laws to protect their indigenous rights."
McBride and Gerald Jackson, director at Crowe & Dunlevy, hosted the visitors. U.S. State Department Portuguese interpreters provided real-time translation.
"The lack of significant legal protections and recognition by the Brazilian government creates a challenging environment in which the indigenous people of Brazil can access basic economic development tools in order to better their lives and protect their unique cultures," Jackson said.
Agostinho Eibahiwu, curator of the Indigenous Community Museum and Bororo Cultural Center of Meruri, explained the delegation's interest in Native American affairs. He said that he was the first person in his tribe to obtain a Master's degree. In addition to his museum curatorial activities, Eibahiwu develops projects for local indigenous schools, coordinates a cultural schedule at the community center and works as a consultant on indigenous issues.
Marcelo De Jesus, a leader of the Kiriri Indigenous Tribe, discussed how indigenous peoples, as minorities in Brazil, lack a political voice in the legislature and that few civil law provide adequate protection in the rain forests and how projects continued to threaten their way of life.  For example, the plan to build a hydroelectric project and dam threatens their traditional modes of transportation of traveling by boat on the river, their hunting and gathering of plants and animals.
The delegation also discussed the difficulties in economic development and how a number of prior projects have failed because the indigenous nations could not afford to pay the interest on bank loans.
"The challenges that Brazilian indigenous people face today are the same that many of our Indian nations in the United States faced in the 1800s, although the indigenous people of Brazil lack the foundations and protections of tribal sovereignty," McBride said.  The delegation also discussed the United Nations declaration of rights for indigenous peoples and its potential impact and use for indigenous rights in Brazil.
For more information, contact Mike McBride at (918) 592-9824 or mike.mcbride@crowedunlevy.com or Bob Lieser, vice president of programming for Tulsa Global Alliance, (918) 591-4750 or blieser@TulsaGlobalAliance.org.
About Crowe & Dunlevy
For more than 110 years, Crowe & Dunlevy has provided innovative and effective legal services to clients in numerous industries. The firm and its attorneys are annually ranked among the top professionals in the nation by nationally recognized peer-review organizations.