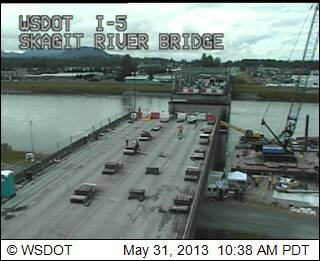 Published: May 30, 2013
The Bellingham Herald  
MOUNT VERNON, Wash. — Washington Department of Transportation officials have installed a webcam at the site of the collapsed Interstate 5 bridge on the Skagit River so residents can monitor the progress on repairing it.
Nearly all the materials for a temporary bridge have arrived at the site and DOT hopes to meet Gov. Jay Inslee's goal of spanning a collapsed section by mid-June, officials said. The National Transportation Safety Board is still finishing its site investigation, The Skagit Valley Herald reported.
A section of the bridge collapsed May 23 after a girder was struck by an oversize load on a truck. Traffic currently is detoured through Mount Vernon and Burlington
.A temporary bridge will replace the 160-foot section that fell into the water. That will reopen two lanes in each direction. A permanent replacement this fall should restore the bridge.
To get to the DOT webpage that also includes traffic cameras for the George Hopper Road exit and Highway 20, click here. The webcams should automatically reload every 2 minutes, DOT said.