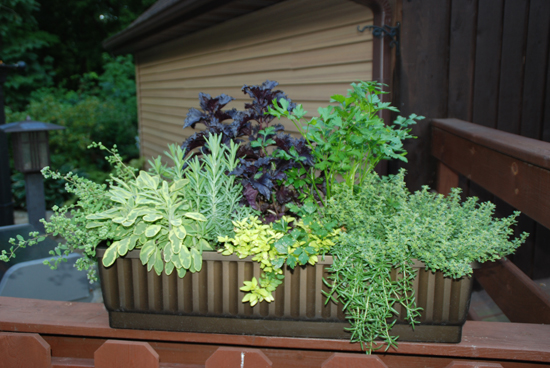 By Melinda Myers
Container gardens have long been used to add a spot of color by a fron Container gardens have long been used to add a spot of color by a front entrance or expand planting space in city lots, balconies and decks.  Don't let past experience and tradition limit your vision.  Try one or more of these attractive, fun and functional ways to include containers in your landscape, large or small.
Add vertical interest to any garden or garden space.  Select a large attractive container filled with tall plants like papyrus and canna.  Or elevate a small pot on steppers or an overturned pot for added height.  Create height with smaller pots and plants by strategically stacking and planting them into a creative planting.  Try setting any of these planters right in the garden to create a dramatic focal point.
Create a privacy screen or mask a bad view.  Use an arbor or other support for hanging baskets and then place a few containers below for an attractive screen.  Or create a garden of containers to provide seasonal interest using a variety of plants. Use trees, shrubs, and ornamental grasses for height.  Save money by purchasing smaller plants.  Elevate these on overturned pots for added height and impact.  Mask the mechanics by wrapping the pots in burlap.  Then add a few colorful self-watering pots in the foreground for added color and beauty.  Fill these with annuals or perennials for additional seasonal interest.
Bring the garden right to your back door for ease of harvest and added entertainment.  A self-watering patio planter, windowbox, or rail planter reduces maintenance and makes harvesting herbs as easy as reaching out the window or backdoor.  Plus, guests will have fun harvesting their own fresh mint for mojitos or greens for their salads
Define outdoor living spaces within your landscape.  Use containers as walls and dividers to separate entertaining and play areas from quiet reflective spaces.  And consider using pots with built in casters or set them on moveable saucers to make moving these pots easier.  This way you can expand and shrink individual spaces as needed simply by moving the pots.
Create your own vacation paradise.  Use planters filled with cannas, bananas, palms and New Zealand flax for a more tropical flare.  Add some wicker furniture to complete the scene.  Or fill vertical gardens, an old child's wagon, metal colander or wooden and concrete planters with cacti and succulents.  Add some old branches and large stones. You'll feel as though you've hiked into the desert.
All you need is a bit of space and creativity to find fun new ways to put containers to work for you in the garden this season.
Gardening expert, TV/radio host, author & columnist Melinda Myers has more than 30 years of horticulture experience and has written over 20 gardening books, including Can't Miss Small Space Gardening.  She hosts The Great Courses How to Grow Anything DVD series and the nationally syndicated Melinda's Garden Moment segments which air on over 130 TV and radio stations throughout the U.S.  She is a columnist and contributing editor for Birds & Blooms magazine and writes the twice monthly "Gardeners' Questions" newspaper column. Melinda also has a column in Gardening How-to magazine.  She has a master's degree in horticulture, is a certified arborist and was a horticulture instructor with tenure.  Her web site, www.melindamyers.com, offers gardening videos, podcasts, garden tips and more.