Richard Van Camp's coming-of-age novel adapted for the screen
CBC News
Posted: Jun 4, 2013 12:27 PM ET
A film adaptation of Richard Van Camp's Northern-set debut novel The Lesser Blessed, a coming-of-age tale about a First Nations teen, is hitting theatres across the country.
Shot in Sudbury, Ont. (standing in for the book's Northwest Territories setting), the drama opens in Montreal, Winnipeg, Edmonton and Ottawa on Friday. It opened in Toronto last weekend.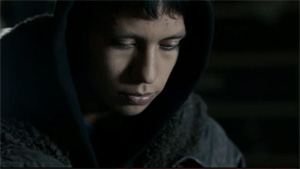 Russian-born Canadian filmmaker Anita Doron directed the film, with young newcomer Joel Evans starring as the teen outsider protagonist. He becomes involved in an unlikely triangle when he becomes smitten with the prettiest girl at school and also befriends a cool new student.
"The story is as familiar as Rebel Without a Cause or even West Side Story — this idea growing up and having issues with other factions or other cliques inside your high school and this journey of self-exploration," said American actor Benjamin Bratt, who appears in The Lesser Blessed in the role of Jed.
While attending the Toronto International Film Festival last September, Bratt — best known for his turn on TV's Law and Order — talked to CBC News about why he agreed to take part in a small Canadian indie film.
Bratt, the son of a Peruvian-born Quechua Indian, said he felt it was important to take the role of a native person who shatters stereotypes by teaching a volatile teen about balance. The actor is interested in the social problems among First Nations people and lauds Doron for creating a film that shows a young native person up against the same dilemmas that all teens face.