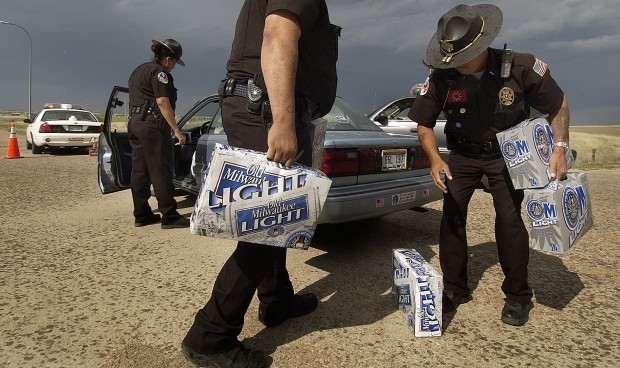 June 12, 2013
By KEVIN ABOUREZK / Lincoln Journal Star
The Oglala Sioux tribal council voted Tuesday night to allow the tribe's members to decide whether to legalize alcohol on the tribe's South Dakota reservation.
"Let's hear the voice of the people," said council member Robin Tapio during the council's meeting in Oglala, S.D.
Tribal President Bryan Brewer said he doesn't support legalizing alcohol on the reservation, at least until the tribe develops a plan to address the likely increase in crime that would occur after legalization.
"That alcohol that's coming on the reservation is killing our children, killing our people," he said.
The vote to allow the tribe's members to decide whether to legalize alcohol is closely intertwined with efforts to stop the flow of beer from the Nebraska village of Whiteclay, which is about a mile south of Pine Ridge, the tribe's largest village.
Last year, four beer stores in Whiteclay sold the equivalent of 3.9 million 12-ounce cans of beer, according to the Nebraska Liquor Control Commission.
The tribe's reservation, about the size of Connecticut, has struggled with high alcoholism rates for generations, though alcohol has been banned there since 1832. The Pine Ridge Indian Reservation makes up all of Shannon County, S.D. — the third poorest county in America, according to the U.S. Census.
Pine Ridge legalized alcohol in 1970 but restored the ban two months later, and an attempt to allow it in 2004 died after a public outcry.
A date for the Oglala Sioux Tribe's members to decide whether to end the alcohol ban hasn't been decided.
On Friday night, the tribe also voted to create ports of entry at every entry point onto the reservation, starting with the entry from Whiteclay. The tribe hopes the ports of entry will allow it to stop alcohol importation onto the reservation.
Brewer said he is planning to visit Lincoln soon to talk to Gov. Dave Heineman and other state officials about ways the state of Nebraska can address alcohol sales in Whiteclay. On Tuesday, he told his tribe's council that he plans to protest Whiteclay alcohol sales on Monday morning and invited council members to join him.
"If we close up Whiteclay, it's not going to stop the liquor on our reservation," he said. "But we're going to send a message to our young people: We do not want this."
Council member Larry Eagle Bull said he expects crime and substance abuse will spike if alcohol is legalized.
"It's going to peak but then it's going to come down once our people get educated about alcohol," he said. "The people have to have a voice."
Reach Kevin Abourezk at 402-473-7225 or kabourezk@journalstar.com.