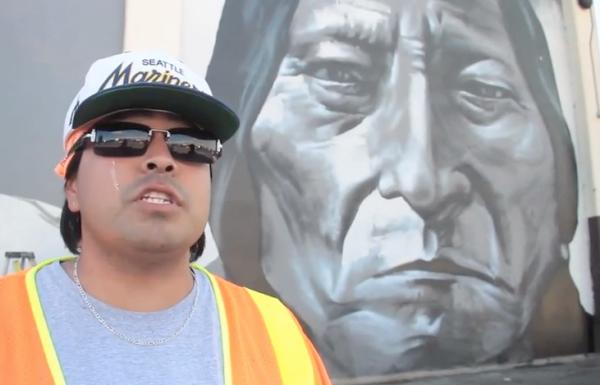 Indian Country Today Media Network
When ICTMN last covered Andrew Morrison, he was still fighting to preserve the murals he painted on the exterior of Seattle's American Indian Heritage School.
Yet the fight was not merely about preserving works of art—it was a manifestation of the Native community's fight to save its school, a key part of its identity. See the article "Will Endangered Seattle School Murals Be Saved?" for more of the story.
On May 31, Morrison made good on his stated plans to complete the wall by adding portraits of Sitting Bull and Geronimo to those of Chief Joseph and Chief Seattle. The feat was accomplished in a day-long painting session, with help from fellow muralists.
"I actually feel like I have lived a fulfilled life," Morrison says toward the end of the clip. "I really feel like there's nothing else to pursue at this moment. This is my gift to the Indian country. I really feel, at this point, May 31, 2013, my life was fulfilled."
Andrew Morrison Adds Geronimo, Sitting Bull to Seattle School Mural (video)
Read more at
https://indiancountrytodaymedianetwork.com/2013/06/18/andrew-morrison-adds-geronimo-sitting-bull-seattle-school-mural-video-149969