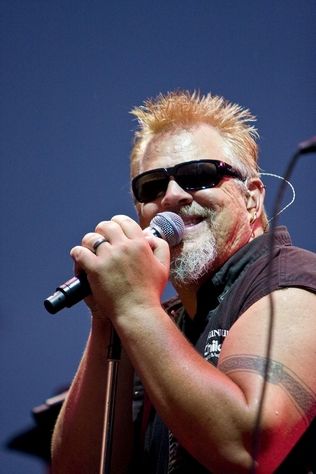 By Andy Rathbun, The Herald
Music is coming back to the Tulalip Amphitheatre, with the venue's summer concert series kicking off with a return visit by Spike and the Impalers.
The group, which will play at 8 p.m. Friday, has been a staple in the venue's summer lineup for years.
The group, led by 95.7 KJR morning show hosts Spike O'Neill and Bob Rivers, is basically a cover band, playing hits from AC/DC to ZZ Top.
Tickets are $38.50 to $54.50 at ticketmaster.com or 800-745-3000.
Fans of classic rock also may be headed to Woodinville's Chateau Ste. Michelle Winery, where the Steve Miller Band will play a sold-out show at 7 p.m. Saturday.
Steve Miller, who turns 70 this year, has been a touchstone on classic rock radio for decades. His hits in the 1970s included "The Joker," "Jet Airliner" and "Rock 'N Me."
All of those tracks are included on the singer's "Greatest Hits 1974-78," which remains a top seller to this day.
Tickets are sold out but can be found at a markup at stubhub.com.
A longer drive will give fans a chance to see some bigger shows, as the White River Amphitheatre in Auburn hosts a pair of shows.
The Last Summer on Earth tour will bring the Barenaked Ladies and Ben Folds Five to the amphitheatre at 7 p.m. Saturday. Both acts boast loyal followings and have found a home on adult contemporary radio.
The Barenaked Ladies' geek-friendly take on alt-rock helped it score a string of hits around the turn of the century, including the hits "One Week" and "Brian Wilson." The group released a new album, "Grinning Streak," earlier this month.
Ben Folds Five, meanwhile, broke up in 2000, only to reform for a new album in 2012. Warmly embraced by fans, "The Sound of the Life of the Mind" found the group falling back into step with its piano-pounding sound.
Guster, the alt-pop band, will open the show.
Tickets are $46.50 to $86.20 at ticketmaster.com or 800-745-3000.
Then, the amphitheatre will draw a very different kind of crowd, as it hosts the Rockstar Energy Drink Mayhem Festival at 1 p.m. Wednesday.
The annual hard rock festival will feature headliners Rob Zombie and Mastodon.
Rob Zombie acts as the elder statesman of the group. The campy singer — who also has directed horror flicks like "House of 1000 Corpses" — is touring behind his new album, "Venomous Rat Regeneration Vendor," which hit No. 7 on the charts.
Despite his bluster, Zombie is a mainstream act. Mastodon, meanwhile, boasts some indie cred. The metal act, a favorite of taste-making websites like Pitchfork.com, cracked the top 10 with its 2011 album, "The Hunter," and may road test some new material during the concert.
Tickets are $42 to $101.55 at ticketmaster.com or 800-745-3000.
Finally, Bellevue's own Queensryche will play the Moore Theatre at 7:30 p.m. Saturday.
The Bellevue act, again featuring original vocalist Geoff Tate, is touring behind its new album, "Frequency Unknown."
Tickets are $22.50 to $42.50 at stgpresents.org or 877-784-4849.