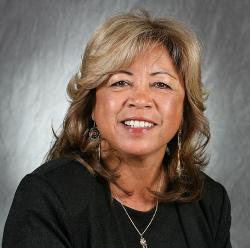 Indian Country Today Media Network
Her son, Kyle Lohse, who has a World Series ring and is a starting pitcher with the Milwaukee Brewers, may get most of the national headlines, but Leslie Lohse is one of the most successful businesswomen in California and a prominent tribal leader. And her leadership is being recognized and utilized.
On June 18, California Governor Edmund G. Brown Jr. announced the appointment of Leslie Lohse to the California State Athletic Commission.
Lohse, of Glenn, is a Board Member of the California Tribal Business Alliance and tribal council treasurer and assistant administrator for the Paskenta Band of Nomlaki Indians since 1998. She is a member of the Rolling Hills Clinic Board of Directors and member of Tehama County, Girls Inc.
Lohse was chair of the Bureau of Indian Affairs Central California Agency Policy Committee, vice president at the National Congress of American Indians, board member of Northern Valley Indian Health, member of the Bay Delta Public Advisory Committee and served on the National Indian Health Services Budget Committee.
"Representing the Governor on the California State Athletic Commission is very much an honor," Lohse said.  "This is in line with my commitment to support and promote a vibrant California.  Our Governor and the Legislature are working hard to ensure California is flourishing. I'm happy to be part of the team moving our state forward."
Although this position requires Senate confirmation, that legislative formality is expected to be taken care of quickly and affirmatively.
Leslie Lohse's son Kyle was signed as a free agent by the Brewers before the start of the season.
In addition to business and tribal work, Lohse has worked tirelessly to help women and girls succeed. She is a founding board member of the national non-profit organization Girls Inc. in Tehama County.
"Today's women are faced with many decisions that our moms did not, or were not encouraged to deal with from a position of strength," Lohse told Global Gaming Business in 2011. "Therefore, it is imperative to show our young girls and women that it's OK to speak up from a position of knowledge and strength."
Lohse learned this lessen on her own based on her family dynamic growing up. Being the 12th of 14 children and having six older brothers, she learned at an early age how to hold her own.
"I knew it was important for them to understand there wasn't always one way," she todl GGB, with a laugh. "I may not have been as physically strong as they were, but I definitely could compete and do well, even win sometimes due to my ability to think outside the box."
Lohse was also named the 2012 Woman of the Year for California's Second Assembly District.
"Leslie is a passionate and dedicated citizen who ably serves her revered and historic Nomlaki tribe, her community and her state through her selfless leadership," said Assemblyman Jim Nielsen. "Her energy and abilities have ensured a bright future for generations now and yet to be born in the north state."
Leslie, as Treasurer of the Paskenta Band of Nomlaki Band of Indians, participated in putting together the Tribe's purchase of over 2,000 acres near Corning, and was instrumental in bringing about the construction of the 70,000-square-foot Rolling Hills Casino that includes three restaurants. She also played an active role in the tribe's success in bringing about two new hotels next to the casino, the John Daly Signature links-style Sevillano Golf Course, and a private hunting club to the tribal lands. The tribe recently opened the Rolling Hills Clinic, on in Corning and one in Red Bluff, to provide medical and dental services for the county.
The health clinic is especially important to Leslie, who is an active community advocate dedicated to making Tehama County a safer, healthier, and more prosperous community.
Lohse and her husband, Larry, live in Willows. In addition to Kyle, they have a second son, Erik, and four grandchildren.
Read more at
http://indiancountrytodaymedianetwork.com/2013/06/20/her-son-kyle-may-have-world-series-ring-leslie-lohse-all-star-150011